Gaultier curries favour with an Indian-inspired feast

Show all 11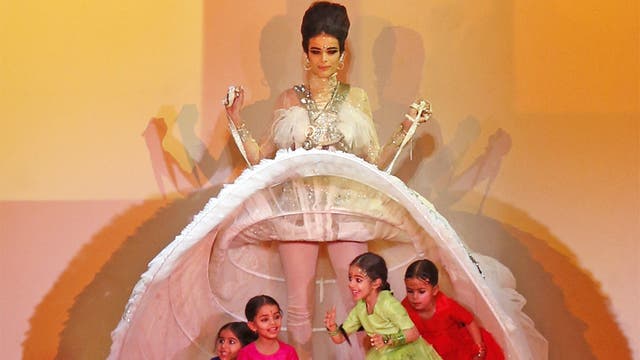 Gaultier curries favour with an Indian-inspired feast
Jean Paul Gaultier isn't known for being a wallflower. That may be the reason he shunned this week's obsession with flora and fauna and looked to a spicier inspiration for his couture collection shown in Paris.
The enfant terrible took the theme of India for his latest show. Although the much-loved Gaultier trademarks were all in place – girdles, suspenders, conical brassieres and a stripe or two thrown in for good measure – models with bangles piled high on the arms and elaborate jewelled earrings balanced along on thong-style, cut-out wedges were unmistakably Indian in reference.
Sari-style patchwork dresses, each panel different from the next in either printed or beaded fabrics were dramatic in effect and floor-length column dresses covered in golden sequins were worn with tasselled backsacks.
Standout outfits included a gold snakeskin trench coat and trompe l'oeil denim printed on to silk shirts and on to the bodices of dresses.
For anyone in doubt of the theme, the last look of the show, the obligatory wedding dress, had a circumference so large, that when the bride lifted her hem, four young Indian girls ran out and down the catwalk – all to the soundtrack of Jia Ho.
Register for free to continue reading
Registration is a free and easy way to support our truly independent journalism
By registering, you will also enjoy limited access to Premium articles, exclusive newsletters, commenting, and virtual events with our leading journalists
Already have an account? sign in
Join our new commenting forum
Join thought-provoking conversations, follow other Independent readers and see their replies