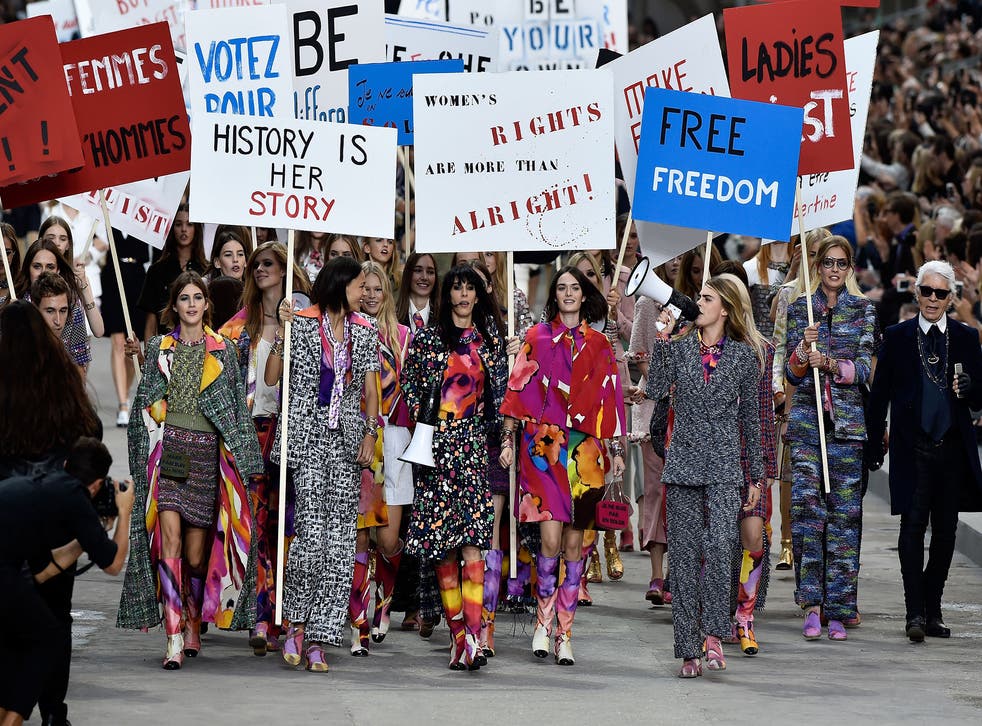 Karl Lagerfeld's response to Chanel's feminist protest criticism
The legendary designer explains Chanel's riot led by Cara Delevingne and Gisele Bundchen
The legendary designer Karl Lagerfeld has opened up about the controversial feminist protest he staged at his autumn/winter presentation for Chanel last month following a barrage of criticism.
"My mother was very much a feminist and I thought it was something right for the moment," he told Fashionista.
"I couldn't care less if people are for or against. It's my idea. I like the idea of feminism being something light-hearted, not a truck driver for the feminist movement."
Last month the catwalk at Grand Palais turned into a protest as after the show the models completed the final walkthrough shouting feminist chants and carrying posters with feminist messages such as "history is her history", "ladies first" and "women's rights are alright".
The riot was led by Cara Delevingne and Gisele Bundchen, who were joined by other influential models like Kendall Jenner and Gigi Hadid, who revealed how it was like to be part of it.
Chanel spring/summer 2015

Show all 7
"Honestly it was such a surreal experience, it felt kind of out-of-body," Hadid said. "The crew said, 'Yes, it's a fake protest, but you need to go into this realising that you're on the world stage'… Everyone was kind of shy and didn't want to go out there yelling and screaming. We had to do a four-hour rehearsal because no one would actually yell, but once they gave us the pep talk, we were all so into it."
Subsequently, the show has prompted debate about whether a fashion show is appropriate forum for this sort of feminist discussion and with some even suggesting it trivialises the case.
However, ever unrepentant Kaiser Karl seems happy and proud with the outcome of his spring 2015 show.
Register for free to continue reading
Registration is a free and easy way to support our truly independent journalism
By registering, you will also enjoy limited access to Premium articles, exclusive newsletters, commenting, and virtual events with our leading journalists
Already have an account? sign in
Register for free to continue reading
Registration is a free and easy way to support our truly independent journalism
By registering, you will also enjoy limited access to Premium articles, exclusive newsletters, commenting, and virtual events with our leading journalists
Already have an account? sign in
Join our new commenting forum
Join thought-provoking conversations, follow other Independent readers and see their replies