London Fashion Week prepares to welcome its second famous Rocha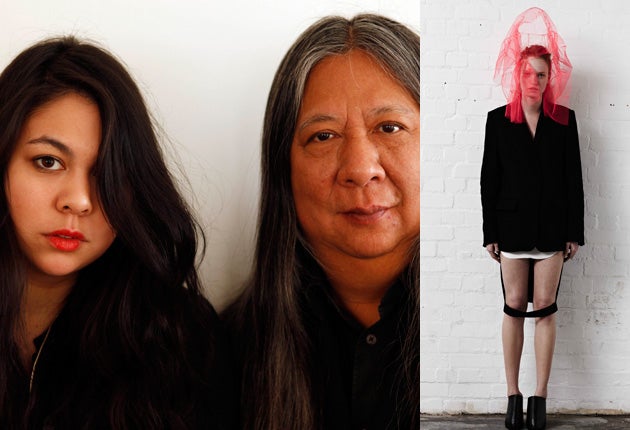 With London Fashion Week just two months away, the hunt is on for the next British-based design star. Three likely contenders were revealed yesterday when the talent showcase Fashion East announced its latest line-up, with Simone Rocha, the daughter of the designer John Rocha, among the young names hoping to catch the eye of international fashion press and buyers.
The other Fashion East names are both graduates of the Royal College of Art; Felicity Brown, who will make her debut for the spring/summer 2011 show, and the Finnish designer Heikki Salonen, who will return for his third season.
Many of the most innovative and celebrated designers in the world have found their feet at London Fashion Week, which has a strong reputation for producing exciting designers such as John Galliano, Alexander McQueen and Hussein Chalayan. Fashion East, which celebrates its 10th anniversary in September, has helped to further that reputation since it was established as a non-profit making project in 2000 by the energetic and visionary Lulu Kennedy.
The project has become a highlight of the week and helped to kickstart the careers of some the UK's most prolific design talent, including Marios Schwab, who is now the creative director of the American label Halston, Jonathan Saunders, Richard Nicoll and Gareth Pugh, who won an Andam award in 2008 which enabled him to show his collections in Paris. Topshop will sponsor Fashion East for the 15th season running.
Mary Homer, Topshop's managing director, said: "Lulu Kennedy and her panel of insiders have consistently shown a talent for identifying the best of British-based designers, giving them a credible platform to show their collections." Much of the project's prestige – it is perceived as one of the coolest of the proliferating support schemes in the fashion industry – is down to Kennedy's ability to spot flair.
Professor Wendy Dagworthy, head of the Royal College of Art's School of Fashion, said: "Kennedy chooses the designers really well, and when they are ready for the opportunity. Without initiatives like this many designers wouldn't be able to afford to have a show, and it could be a waste of their money."
Fashion East has hosted a number of memorable shows which have helped position London as a hotbed of experimentation and creativity. Striking examples have included Gareth Pugh's spring/summer 2006 show as part of Fashion East, held in the Electric Ballroom nightclub in Camden Town. The collection featured an array of fetishistic, sci-fi outfits made from red, white and black latex.
However, since London Fashion Week smartened its image and moved to Somerset House in September last year, Fashion East has left the dingy Shoreditch warehouses behind in favour of the vaults below the venue, with a new location on the cards this September. The fact that the project is seen as a crucible for future stars rather than just a quirky sideshow was demonstrated further when pop star turned designer Victoria Beckham was an unlikely guest at the show in 2009.
Professor Dagworthy said: "New talent is very important to London; lots of people come here specifically for it, and it's what keeps London moving and alive."
Designers to watch
Simone Rocha
Rocha finished an MA at Central Saint Martins College in February, where the course director, Louise Wilson, praised her, "strong, modern, sympathetic approach to womenswear and an eclectic eye for accessories". Her father, John Rocha, pictured above with Simone, says her style is more "edgy" than his, but says they share "an understanding of fabric".
Heikki Salonen
His autumn/winter collection had a glamorous grunge, or "glunge", aesthetic with aviator jackets, DM boots and sloppy knits. Next season will see Native American and skater influences added to the dark mix.
Join our commenting forum
Join thought-provoking conversations, follow other Independent readers and see their replies