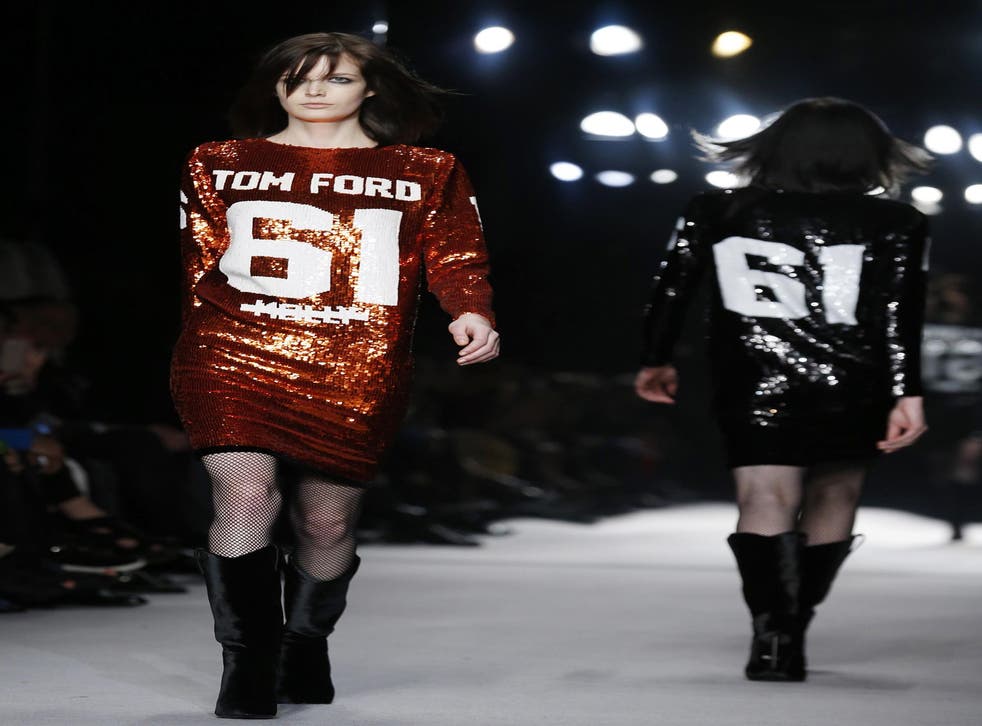 London Fashion Week: Tom Ford has the confidence of a player at the top of his game
Confidence isn't something you can teach at fashion school. A designer either has the chutzpah to send out an astrakhan two-piece and an American football jersey smothered in sequins emblazoned with his name and birthdate. Or... well, or said designer's name isn't Tom Ford.
He may be showing in London but there is no mistaking Ford for anything other than a red-blooded American. It wasn't just those football shirts, nor the needle-heeled crocodile and velvet cowboy boots that bottomed every look. Tom isn't just American. He is a Texan, and this was a collection of pumped-out quarterback shoulders for every square-dancing Dallas hoofer with a few grand to splash.
Most importantly, Ford's clothes were also supremely, sublimely confident. They didn't have to try too hard, either in the silhouettes (eased-up, to the knee skirts and sweatshirt-simple jackets), nor the surfaces (black wool, leather and velvet, mostly – those riotous pailette quarterback shirts were isolated blitzes of glitz). There were even a few slinky, velvet throwbacks to Ford's hits at Gucci and Yves Saint Laurent, paraded on late-Nineties early-Noughties supers like Karen Elson, Stella Tennant and a luminous Liberty Ross. It was great to see them, more so in these fantastic, relevant and gorgeous clothes. It was even more thrilling to see a talent like Ford playing at the top of his game.
Confidence can sometimes blind a designer to common sense. Christopher Bailey seemed utterly convinced of his paint-daubed Bloomsbury set, everything from shoe , to dress, to the ubiquitous trench scrawled with faux-naïf doodles in his Burberry Prorsum show. They resembled the work of a three-year-old, and indeed only a mother could love them. When he rinsed his georgette slips of the arty-farty stuff, they looked OK. But the mess was what stuck with you.
"Nylon, high-shine corduroy jacquard, lenticulars, mink, organza" was the litany of fabrics reeled off by Christopher Kane after his autumn/winter 2014 show, showing the almost precocious confidence he has in his abilities.
There was an echo of that debut in Kane's collection. Actually, there were quite a few. Most obvious were the lurid green bands and massive plastic buckle beefing up his freshly-minted handbags. Those details echoed that first ferocious collection of neon elastic frocks, but eight years later they strapped his clutches as accompaniment to slick, saleable black tailoring.
The show swiftly segued into the mélange of fabrics above: sick rather than slick combinations of ruched nylon and mink, ruffled neon cashmeres threaded with narrow satin ribbon.
The core was black, contrasted with sickly pastel pinks and that green you can only dub Exorcist vomit. It takes confidence just to propose those colours. Even more to leave your audience utterly convinced of their validity.
In pictures: London Fashion Week autumn/winter 2014

Show all 23
Join our new commenting forum
Join thought-provoking conversations, follow other Independent readers and see their replies