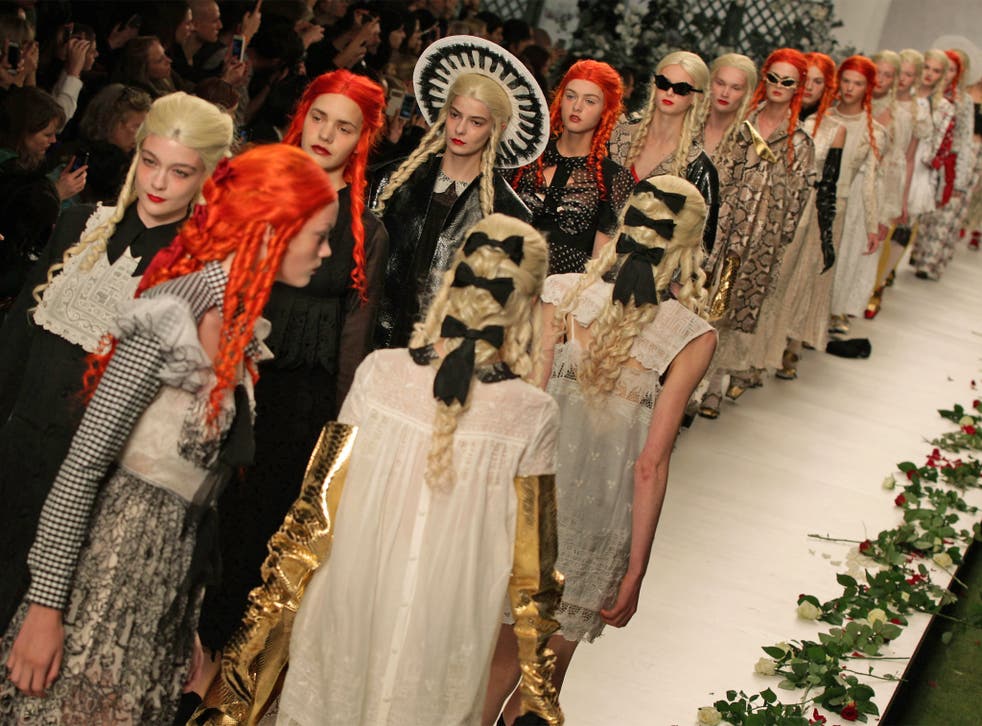 London's designers blow your socks off… again
From Connemara-inspired textures to galactic motifs, Rebecca Gonsalves marvels at the creativity of Fashion Week
London's creative fashion credentials are trotted out so frequently it's become something of a cliché to declare that the colleges here shape talent like nowhere else. But the last day of London Fashion Week was proof that there is life in the old truism yet as small-scale affairs with budgets to match managed to blow the socks off those assembled.
At Simone Rocha, black and white prevailed, with highlights courtesy of a mossy silk slip dress and a voluminous forest green coat, while champagne jacquard was textured with bubbles. Pearls threaded through the collection – as twisted rope chokers, appliquéd as flat adornment on necklines and around pockets on clean tailoring and full prom skirts.
Backstage, Rocha explained that the collection was inspired by Connemara in her native Ireland: "A beautiful place, the textures and colours so invoking, so personal. That's where all the feeling came from."
Benjamin Kirchhoff's deconstructed collection was a meditation along similar lines, although the duo's take was more unsettling. Double-breasted blazers with shiny golden buttons worn with miniskirts were seemingly bourgeois ensembles, but in fact were gradually chopped up and dismembered to become a backless halter-neck blazer with suspended sleeves and exposed raw hems.
Benjamin Kirchhoff and Edward Meadham know how to create a narrative through dramatic presentation, indeed theirs are highly anticipated by those who appreciate somewhat off-colour alternatives. But the clothes themselves are masterfully made, too – pleated skirts, for example, were inset with lace panels and embellished with golden and pearl beads.
Ryan Lo, of Fashion East, has this talent too – the candyfloss fluff and fur of previous seasons was present today, but his focus was instead directed at youthful, lace skater-girl dresses and separates, intarsia knits of strawberries and farmyard animals for "girls refusing to grow up to become ladies".
Ashley Williams referenced the Americana of the eighties with a Riviera theme courtesy of "dream boat" illustrations printed on to leather jackets and swimwear, and "S.O.S" and "FIN" lace logos on track pants and jackets, and fuzzy toy sharks were turned into plush clutch bags.
Claire Barrow's hand-painted and printed leather pieces were this season adorned with galactic motifs of planets, moons and stars as well as horoscope symbols. Perhaps Barrow suffered from being sandwiched by two energised presentations, but the downbeat mood of the collection meant it remained grounded rather than taking off.
Register for free to continue reading
Registration is a free and easy way to support our truly independent journalism
By registering, you will also enjoy limited access to Premium articles, exclusive newsletters, commenting, and virtual events with our leading journalists
Already have an account? sign in
Register for free to continue reading
Registration is a free and easy way to support our truly independent journalism
By registering, you will also enjoy limited access to Premium articles, exclusive newsletters, commenting, and virtual events with our leading journalists
Already have an account? sign in
Join our new commenting forum
Join thought-provoking conversations, follow other Independent readers and see their replies