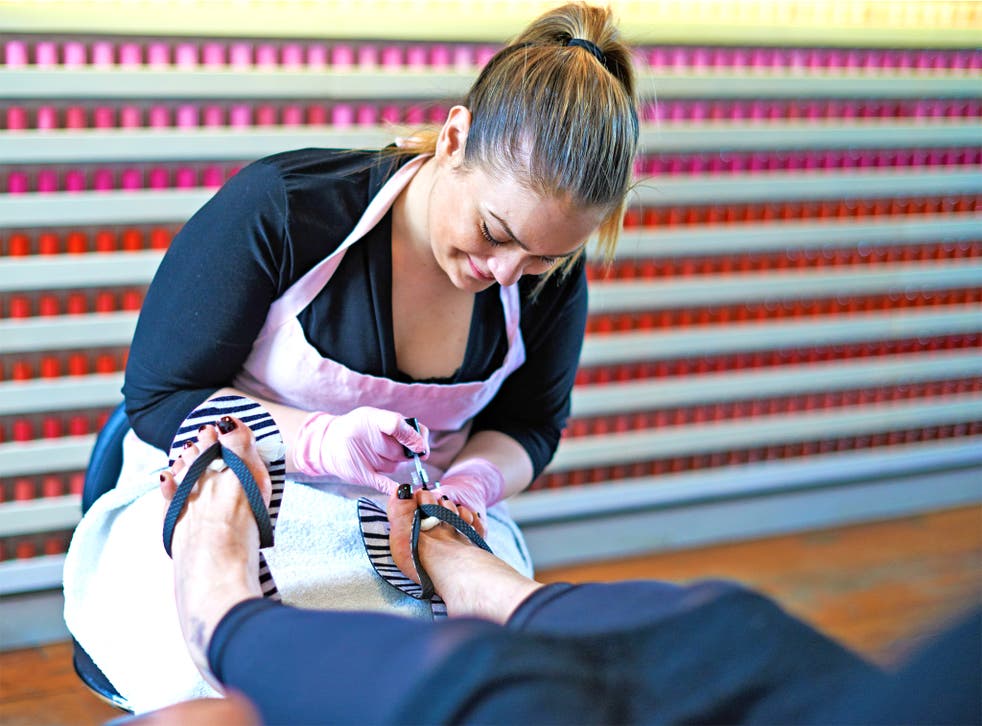 Manicure mania: The business that nailed the beauty boom
As the high street suffers, the growing market for glamour has given one trade a remarkable lift
Tima Reshad opened Coco Nail Bar in west London in 2011, "right in the middle of the recession". It was a gamble – all the more so given that she was six weeks pregnant at the time – but two years later she is cashing in, having successfully clawed her way into one of the few booming industries left in the UK.
Careful consumers and competition from online retailers continues to chip away at the traditional British high street. According to a report published today, town centres have lost 5 per cent of their outlets in the past two years and 5,000 more stores are forecast to close in the next five.
Yet the number of nail bars emitting wafts of acetone fumes and displaying outrageously-decorated talons in town centres across the country has risen by 10.4 per cent in the past two years, according to research by the Local Data Company and Oxford University's Said Business School.
On London's Portobello Road, while businesses around her fold at an alarming rate, Reshad, 36, who originally trained as a nutritionist before deciding to opt for "something more fun", is planning a major refit of her store to accommodate the growing custom.
She is unperturbed by competition from a new American-style nail bar which opened a few days ago only a few shops along.
"We get all sorts of people: women, men, children (their youngest client is three-and-a-half), all from different backgrounds", she says.
From the early hours until 10pm, customers can be found brightening their talons from a selection of 222 shades of varnish ("we've run out of space for the rest") – and an extensive range of gels and nail wraps – and soaking up the fully-stocked bar and regular DJ.
Weekends are packed with hen parties and birthday bashes – often children's parties. For Emily Garrett, 30, who has been getting her nails done – first with acrylic, now gel – once a week, religiously, for three years, it is "an affordable luxury".
"I spend £60 a month on my nails," she says. "Manicures used to be more for the rich and famous but now all the girls I know get it done. It makes me feel like a proper grown-up. If my nails look wicked I feel more in control of my life."
Helena Biggs is deputy editor of specialist nail title Scratch Magazine and author of the forthcoming book Nail Art: Inspiring Design by the World's Leading Nail Technicians.
To accommodate the spiralling number of different types of nail art, the industry's "Scratch Stars Awards", which started two years ago in recognition of the boundless trend for fancy nails, has had to add new categories.
"The products being used are consistently innovating," Ms Biggs explains. "On top of the traditional polish using paints and strips, there are various ranges of false options to consider – be they acrylic or gel – not to mention decals and add-ons such as crystals, rings and plastic bows."
The demand is so high that after dominating the market for a few years, brands such as OPI and Essie are facing new competition in UK salons from American professional brand Morgan Taylor. But it is the British economy that is seeing a lift. Ms Biggs argues: "With so much on offer, your nails can make or break an outfit. Even when we are going through the worst parts of a recession and you can't afford a new outfit, for £25 you can still get new nail art and get a whole new image."
For Don Wilson, who works as a carpenter nearby, the changing face of his local high street is not a reason to be cheerful. "You used to be able to buy stuff you needed. Now if I need a bag of screws or a spanner, I can't find one but everywhere you look there's a bloody beauty salon," he says grimly.
But for the ladies (and occasional gent) at Coco, where treatments start at £7.50 for a polish change, and the controversial Little Hands Manicure – "tailored for younger skin finished with a fun polish (for those under 13)" at £5 – it is all very jolly.
Beautician Miriam, who is from Spain and had been working in salons around the world for 13 years before joining Coco a year-and-a-half ago, thinks the rise of British nail culture is remarkable. "I say to my friends at home, you can come here and have a drink, meet friends – it's a social thing. It's fun, it's crazy," she said.
Join our new commenting forum
Join thought-provoking conversations, follow other Independent readers and see their replies