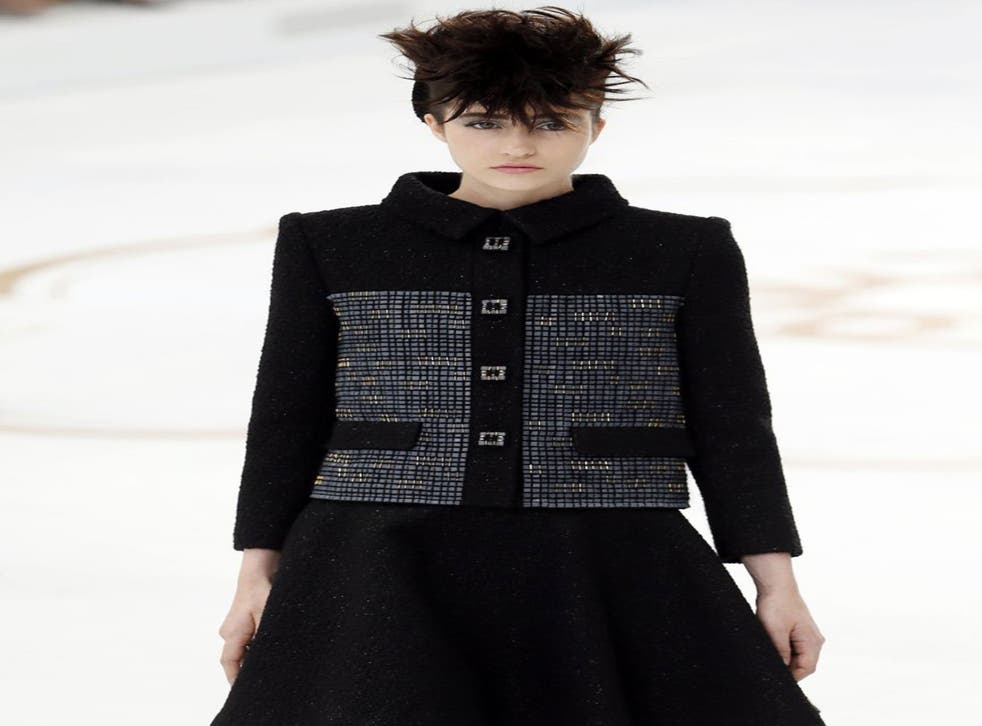 Paris haute couture fashion week: A combination of 21st-century and historical antecedents
At the autumn/winter 2014 shows, designers riffed on history to create something new and relevant
Alexander Fury
Monday 14 July 2014 17:39 Comments
Every July, a funfair lands smack-bang in the middle of Paris' Tuileries Gardens – it's flashy and brash, with a lot of neon and noise. It's a bit like the illuminations that transform the Eiffel Tower as soon as the sun sets: history gussied-up with fancy lights and all the attention-deficit tricks of the 21st century to become a hot tourist attraction.
Sometimes, the haute couture shows feel the same, steeped as these clothes are in their own storied past. They feel saturated; dripping with the stuff. The history of most of the fashion houses here is inescapable – and omnipotent: Dior's Bar, Chanel's suits. Even Versace has a glitzy, if far more recent, past from which to hew inspirational nuggets.
The big question is how – or, perhaps, if – haute couture can escape that constant remembrance of frocks past and push itself to create something that resonates with contemporary women.
Then again, how much does that actually matter? Haute couture is sold to "the happy few, about 1,000 customers in the world", to borrow the words of Bruno Pavlovsky, Chanel's president of fashion. That is a fairly constant number: older couture clients die; oldish Oligarchs marry youngish wives (third or fourth time lucky), so new couture clients are born.
Haute Couture autumn/winter 2014 fashion shows

Show all 23
Like the masses thronging around those illuminated French monuments, however, the majority of the audience at the couture shows are mere tourists, looking for cheap thrills rather than expensive frills. A touch of histrionic historicism looks much more impressive on a newspaper page or glossy cover than a neat little suit does. And as no one's going to end up wearing these clothes anyway, why not give the spectators what they want – and ignore that tiny elite? The temptation must be there: after all, couture is driven by marketing, not by actually making. It's the dream they're selling, really, not the dresses. Because, historically, haute couture is about a relationship between people, so says Raf Simons, of Dior.
"The concept of haute couture is very modern," states Pavlovsky. "It's about exclusivity; it's about being able to design for every single customer, the unique and the best."
While haute couture may not necessarily have an afterlife, the best examples today have a degree of practicality – perhaps that's because designers have finally twigged that their visions are all the more seductive and compelling if you can picture yourself, rather than just Marie Antoinette, wearing them.
That's about technicality, rather than taste. The autumn/winter 2014 haute couture shows had a sense of pragmatism; of 21st-century reality, while also nodding heavily to their historical antecedents. Raf Simons' Dior found a new energy – and, indeed, new life – in the panniered gowns of 18th-century court dress; Karl Lagerfeld fused Louis Quatorze with Le Corbusier; Marco Zanini reinvigorated Elsa Schiaparelli's 1930s shapes with a sense of 21st-century irony. And although Donatella Versace talked up 1950s couture inspirations before her show, she chopped, and chained, and super-charged the era into souped-up, racy dresses precisely to house specification. It was retro, but viewed through Versace eyes.
The same approach characterised Raf Simons' aforementioned Dior collection – it wasn't through the eyes of Dior, though, but of Simons. In fact, both were somehow involved, the final result refracted through their paired but very different aesthetics. Like bifocals.
It made for compelling viewing, as models ricocheted around the circular show venue like so many marbles inside a pinball machine. Their clothes drew on eras from the 18th century through to the 1950s, and while Dior's waspy-waist Bar jacket was a reiterated silhouette, it didn't feel like a restrictive presence. It did, however, skew the collection's focus towards day – which, in a world obsessed with red-carpet dressing as justification for its continuing relevance, felt exciting, and even a little anarchic. The vision was 20/20.
Anarchy in the atelier leads inevitably to Karl Lagerfeld – who is not so much subtly subverting the conventions of the craft, as socking them a black eye. This season, he blitzed baroque Versailles and cemented it to Le Corbusier's modernism. It wasn't superficial, despite gimmicks such as beads made of concrete (Coconcrete?) and the streamlined set that crammed Louis XIV ormolu into a Brutalist box. He did the same on the clothes, scrolling arabesques of embroidery across clean silhouettes with seams streamlined and hidden at the rear. It was subtle, but an example of couture at its hautest. These couture collections seem a rag-tag bunch. That is the strength of haute couture – it's about individuals. Not just the individual women paying through the nose to have clothes made to satisfy their every whim, but the individual houses, expressing their own identities. Couture is a massive marketing exercise, and those client numbers are tiny: Jean Paul Gaultier estimated his hardcore couture cadre as about 80 women; Dior's Raf Simons mentioned 300.
In pictures: Front row at Paris Haute Couture autumn/winter 2014

Show all 19
Even at Chanel, the best-selling house of them all (allegedly: Chanel is a privately owned concern, and hence figures are never released), "business is small", says Pavlovsky. "It's targeted. We are not trying to develop that. It's about this idea of keeping haute couture focused on people that want to have this very specific and exclusive relationship with the brand... we are not trying to expand, just trying to target the right customers."
The right customer for the right house is key. It's difficult to imagine the same woman wearing a natty, modernist tweed suit by Chanel then changing into a glycerine-dipped ostrich bolero and dress printed with rats and scampering squirrels by Schiaparelli. However, it is feasible that customers exist for both.
Hence, the disparity of visions at couture is clever. Ignore the embroidery and applique: the most successful houses' most important technique at the haute couture is simple.
Divide... and conquer.
Register for free to continue reading
Registration is a free and easy way to support our truly independent journalism
By registering, you will also enjoy limited access to Premium articles, exclusive newsletters, commenting, and virtual events with our leading journalists
Already have an account? sign in
Join our new commenting forum
Join thought-provoking conversations, follow other Independent readers and see their replies