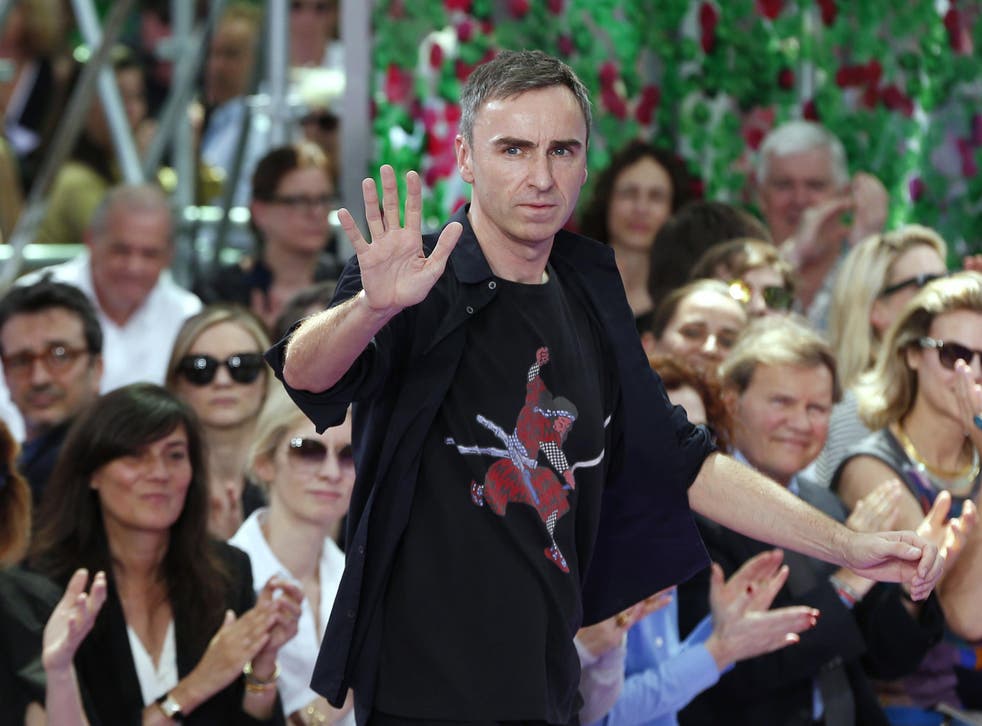 Raf Simons parts ways with Christian Dior
Christian Dior have today announced the departure of Creative Director Raf Simons
The designer Raf Simons is leaving his position as creative director of womenswear at the house of Christian Dior, the label announced Thursday evening. A jewel in the crown of French fashion, both one of the most prestigious houses and also one of its most financially successful, Dior's turnover for 2014 stood at around £22.4 billion, including lucrative cosmetics and perfume lines, as well as Simons' clothing.
A modernist whose fit with the romantic and historical house of Dior was sometimes uncomfortable – Simons' most recent haute couture and cruise collections met with mixed reviews, from critics including myself – the Belgian Raf Simons has been head of Dior's womenswear since April 2012, following the firing of British designer John Galliano and an interim period headed by Galliano's former assistant, Bill Gaytten.
Regardless of critics, Simons' tenure was a commercial success: Dior clothing achieved annual revenue growth of 19 per cent for the last fiscal year, a figure the house itself labelled "remarkable". No indication of a successor was given: the ready-to-wear collection presented three weeks ago was Simons' last. He helmed the house's womenswear for three and a half years.
I interviewed Simons last year, for the Independent magazine, when he stated "My opinion is that [as] a creative director in a huge institution… you enter, and you're going to go out." He continued: "What attracts me is the curatorial aspect of it…That's how I experience it. I don't experience it as something that I have to make mine. It's not mine."
Paris Fashion Week spring/summer 2016

Show all 35
Perhaps the limitations of Simons' role at Dior began to rankle. Other designers formally oversee tertiary elements such as fine jewellery and menswear, as well as accessories. Simons' creative input was evident in some facets of the house's branding, but seemed absent in others. I found it difficult to reconcile his aesthetic with the recent advertising campaign starring Rihanna and photographed by Steven Klein. The main Dior womenswear campaigns during Simons' time at the house were photographed by Willy Vanderperre, a long-term friend and collaborator of Simons.
Today, however, Simons stated that his decision to leave was "based entirely and equally on my desire to focus on other interests in my life, including my own brand, and the passions that drive me outside of my work." It was, according to the release, Simons' decision not to renew the contract. He continues to design a label under his own name, a menswear-only collection that continually wins plaudits and retails internationally. It is not affiliated with Dior, or the LVMH Group: the sole majority shareholder of Dior is Chairman and CEO of LVMH, Bernard Arnault.
I wondered at the new sense of freedom in that Dior collection – the notion of "new horizons" were mooted as the inspiration. Telling. The fusion of Simons' forward-looking futurism with Dior's backward-glancing nostalgia had never quite gelled as well as it did then, in an accomplished, convincing and exceptionally energetic show of delicate lingerie whites and architectural suiting in the grand Dior tradition.
Something had shifted. Maybe Simons saw the end in sight, and eased himself up accordingly? Or maybe he just wanted to do some easy, breezy slip-dresses. I saw him at London's Frieze art fair last week, when he thanked me for my positive review, but gave no indication of his pending departure.
The rumour mill has already begun to churn as to potential replacements for one of high fashion's most important positions. Dior officials intimated to me last week they would forgo formal presentation of their 2016 pre-Fall collection, although no reason was given. Dior's next major show is schedule for January: Simons created his first collection in three months following his appointment, as charted in the recently released film Dior and I. That implies a successor will be named shortly, to meet that demanding deadline. Sources suggest names already in the LVMH stable: Phoebe Philo of Celine, Riccardo Tisci of Givenchy, and Nicolas Ghesquiere of Louis Vuitton have all been mooted.
Let fashion's favourite game of musical chairs commence anew.
Join our new commenting forum
Join thought-provoking conversations, follow other Independent readers and see their replies