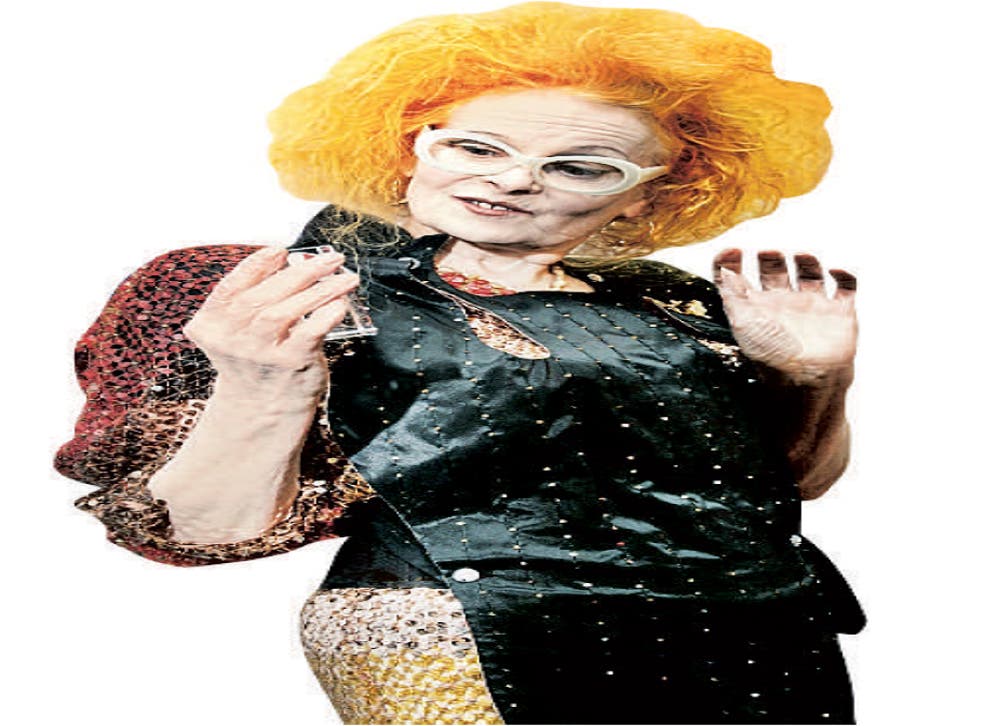 Ready To Wear: Vivienne Westwood
Dress codes, as anyone who is aware of such things knows, are dead. Instead, a new, improved and rather more brilliantly diverse appearance is the order of the day at any half-glamorous event one might care to mention. Even the red carpet - for the past five years, home to an endless procession of strapless, corseted, fishtail gowns - has seen skirt lengths rise in recent months, and then fall, and then rise again, depending only upon the whims of the celebrity in question. There's no predicting what people may or may not wear these days, then. And that is a good thing.
Someone really ought to pass this information on to the staff at Terence Conran's Southbank restaurant Skylon, however. Somewhat embarrassingly, this very establishment evicted the renowned thesp Simon Callow and his friend from the premises one evening last month because the latter was wearing - wait for it - trainers. How very Eighties.
This, thankfully, turns out to be the exception that proves the rule. There was certainly no such ludicrous adherence to bizarre protocol at the British Fashion Awards, which took place in central London last week, and where every guideline was flouted - or not - at will. Any woman - or, indeed, man - who preferred to adhere to the "black tie" instruction on the invitation was more than welcome to do so. But should sir or madam wish to wear jeans with his or her tuxedo jacket, that was perfectly alright, too.
Whichever way one chooses to look at it, a new-found individuality - and even that rare thing, originality - is very much more in evidence where the style of the London fashion follower in particular is concerned, a fact that was not missed by one Vivienne Westwood.
This truly spectacular figure of a woman - she looks even more like the Virgin Queen these days than Cate Blanchett - was paying a visit to the ladies when her lifetime achievement award was announced, but that didn't stop her passing comment on other people's appearance once she'd returned to pick up her gong. There were, she said, some really great-looking people at the dinner that night. "And I'm pleased about that." Praise indeed.
As is often the case, a generally liberal outlook decrees that the more conservatively dressed a person might be, the more radical they ultimately appear for it. With this in mind, both the fashion designer Roksanda Ilincic and the British model of the year Agyness Deyn stood out from the crowd in floor-sweeping statement gowns that were designed by Ilincic herself and Giles Deacon respectively. "Major" was the apt word that Ms Deyn used to describe her own dress, and, no, she's not turning into Victoria Beckham. Still, only a fool would disagree.
Join our new commenting forum
Join thought-provoking conversations, follow other Independent readers and see their replies