Sexy and practical: can Gucci revive fashion's fortunes?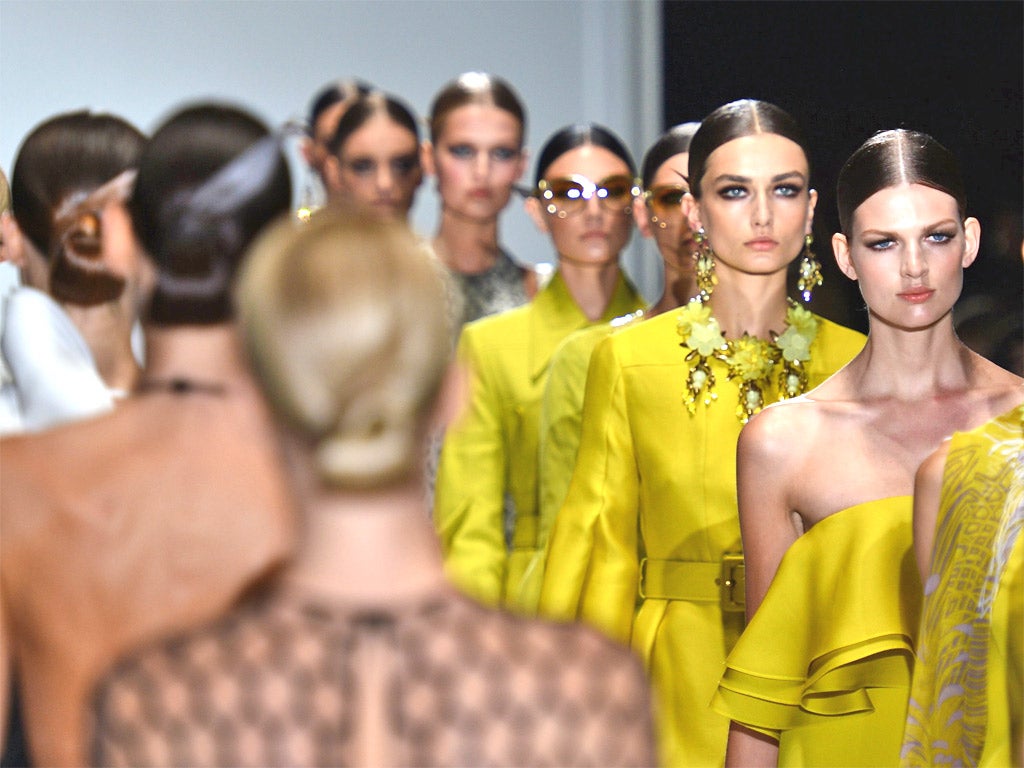 The twice-yearly fashion shows opened in Milan yesterday with a bright and vital collection from the luxury label Gucci.
In the wake of poor results across the sector and a forecast 5.6 per cent drop in revenues among the high-end Italian labels, creative director Frida Giannini will be hoping her spring 2013 offering will appeal especially to wealthy clients across the Far East and in developing markets such as India.
After flirting with Art Deco and an opulent gothic look in recent seasons, she returned to the label's strong point: slick and sexy modern elegance, with a touch of minimalism and a glamorous early Seventies feel.
Pared-down silk and crepe tunics were worn over slim-fitting kick flares; some were collarless, some high-necked and some adorned with over-sized waterfall frills that snaked around the body, across the yoke and spiralled down long sleeves, framing otherwise plain coats and column dresses.
"These are portraits of aristocratic women," Giannini explained. "The inspiration started with Richard Avedon and Gian Paolo Barbieri's photographs of their female icons."
Frilled and bell sleeves, dropped shoulders and cocoon coats were classically soft and feminine, but Giannini's use of bold, block colours, with graphic shades of hot pink, turquoise and chartreuse all in the mix, ensured that her vision remained punchy rather than overly pretty.
Clean lines and sparse decoration on belted tunics recalled the tailoring of the late Sixties and early Seventies, while a slim silhouette spoke of the house's reputation for womanliness and sensuality. The label became synonymous with high-octane sex and glamour under Tom Ford's directorship in the Nineties and, while Giannini's clothes are every bit as alluring – with cutaway backs and key-hole detailing on tunics and gowns revealing tantalising flashes of skin in an otherwise demure collection – hers is an aesthetic that combines sex appeal with practicality.
There was plenty of choice for heiresses and film stars among the many full-length, potential red-carpet gowns, but there were luxurious separates too: silk coats and shifts that were printed with enlarged sea anemone fronds taken from Japanese wallpaper, and a series of double-breasted and belted jackets worn with matching skirts embossed with a snakeskin print, made from paper fibres and silk jacquard, and so intricate that they looked like real python. The house's signature horsebit came on structured bags which matched the vivid outfits.
Milan will host almost 70 shows in the next five days, with Prada, Versace and Armani all on the schedule.
There was a brief spat earlier this week when Roberto Cavalli decried the organising body Camera Moda for changing Giorgio Armani's Monday slot to Sunday night, leaving Cavalli the only major name showing on the last day of the event. "Do I stay on the final day, running the risk that some foreign journalists will forego my show," he wrote on his blog, "or should I overlap with some of the smaller brands?"
There have been complaints in the past that Milan's biggest labels have squeezed time slots for less established, designers, but such is the strength of those powerhouses that most foreign press and buyers attend for their names alone.
Join our commenting forum
Join thought-provoking conversations, follow other Independent readers and see their replies