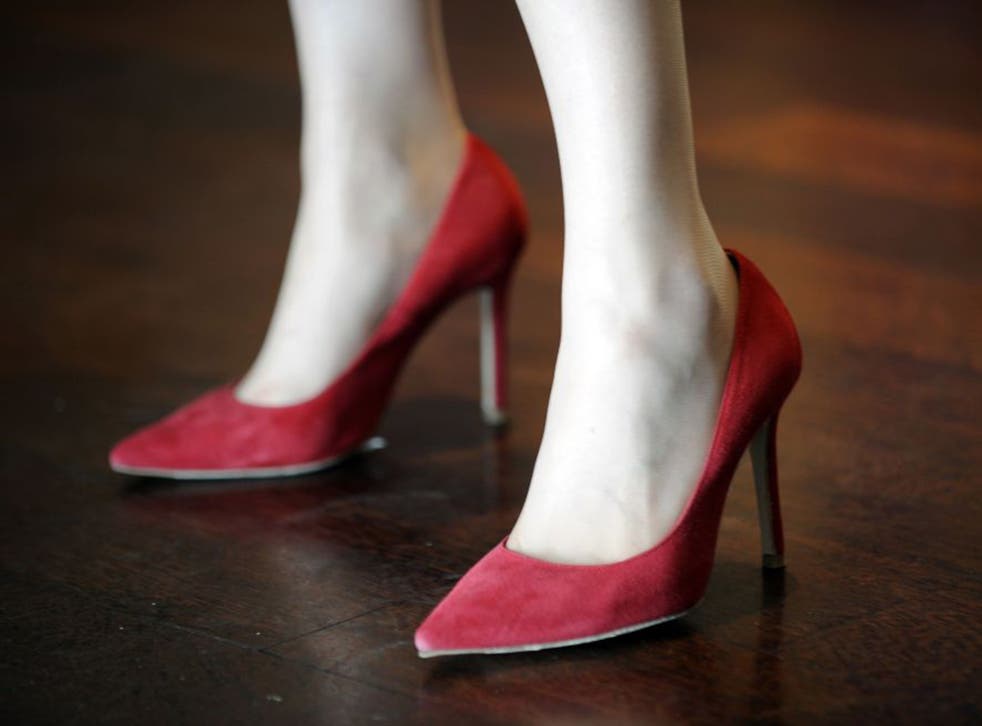 The high-powered dream team trying to create a stiletto shoe as comfy as a trainer
A former transport company executive has put together what she believes is the ultimate team to design the world's most comfortable stiletto
Tim Walker
Tuesday 05 May 2015 14:16 Comments
If, like Beyoncé, you spend your nights dancing in high heels, Dolly Singh expects you will become her "biggest fan".
The former executive with SpaceX – the US space transport company – has put together what she believes is the ultimate team to design the world's most comfortable stiletto. The team includes a rocket scientist, an engineer, an astronaut, a fashion expert and an orthopaedic surgeon. Their aim: to lift women up by several inches without causing lasting damage to their feet.
Assembling such an array of serious scientific talent took some doing; some of them initially thought it was a silly idea. "The key was to make it an interesting problem in their language. Asking them to design a high heel isn't interesting," says Ms Singh. "But asking them to design a structure that supports a secondary structure, which is dynamic and has a 180-degree range of motion and happens to be a human body? That's interesting. I had to make them see it not as a fluffy problem, but as a serious engineering problem.
"I love high heels – I'm 5ft 5in, but if I put on heels, I'm 5ft 9in and I feel model-esque," she says. But after five years walking the floors of SpaceX's 550,000-square-foot facility in Los Angeles in 4in (10cm) heels, she began to feel the pain.
"I had two choices: either wear uglier shoes or end up with ugly feet." Her solution was to create her own company, Thesis Couture, which she describes as like "Nike meets Jimmy Choo".
Her first recruits were SpaceX technical wizards Garrett Reisman, an astronaut, and rocket scientist Hans Koenigsmann. The firm's advisory team, led by Ms Singh and fashion technologist Amanda Parkes, also includes British orthopaedic surgeon Andy Goldberg and Matt Thomas, director of mechanical engineering at Oculus VR, the pioneering virtual reality firm recently bought by Facebook for $2bn, (£1.3bn) who has also designed military-grade eyewear for Oakley.
It is not possible, Ms Singh admits, to make stilettos that feel like Nikes, but what Thesis Couture intends is to make "stilettos that feel and function like wedges".
The heel of the firm's first shoe will be a little under three inches high – but, thanks to some clever design, it will look like four inches. The shoe won't be built around a metal rod like traditional heels, but will instead use high-tech polymers and plastics. The design promises to improve load distribution from heel to toe and, with aerospace-grade foams in the sole, to reduce the impact of each step on a wearer's foot by up to 50 per cent.
The shoe's tech skeleton will be manufactured in Singapore, while the fashion skin will be made in Italy and Brazil. The first finished stiletto should strut off the production line in three months' time.
The first 1,500 limited edition Thesis shoes will be sold in the autumn for $925 (about £610) a pair, each one numbered and signed by a guest fashion designer. Ms Singh said she planned to send a few dozen pairs to VIPs. After that, the plan is to target the growing workforce of professional women with comfortable, safe stilettos for between $300 and $900 (about £200 to £600). Her ultimate goal is to license the company's technology to other brands.
"Five years from now," she says, "I want every high heel on the face of the Earth to be made the way we make them."
Register for free to continue reading
Registration is a free and easy way to support our truly independent journalism
By registering, you will also enjoy limited access to Premium articles, exclusive newsletters, commenting, and virtual events with our leading journalists
Already have an account? sign in
Join our new commenting forum
Join thought-provoking conversations, follow other Independent readers and see their replies