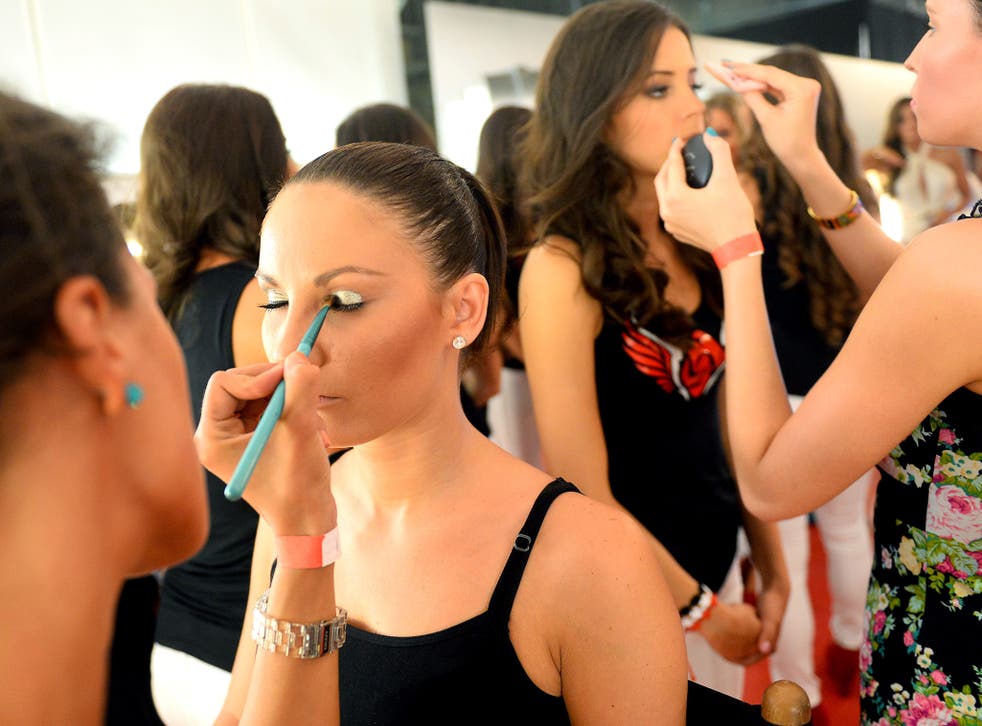 Unpaid make-up artists reveal the ugly side of Miss World
Beauty pageant offered to pay artists in "credit" and goodie bags
The Miss World pageant has become mired in a union dispute after it was revealed that make-up artists helping the models prepare for the stage will go unpaid.
The entertainment union Bectu has stepped in after several artists complained about a recruitment email offering "credits" (their name being credited) and a goody bag to work at the event.
In an article titled "Is Miss World 2014 aware that unpaid labour is being recruited to the contest?", the union's communications officer Sharon Elliott said: "The sense of outrage from qualified make-up artists wanting to make a living is palpable."
She added: "We congratulate the make-up artists prepared to make a stand against exploitation and we invite many more in the creative sectors to stand with them."
Bectu's suggested day-rate for freelance make-up artists is set at between £200 and £300. One artist, Mariam Jensen, said: "I think it's disgusting, you wouldn't ask a cameraman to work for free."
But Colin Laphan, whose company ADCreativ won the contract to provide the make-up services, has hit back, saying it will provide invaluable exposure for those working on the event, adding: "We do things for credits all the time; it's the norm." He denied accusations of exploitation.
This year's Miss World will be held at the ExCel Centre in London on 14 December, and organisers claim that it could reach an audience of 2.2 billion people on television and the internet.
Mr Laphan put out an invitation looking for 30 volunteer make-up artists earlier this month. Sent to well-known make-up artists including Daniel Sandler as well as recent graduates, it said: "There are 130 contestants all with equal billing! They all need star quality hair and make-up with quick changes through the programme. There are also some build-up events that require cover."
The email continued: "Everything is credits only. We ar [sic] not receiving any fees for this. We are organising this for the credits. There will be goody bags."
The invitation was shared among groups of make-up artists on social media, some of whom responded angrily about being offered no pay, and several brought the issue to Bectu.
One make-up artist, who declined to be named, said: "It's just rude to ask professionals to work for nothing. Goody bags are not payment."
But Mr Laphan said the offer was oversubscribed and will include award-winning make-up artists. He added that he was shocked by the response from his fellow professionals, saying that ADCreativ was receiving no money and all the make-up for the Olympic closing ceremony was also provided on a voluntary basis.
"I've chosen to pitch for it on the basis I would get exposure. Having Miss World on my CV is more important than the money."
He said the issue was "nothing to do with Miss World." The Independent was unable to contact the Miss World organisers by the time of going to press.
Vital statistics: Miss World's history
Miss World is the oldest major international beauty pageant.
Launched in 1951 by Eric Morley as part of the Festival of Britain.
In 1970, feminists threw flour bombs during the live event at the Royal Albert Hall in London.
The longest reign was Kerstin Hakansson, one year and 108 days, and the shortest was Gabriella Brum who resigned after 18 hours.
Halle Berry, who would later win an Oscar, competed in 1986.
The UK has had four wins, behind India with five and Venezuela with six.
Register for free to continue reading
Registration is a free and easy way to support our truly independent journalism
By registering, you will also enjoy limited access to Premium articles, exclusive newsletters, commenting, and virtual events with our leading journalists
Already have an account? sign in
Register for free to continue reading
Registration is a free and easy way to support our truly independent journalism
By registering, you will also enjoy limited access to Premium articles, exclusive newsletters, commenting, and virtual events with our leading journalists
Already have an account? sign in
Join our new commenting forum
Join thought-provoking conversations, follow other Independent readers and see their replies