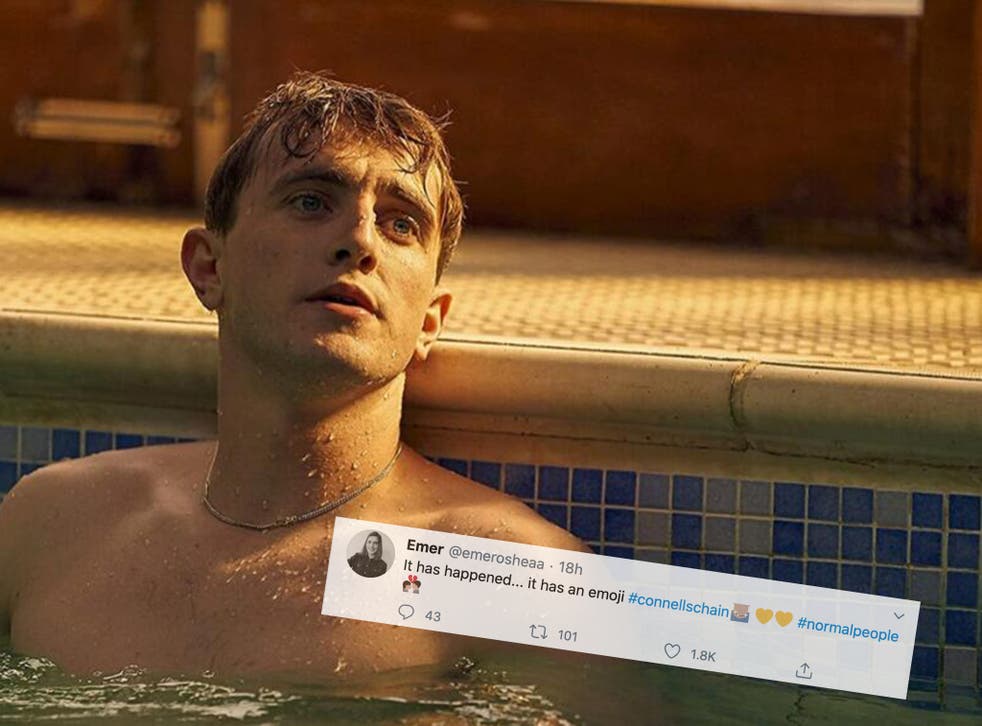 Connell's chain from Normal People given hashtag on Twitter
'#connellschain has an emoji I am genuinely speechless,' Twitter user writes
The infamous chain worn by Connell in television series Normal People has been granted its own hashtag on Twitter.
Ever since the release of the coming-of-age drama on BBC in the UK and on Hulu in the US, viewers have been raving about the beautiful adaptation of Sally Rooney's novel of the same name, applauding the powerful, emotional nuances of the show and the sizzling chemistry between the two lead characters.
However, another unexpected aspect of the show has been receiving an increasing amount of attention – the silver chain worn by Connell, portrayed by actor Paul Mescal.
An Instagram account dedicated to the piece of jewellery currently has 94,000 followers, while in April, sales of neck chains on Asos increased by 130 per cent.
On top of that, the hashtag "#connellschain" now has its very own dedicated emoji on Twitter, thus cementing its viral fame.
When you post a tweet with the aforementioned hashtag on the social media platform, a close-up of Connell's neck wearing the sparkling, silver chain automatically appears.
Several Twitter users expressed their excitement after discovering the new emoji.
"#connellschain has an emoji and my life is now 100 per cent better for it," one person wrote.
"Most deserving piece of jewellery of an emoji ever," another remarked.
The automatic appearance of an emoji on Twitter when using a specific hashtag is called a "hashflag".
Hashflags are frequently seen when significant events are taking place, such as the Oscars, or when highly-anticipated films are released, such as Michelle Obama's documentary Becoming.
While speaking with Nick Grimshaw during a recent interview on BBC Radio 1, Mescal stated his belief that the chain he wore in Normal People "will always be more popular than I am".
"A little page had started somewhere and now it's this beast that is growing legs," Mescal said of the Instagram account created in honour of his character's accessory.
The actor added: "We've been sleeping on chains for far too long in my opinion."
If you would like to emulate Connell's style, take a look at our IndyBest guide on the best silver chains currently available on the market.
Register for free to continue reading
Registration is a free and easy way to support our truly independent journalism
By registering, you will also enjoy limited access to Premium articles, exclusive newsletters, commenting, and virtual events with our leading journalists
Already have an account? sign in
Register for free to continue reading
Registration is a free and easy way to support our truly independent journalism
By registering, you will also enjoy limited access to Premium articles, exclusive newsletters, commenting, and virtual events with our leading journalists
Already have an account? sign in
Join our new commenting forum
Join thought-provoking conversations, follow other Independent readers and see their replies