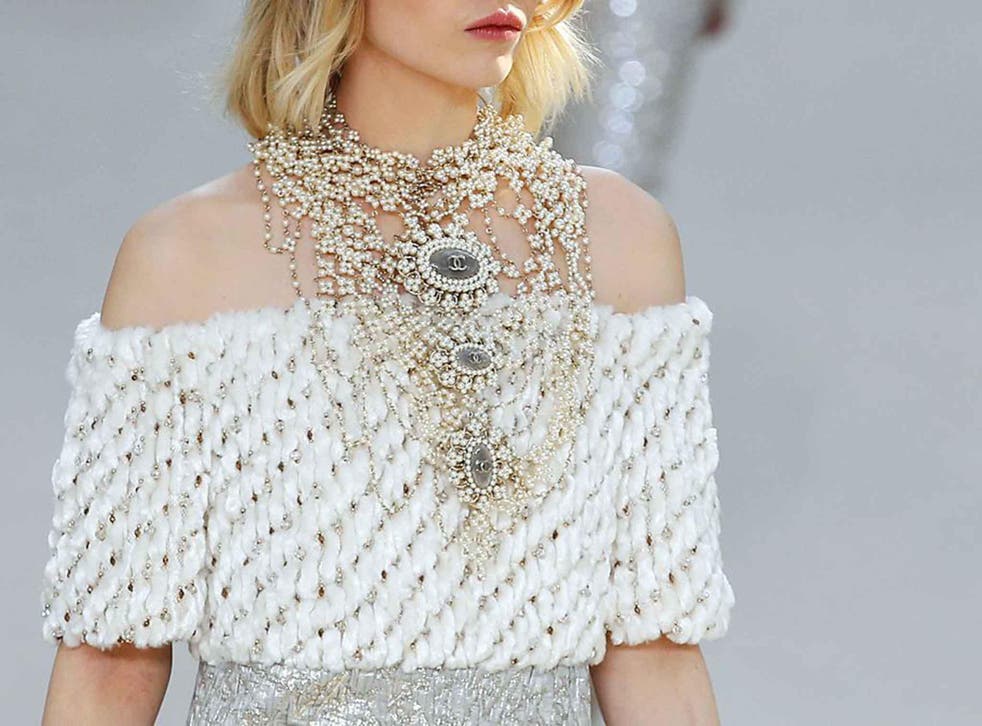 Pearls are back: Classic jewellery trend returns to Chanel, Moschino and Gucci catwalks?
The classic gem has finally come out of its shell
No longer the reserve of nanas, sorority girls and cockney pearly queens – when it comes to these gems it's time to throw out the rule book.
For a long time, pearls were considered the calling card of the ingénue and a badge of respectability. But in 2017, they've been given a heavy dose of cool-girl edge.
Uptight and stuffy? We don't think so. Instead, you can expect to find classic pearls wrapped around chokers, stacked on rings and lined up along ear cuffs.
Karl Lagerfeld has long curated pearl chic but for Chanel's fall 2016/17 offering, the designer sashayed the gem in multi-layers of strands – five, six, seven and counting.
This was a reminder of Chanel's heritage and the power of the pearl necklace never as we'd seen it before.
Paired with everything from frilly white trapeze dresses to classic tweed suits, these pearls were worlds away from the stuffy single strings you'd find at the bottom of your grandmother's jewellery box.
How to wear pearls

Show all 8
It's a trend that irrefutably dominated the runway with Gucci, Miu Miu, Marni and Moschino showcasing pearls in all manner of ways.
For Gucci, it was embroidered bodices and pearl knuckledusters while Miu Miu offered theirs oversized on pearl-decorated slides.
Similarly at Marni, a collection consisting of high-waisted stirrup leggings and retro quiffed waves was counteracted by gobstopper pearls reaching around the model's necks.
Evidently, the classic treasure has finally come out of its shell but how easy is this to translate into ready-to-wear?
When it comes to pearls, it's important to give the Stepford Wife-look a wide birth. Instead, get provocative and pair your drop earrings or cluster rings with garb that has a little edge.
From rock 'n' roll band tees to ripped jeans and leather, the dainty pearl offers a touch of femininity to the toughest of ensembles.
Join our new commenting forum
Join thought-provoking conversations, follow other Independent readers and see their replies