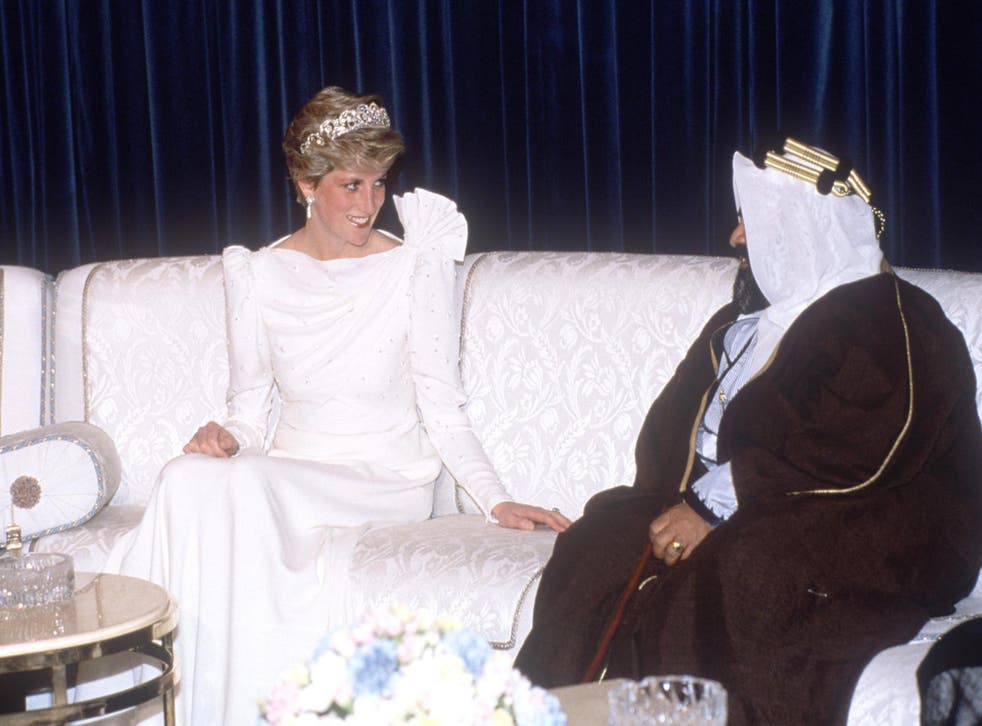 Woman who bought Princess Diana dress for £200 may sell it for £100,000 at auction
The princess wore the dress during a royal tour of the Gulf States in 1986
A dress worn by Princess Diana during a 1986 royal visit to Bahrain could be sold for more than £100,000 at auction, more than two decades after it was donated to a second-hand clothes shop and purchased for £200.
The ivory silk gown, designed by David and Elizabeth Emanuel, was worn by the princess during her royal tour of the Gulf States with Prince Charles.
The dress was later given to a second-hand shop by the housekeeper of the Mynde Park estate in Herefordshire, an estate that Princess Diana frequently visited.
The dress was bought by someone working part-time in the shop in 1994 for the mere price of £200.

The buyer had initially intended on wearing the dress to a hunt ball, but never did.
It was only when the woman watched a documentary that featured footage from Princess Diana's Gulf States visit that she realised how much the gown may be worth.
The dress is now due to be auctioned by Kerry Taylor Auctions in Bermondsey, south London, on 10 December, with the final sale likely to reach between £60,000 to £100,000.
"Many of the Princess Diana pieces that I've sold over the years have come from the charity auction that she held in the 1990s, but this one somehow missed that," auctioneer Kerry Taylor tells The Independent.
"It's unusual that such an important dress has come from a second-hand shop, because normally the pieces that Diana sold to second-hand shops, which she often did, were from her daywear wardrobe.
Dress worn by Princess Diana being auctioned for £100,000

Show all 8
"The lady who bought it intended to wear it to a hunt ball, which luckily she didn't.
"She realised its importance only when she was watching a documentary about Princess Diana."
Taylor reveals to The Independent that designer Elizabeth Emanuel has confirmed that this dress was the only one of its kind ever made.
"It just makes you wonder how many other ladies in Herefordshire have Princess Diana dresses tucked away," she says.
Another item of clothing worn by Princess Diana and bought by the same woman in the second-hand shop is a blue Chelsea Design Company blazer, a staple item from the royal's wardrobe.
While this piece will also likely prove popular during the auction, it's improbable that it'll be sold for as much as the gown as it's been worn half a dozen times and has been damaged by moths and mice.
The blazer was bought from the used-clothes shop for £30, and is expected to be auctioned for around £2,500 to £3,500.
Princess Diana was particularly fond of David and Elizabeth Emanuel's designs, most notably with her iconic 1981 wedding dress.
This isn't the first time that dresses previously worn by Princess Diana have been sold for inconceivable prices at auction.
Support free-thinking journalism and attend Independent events
In 2016, a sequinned Catherine Walker evening gown worn by Princess Diana fetched £96,000 at an auction also held by Kerry Taylor.
"It is unusually glitzy being entirely covered in shimmering sequins - more Hollywood glam than the sedate, elegant numbers she usually wore," Taylor said about the dress at the time.
Register for free to continue reading
Registration is a free and easy way to support our truly independent journalism
By registering, you will also enjoy limited access to Premium articles, exclusive newsletters, commenting, and virtual events with our leading journalists
Already have an account? sign in
Register for free to continue reading
Registration is a free and easy way to support our truly independent journalism
By registering, you will also enjoy limited access to Premium articles, exclusive newsletters, commenting, and virtual events with our leading journalists
Already have an account? sign in
Join our new commenting forum
Join thought-provoking conversations, follow other Independent readers and see their replies