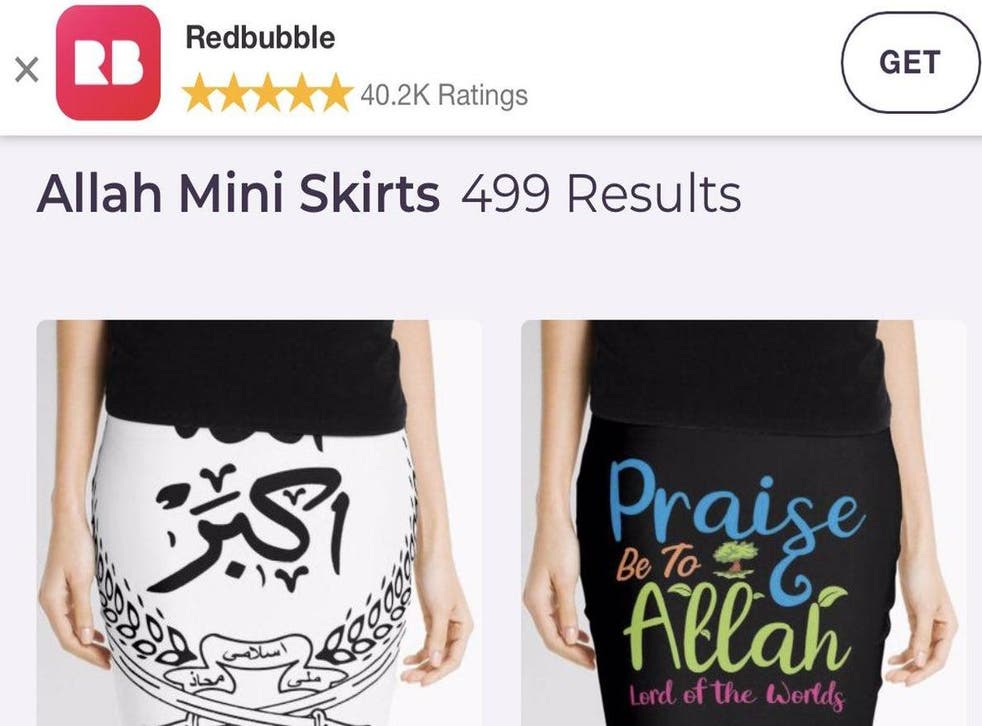 Redbubble: Fashion site removes 'offensive' and 'disrespectful' Allah miniskirts after backlash
The retailer was criticised earlier this month for selling skirts and pillows with images of Auschwitz on them
Olivia Petter
Wednesday 22 May 2019 12:27 Comments
An online fashion website has removed miniskirts emblazoned with the word "Allah" after they were labelled "offensive" and "disrespectful" on Twitter.
Redbubble had been selling a range of miniskirts bearing phrases such as "Praise be to Allah" and "without Allah I am nothing", which were branded "point blank inappropriate" and "shocking" by shoppers.
The website works by allowing independent artists to upload and sell their designs printed on a range of consumer products. The skirts in question were being sold for £25 to £28.
"Has anyone seen this; Allah mini skirts!" tweeted one person alongside a screenshot of the products. "What on earth @redbubble this is highly offensive and incredibly stupid on your part."
Redbubble responded to the complaints on Twitter, telling shoppers that the content printed on their products was "not in line with our Community Guidelines" and that it would remove them immediately.
Princess Diana's most iconic fashion moments

Show all 17
It's not the first time Redbubble has been criticised for selling offensive items.
On 16 May, one person pointed out that Redbubble was selling a number of skits with the word "Sikh" on them.
"This account @redbubble must be reported against for the kind of products it is marketing!" they tweeted, adding that the items "shame and hurt Sikhs".
Redbubble responded by tweeting, "Thank you for bringing this to our attention. Redbubble is the host of an online marketplace where independent users take responsibility for the images they upload. We have onsite reporting functions in place and are grateful to be made aware of these concerns.
"We are taking immediate action to remove these and similar works available on these product types. Please don't hesitate to reach out with any additional concerns."
The website was criticised again earlier this month for selling skirts and pillows with images of Auschwitz printed on them.
The black and white skirts depicting the former Nazi concentration camp were described as "disturbing" by Auschwitz museum officials.
Redbubble responded by admitting that the items were "not acceptable" and that it would take "immediate action" to remove them from sale.
In a comment provided to The Independent, a spokesperson for the company said: "We understand and respect the sentiments raised that some designs inspired by religious and culturally significant imagery are offensive to some people in the Sikh and Muslim communities, when placed on certain products.
"Under the previous upload process, designs were added to mini skirts and leggings without artists being asked to proactively assess the appropriateness for that product.
"Redbubble has taken action to change this in the upload process and have removed related designs from these two products out of respect for the community feedback we have received."
Register for free to continue reading
Registration is a free and easy way to support our truly independent journalism
By registering, you will also enjoy limited access to Premium articles, exclusive newsletters, commenting, and virtual events with our leading journalists
Already have an account? sign in
Join our new commenting forum
Join thought-provoking conversations, follow other Independent readers and see their replies