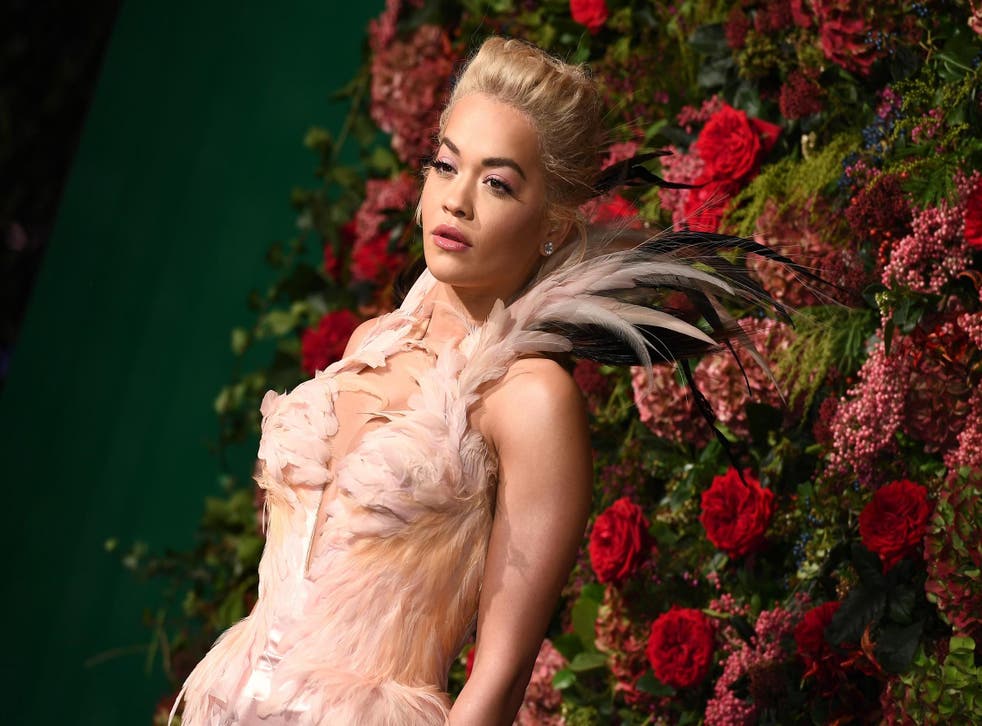 As Rita Ora's new album drops, a look back at her biggest fashion moments
She's never been one to play it safe
Prudence Wade
Friday 23 November 2018 12:49 Comments
It might feel like Rita Ora has been a prominent fixture of the UK music and pop culture scene for a while now, but in fact she's only just releasing her second album.
Woes with record labels mean Phoenix – which is released today – has been a long time coming. Luckily, even when Ora hasn't been making new music, she's still been a steady feature both onstage and on the red carpet.
This means the 27-year-old singer has really had time to hone her personal sense of style, which is eclectic to say the least.
A cursory look on Instagram shows you just how often Ora changes her hairstyle – from long, blonde and poker straight to red and choppy in the blink of an eye – and her sartorial decisions are just as diverse.
Fashion and beauty brands are well aware of Ora's appeal, and she's done notable collaborations with the likes of Adidas and Rimmel.
Outside of these big collabs, Ora is one of the most interesting faces in fashion at the moment – and here are some of her key looks.
Nearly naked
2018 really has been the year of sheer. Runways and red carpets are jam packed with see-through dresses, and Ora jumped on board with this trend for August's MTV Video Music Awards. She wore a Jean Paul Gaultier couture gown that was definitely not for the shy and retiring – Ora later told Vogue she wanted the looks of the night to reflect her "edgy, bad*** side".
Even though the fashion world is newly embracing sheers, Ora's been on the nearly naked hype for a long time. We can't really blame her for solely wearing bodysuits and crop tops when performing onstage – not only does she look amazing, but it would give her a whole lot more freedom to pull off those complicated dance moves.
And in case you were wondering how Ora stays toned, it's apparently down to daily circuit training. She tells Shape: "I usually work out for one or two hours, depending on how much time I have. I do three circuits and repeat that three times. I mostly focus on my thighs and my bum, so I do a lot of squats and weight lifting. And I do one circuit of cardio."
Keeping it classy
Unsurprisingly, Ora can really deliver when it comes to the big events. Take this year's Met Ball – the theme was Heavenly Bodies: Fashion and the Catholic Imagination – where Ora was dressed head-to-toe in Prada. Her black gown had a long chiffon train and was pure elegance, and the singer made sure she paid due homage to the theme with her extravagant spiky headpiece adorned with black roses.
Even in big events like this, Ora stays true to her quirky style – in this instance, with the addition of a bright yellow bag.
Ora tends to leave her hair loosely curled when she's going for full elegance – like when she attended an Oscars party wearing a red Zuhair Murad gown. The overall impression was one of Old Hollywood glamour, and looked totally effortless.
For this year's Brit Awards, Ora went down the romantic princess route with a fluffy pale blue gown from Ralph and Russo. This definitely is a lot of dress to pull off, but Ora makes sure she's wearing the dress – and it's not wearing her.
Taking risks
Even though there's no doubt Ora can do elegance whenever she wants, what we really appreciate is her experimentation. She's not one to play it safe when it comes to her fashion choices – who else would walk the red carpet dressed in a bathrobe with a towel on their head?
In all honesty we bow down to Ora in this instance, because she managed to make coming out of the shower look glamorous. And as an extra bonus, she wouldn't have needed to bother drying and styling her hair for this look.
Or what about the time Ora turned up to the Radio 1 Teen Awards dressed in Burberry's iconic nova check – complete with the matching hat?
Considering how baggy and loud the outfit was, we can safely assume Ora was having a whole lot of fun with it.
Clashing neon colours, chiffon overlays, floral appliques and gloves up to her elbows – this is the kind of eclectic ensemble that would look a bit off on anyone else, but totally at home on Ora.
Register for free to continue reading
Registration is a free and easy way to support our truly independent journalism
By registering, you will also enjoy limited access to Premium articles, exclusive newsletters, commenting, and virtual events with our leading journalists
Already have an account? sign in
Join our new commenting forum
Join thought-provoking conversations, follow other Independent readers and see their replies