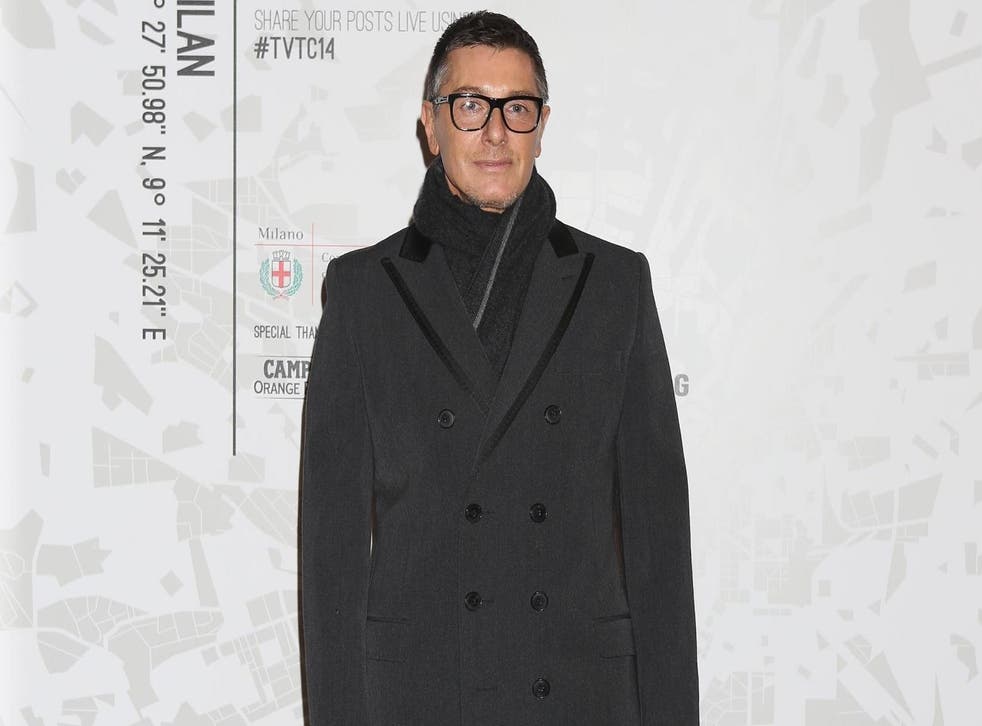 Stefano Gabbana calls blogger Chiara Ferragni's Dior wedding gown 'cheap'
The designer has previously written controversial comments on Instagram
Designer Stefano Gabbana has provoked a new backlash over his comments on Instagram - this time for calling Italian fashion blogger Chiara Ferragni "cheap" on her wedding day.
Ferragni, an Italian fashion blogger and designer, married singer Fedez Leonardo Lucia in a lavish ceremony that included three custom-made Dior wedding gowns.
Following the ceremony, a photo of one of the gowns, created by Maria Grazia Chiuri, was uploaded to the Harper's Bazaar UK Instagram - where it caught the attention of the Dolce and Gabbana designer, who wrote simply: "cheap."
In the black-and-white photo, the 31-year-old poses in one of her three ensembles - a long-sleeved lace-detailed ballgown with a veil.
Gabbana's comment regarding the Blonde Salad blogger's dress was captured by the account Comments by Celebs - and prompted outraged comments from people criticising the designer.
"@Stefanogabbana unnecessary. I used to love your brand but your assaults on others are unjustified and classless. Have more respect for yourself and the business you carefully built," one person responded.
Another said: "@stefanogabbana the only thing cheap here is your nasty attitude."
Others mocked the designer's own fashion line and suggested he was jealous.
"Not as cheap as those rhinestone D&G t-shirts you sell for $400.00…" wrote one person.
According to Dior, the gown created for Ferragni's Sicily wedding, "fuses Italian craft inspiration with French haute couture for a result that is both definitively contemporary and timeless."
Ferragni has not responded to Gabbana's comment, however, this isn't the first time the outspoken designer has found himself the centre of controversy surrounding his Instagram comments.
From catwalk to courtroom: star designers Dolce and Gabbana go on trial for tax dodging

Show all 2
Gabbana faced a similar negative reaction previously when he wrote on a photo of Selena Gomez "è proprio brutta," which translates to: "She's so ugly" and commented "No" on a photo of model Kate Moss.
Register for free to continue reading
Registration is a free and easy way to support our truly independent journalism
By registering, you will also enjoy limited access to Premium articles, exclusive newsletters, commenting, and virtual events with our leading journalists
Already have an account? sign in
Register for free to continue reading
Registration is a free and easy way to support our truly independent journalism
By registering, you will also enjoy limited access to Premium articles, exclusive newsletters, commenting, and virtual events with our leading journalists
Already have an account? sign in
Join our new commenting forum
Join thought-provoking conversations, follow other Independent readers and see their replies