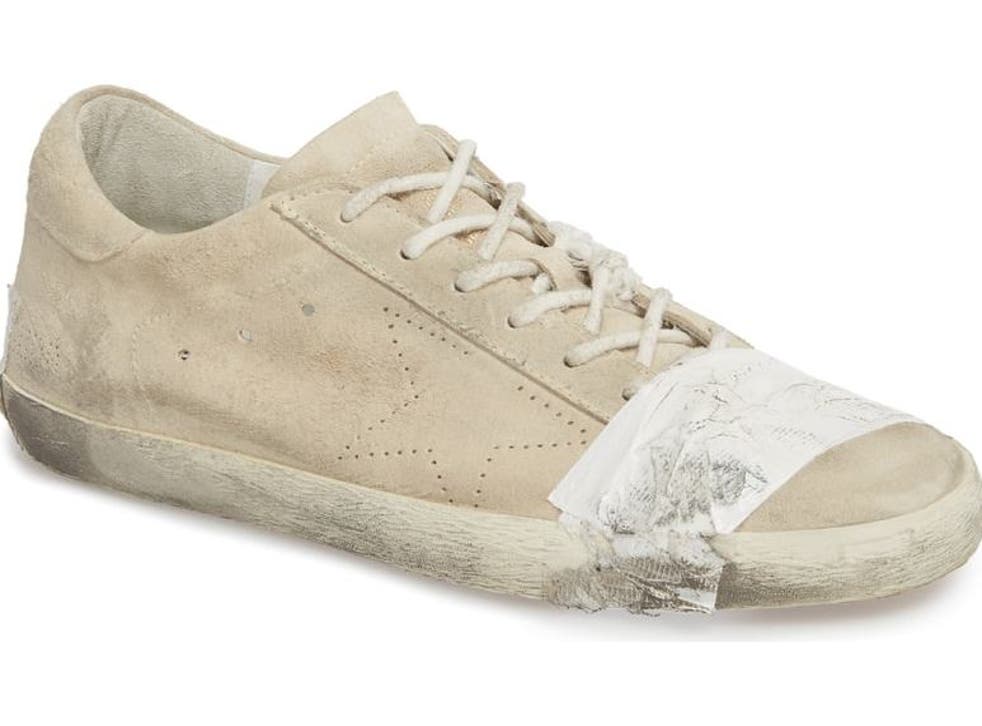 Taped designer trainers heavily condemned for 'mocking poverty'
'The 'Golden Goose' here is anyone who would consider paying $530 for these glorified poverty sneakers'
A pair of trainers has been lambasted on social media for "mocking poverty".
The Golden Goose shoes, which are on sale for $530 (£400), have caused a backlash on Twitter due to the aged design of the shoes, which appear battered and have duct tape over the toes.
Golden Goose is an Italian designer shoe brand that's gained prominence since 2000 for its vintage-inspired footwear.
The trainers are part of the brand's fall/winter 2018 collection, which was announced in January this year.
Numerous people have called out the designer brand for "glorifying poverty" by selling the shoes, that have been purposely made to look worn at an elevated price.
"There are people in the world wearing plastic bags as shoes because they can't afford any but these HIDEOUS things are selling for $500," one person wrote in a tweet that's been liked more than 47,000 times.
"The 'Golden Goose' here is anyone who would consider paying $530 for these glorified poverty sneakers," another person tweeted.
In the description of the product on the Nordstrom website, it states that the shoes have been designed with "crumply, hold-it-all-together tape" and a "grungy rubber cupsole".
This isn't the first time Golden Goose has sold a pair of distressed trainers decorated with duct tape, having released an almost-identical pair of shoes in 2016.
At the time the trainers, which were being sold for $585 (£443), were described by Scottish comedian Brian Limond as "poverty appropriation."
Others compared the shoes to the poverty-inspired satirical "Derelicte" fashion campaign from the 2001 Ben Stiller comedy Zoolander.
The fictional "Derelicte" campaign was actually based on a real John Galliano haute couture collection from 2000, which sparked outrage by taking inspiration from the homeless in Paris.
Some people have jumped to the defence of Golden Goose in light of its recent controversy, explaining that the Italian brand has created similar products on multiple occasions in the past.
"Why are people acting like Golden Goose making beat up sneakers is new?" one person tweeted.
"They've BEEN around. People in Italy actually enjoy that distressed look in everything."
London Fashion Week 2018: Best street style

Show all 33
"Golden Goose have been around for years and their entire brand is built on a distressed look," another person commented.
"Also not only 'the poor' wear beat up sneakers. It's a huge trend to wear battered cons."
Distressed fashion, apparel that's been made to look worn, ripped or holey, has become a source of contention in recent years, with celebrities such as Gigi Hadid and Paris Jackson catching onto the trend by wearing heavily ripped jeans and holed t-shirts.
The Independent has contacted Golden Goose for comment.
Join our new commenting forum
Join thought-provoking conversations, follow other Independent readers and see their replies