Fashion Feature
The revolution of tights: How hosiery is becoming trendy and green
'We refer to hosiery as the single-use plastic of the textile industry'
Monday 14 October 2019 15:49 BST
Comments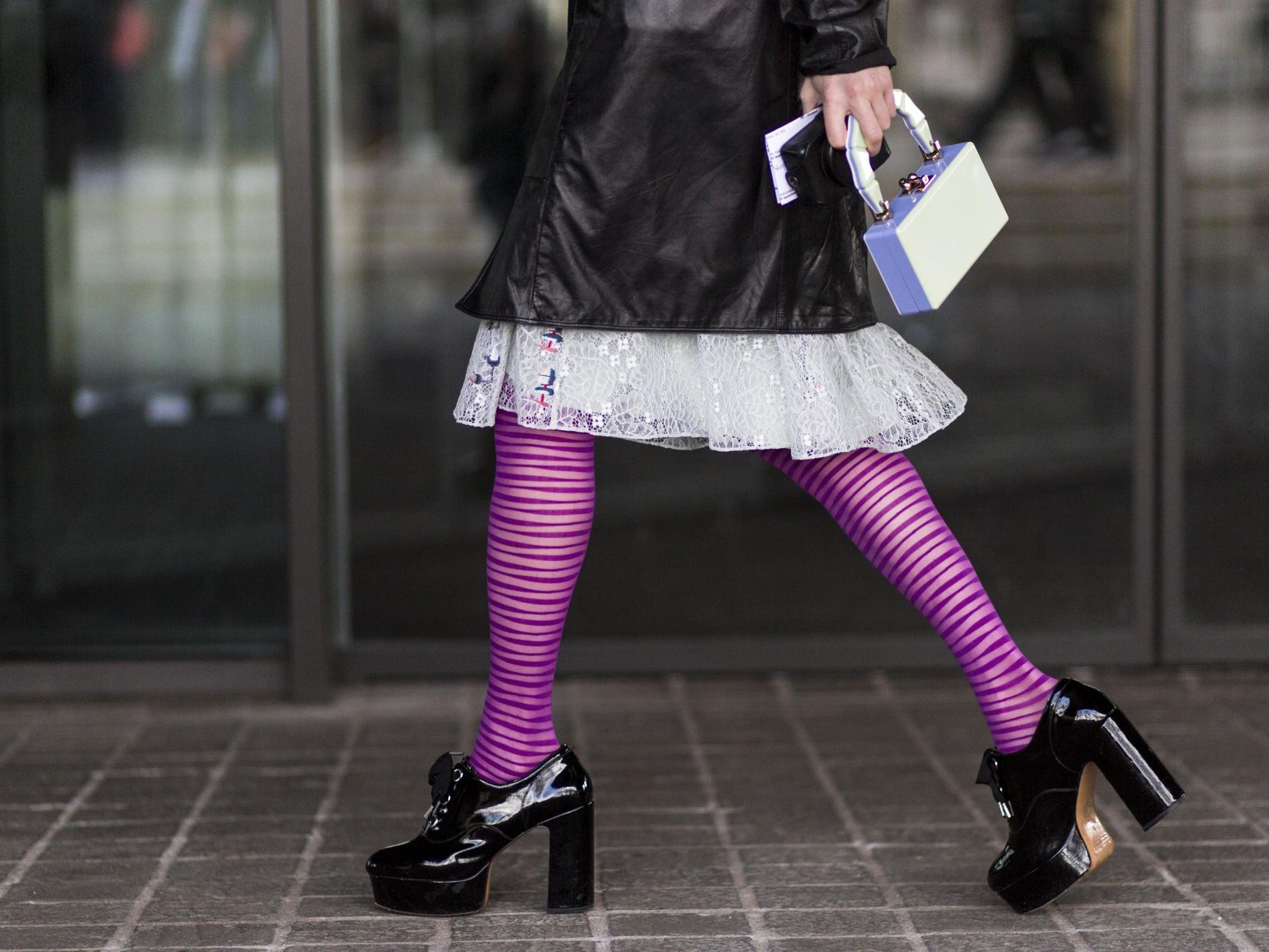 Tights don't get good press.
Perhaps it's a hangover from our school uniform days when our 60 deniers kept falling down and required constant manoeuvring, when ladders appeared daily thanks to splintering wooden chairs and front seams poked through clothing ruining our entire aesthetic. But think of tights and the word "chic" doesn't immediately come to mind.
Fashion brands are doing their best to change that. Look at the spring/summer 2020 runways and you'll see countless designers declaring tights trendy. On the British catwalks, we saw Richard Quinn decorate his hosiery with brash florals to match the prints on his gowns while the Paris Fashion Week crowd saw acid neons and blue polka dots adorning tights at Balenciaga. Meanwhile, logomania is rife across labels like Gucci, Saks Potts and Fendi, all of whom have splattered their signage on tights this season.
London Fashion Week SS20: Richard Quinn
Show all 14
Of course, the downside to investing in extortionate stockings is that their price tags often far exceed their price-per-wear. Why splash the cash on an item you will probably only be able to wear a handful of times before catching it on something sharp and tearing it to shreds, when you could buy a £4 multipack from Marks & Spencer and replace them without breaking the bank?
But it's exactly this disposable approach that makes tights one of the most problematic items in our wardrobes. Thanks to the work of campaigners like Extinction Rebellion and the Environmental Audit Committee, who conducted an inquiry into fast fashion last year, we are acutely aware of the carbon footprint of our clothes and, while we swear off fast fashion and boycott fur, tights seem to have largely snuck under the radar.
Stretching beyond their disposable nature, the production of tights is problematic in itself. Made from greenhouse gas-emitting nylon, they are incredibly difficult to recycle and often conclude their short lifespan in landfill, where their synthetic manufacturing means they won't break down.
"Tights are the single-use plastic of the textile industry," says Daniel Clayton, who, in January, set up The Legwear Company (TLC), an Australian brand that sells tights made from recycled materials. "There is in excess of 103,000 tons of hosiery waste created every year around the world. That is the equivalent of over 8,000 double-decker buses". 
Clayton is among a number of hosiery manufacturers producing eco-friendly tights. "We use a mixture of yarns, combining both recycled nylon and microencapsulation technology that contains aloe vera, retinol and vitamin E," he explains. "All these yarns are sold from my family's yarn business back in England and our new shapewear and activewear ranges use a yarn made from recycled fishing nets from the sea."
TLC also runs a recycling program that encourages customers to return their tights so they can be melted down and their elastane content can be put into long-life plastic products, such as car components. Those looking to reduce their carbon footprint should start approaching tights with the same vigilance they would plastic bags or bottles, Clayton adds, because "a lot of the raw polymer material used is the same in all three".
Other brands are keen to make changes, too. Swedish Stockings uses recycled polyamide, bio-cotton and cashmere for its hosiery, in addition to producing it in zero-waste production facilities. Their recent collaboration with streetwear favourite, Ganni, means their methods are likely to catch on. "Our mission is to change and influence the entire hosiery industry because at the moment we know it is very traditional, outdated and a major source of pollution," says Andreea Toca, the company's sustainability and brand manager.
As for established luxury labels, there's Wolford, who, in June, launched a range of stockings made from nylon waste and recycled ocean fishnets – and yes, one of the designs is a pair of fishnet tights, so you can now buy fishnet tights made from actual fishing nets. The previous year, the brand launched its first biodegradable collection. Yet while Wolford is looking into expanding its sustainable range, it remains sceptical as to whether eco-friendly tights carry the luxury cache of its trademark ones, which start at £27 per pair.
"The real question is whether we can achieve a sustainable product and be perceived as luxurious at the same token," says Andreas Rohrich, director of product development and textile sourcing at Wolford, when the brand launched their sustainable range, Cradle to Cradle.
Heist also produces famously durable tights. The proudly feminist brand has recently set a series of sustainable goals to hit by 2022, which include reducing energy consumption and greenhouse emissions. Additionally, the brand is set to release its first pair of tights made from recycled materials, The Fishnet. "We are working with sustainable technologies, such as Roica Eco Smart elastane, a Japanese engineered innovation and Fulgar Q-NOVA®, a sustainable Nylon 6,6 made in Italy and created from raw material from production waste".
But, with many of these brands charging more than your average multipack, consumers shouldn't have to shoulder the cost of more sustainable products. Purchasing a higher denier that is less likely to tear easily could be one route in. In 2007, Marks & Spencer introduced ladder resist tights which are extra durable, come in high deniers and are among the brand's bestselling items. And then, of course, it's a case of watching where you sit.
Either way, it looks like change is afoot in the world of hosiery (pun intended). And while we have a long way to go if we're to see tangible change across the high street and hesitant luxury brands alike, the progress of a select few labels is certainly a start.
Join our commenting forum
Join thought-provoking conversations, follow other Independent readers and see their replies