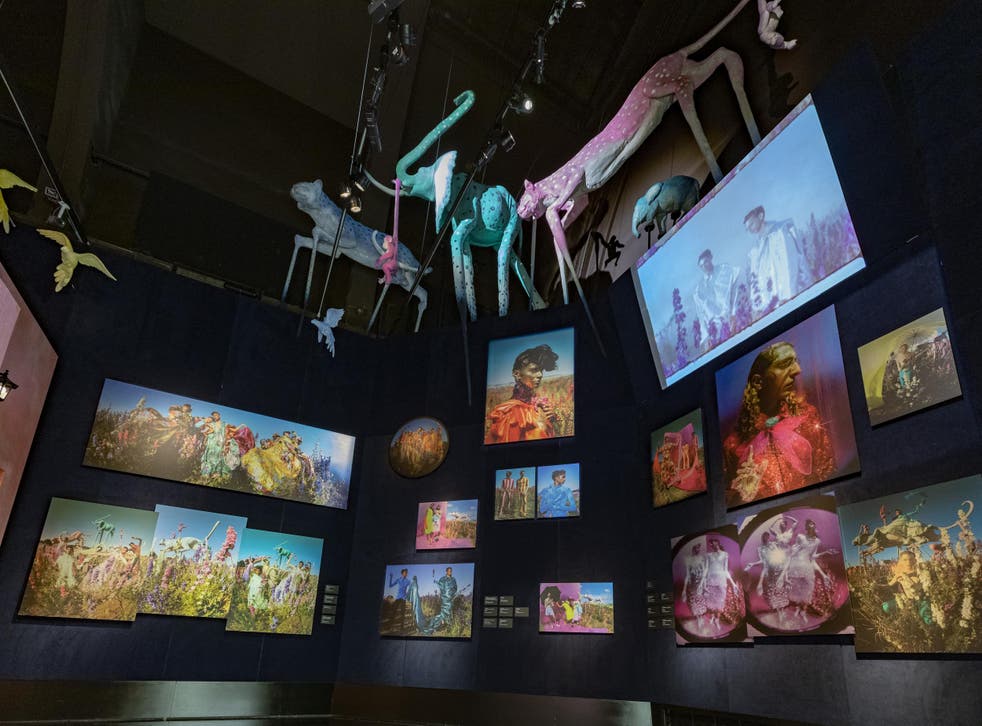 Tim Walker at the V&A review: A bewitching ode to art, artefact and fashion
The biggest-ever exhibition of the fashion photographer's work opens at the Victoria and Albert Museum this week – Harriet Hall reviews
Harriet Hall
Sunday 22 September 2019 12:47 Comments
The parameters of traditional fashion exhibitions have broadened so much in the past decade that they barely exist any longer. Instead of perusing a display of isolated garments, attendees are now well accustomed to stepping into whole worlds curated for the purpose of showcasing clothes.
Take the V&A's recent Christian Dior exhibition as one memorable example, where visitors walked right into the designer's 1950s atelier, or The Met's Savage Beauty, which invited viewers to see how it felt to watch one of Alexander McQueen's dramatic catwalk shows.
The new Tim Walker: Wonderful Things exhibition at the Victoria and Albert Museum takes this trope and amplifies it. Instead of stepping into a familiar world, one steps directly into the photographs themselves.
The V&A's latest blockbuster – following hot on the heels of its most successful exhibition to date, Christian Dior: Designer of Dreams – is the largest-ever exhibition of Walker's work. It features over 300 items including props, contact sheets, scrapbooks and short films.
For those unfamiliar with Walker's work, now is the time to go through the looking glass. A leading fashion photographer who rose to prominence in the 1990s, Walker has transcended the perfumed pages of Vogue during his quarter-century career. His work, at once otherworldly, surreal, humorous and at times even grotesque, probes right to the heart of the fashion and people it captures, referencing fairytales, literature and art. Indeed, the artistry of his images often eclipses the subjects themselves.
The exhibition opens in an unassuming manner; only the melting ceilings hint at the Wonderland to come. A bright white room is filled with over 100 of Walker's previous photographs, which serve as a taster of his oeuvre. Here we are reminded of Walker's portraiture – of the likes of David Attenborough, Timothee Chalamet, Riz Ahmed and Saroise Ronan among others – that probe right to the soul of its subject. Most haunting of all is his now infamous portrait of Alexander McQueen smoking while resting on a human skull with a lit cigarette perched between its teeth, shot a year before the designer took his own life.
Then we're onto the main event: 10 rooms containing new projects, each one inspired by various artefacts from the V&A. Over the course of three years, Walker visited the V&A's numerous storerooms, met with curators and technicians, even scaled the roof of the museum and climbed through the Victorian passages underneath it, in search of the items that would inspire each series.
For curator Suzannah Brown, Wonderful Things was a lifelong dream: "When I was interviewed for my job here in 2008, I was asked, 'If you could pick one photographer whose work to curate, who would it be?' Straight away, I said Tim. To finally have it happen is so exciting". But, she adds, it was "important that we didn't just create another gorgeous retrospective… it needed to speak to the museum in a more pertinent way".
Tim Walker: Wonderful Things is no retrospective. It is an entirely new creation; an exhibition that is as much a celebration of Walker's photography as it is of the rich treasures within the institution that houses it.
Walker's long-term collaborator, designer Shona Heath, created the exhibition's sets that bring each image to life, with each room you enter more fantastical than the one you just left. One gallery takes visitors inside a burnt-out cathedral cloister, in which 16th century stained glass windows have inspired a series of striking photographs of Grace Jones. Another collection takes its cue from a 1600s embroidered casket made by a teenage girl: the gallery becomes a kitsch pink living room and images referencing London's gay clubbing scene cover the walls.
A particularly enchanting collection, entitled Handle with Care, is inspired by the numerous conservationists at the museum, whose invisible but painstaking work takes centre-stage for the first time. Here, an haute couture dress from Alexander McQueen's 2009 Horn of Plenty collection is displayed, pouring out from beneath its protective dust wrap. Opposite, photographs show models in stiff poses climbing out from sturdy wooden storage boxes. This series is a "love letter to conservators", says Walker. "Seeing the dress by Alexander McQueen exquisitely wrapped up at the V&A Clothworkers' Centre, it became a beautiful ghost. I imagined the characters in this photograph as mannequins coming to life in the museum".
The photography exclusive to the exhibition is some of Walker's best work, free from commercial requirement or editorial interference. The images reveal the scope of the photographer's creative ability. "To me, the V&A has always been a palace of dreams… many of the objects that I saw during my research at the museum made my heart swell and I wanted to try to create a photograph that would relate not only to the physical presence and beauty of that object, but also to my emotional reaction to it," says Walker.
Rarely for an exhibition of this size, Walker's voice is more present than that of the curators (despite his careful celebrations of the latter). Visitors are led by his own words on labels that explain the thought process behind each shoot. It's an affectingly personal approach.
The press preview takes place on the final day of London Fashion Week – Anna Wintour is among attendees who have left the shows to come and see it – and a week after another fashion magazine ceases print publication. While it's difficult to imagine a space for the expensive and ambitious shoots of many fashion photographers finding a home in the precarious landscape of print publishing, when it comes to Walker's images, it feels doubtless that there will always be a place for them, wonderful as they are.
Support free-thinking journalism and attend Independent events
Tim Walker: Wonderful Things, curated by Susanna Brown and designed by Shona Heath, runs from 21 September 2019 to 8 March 2020 at the Victoria and Albert Museum. You can book tickets here
Register for free to continue reading
Registration is a free and easy way to support our truly independent journalism
By registering, you will also enjoy limited access to Premium articles, exclusive newsletters, commenting, and virtual events with our leading journalists
Already have an account? sign in
Join our new commenting forum
Join thought-provoking conversations, follow other Independent readers and see their replies