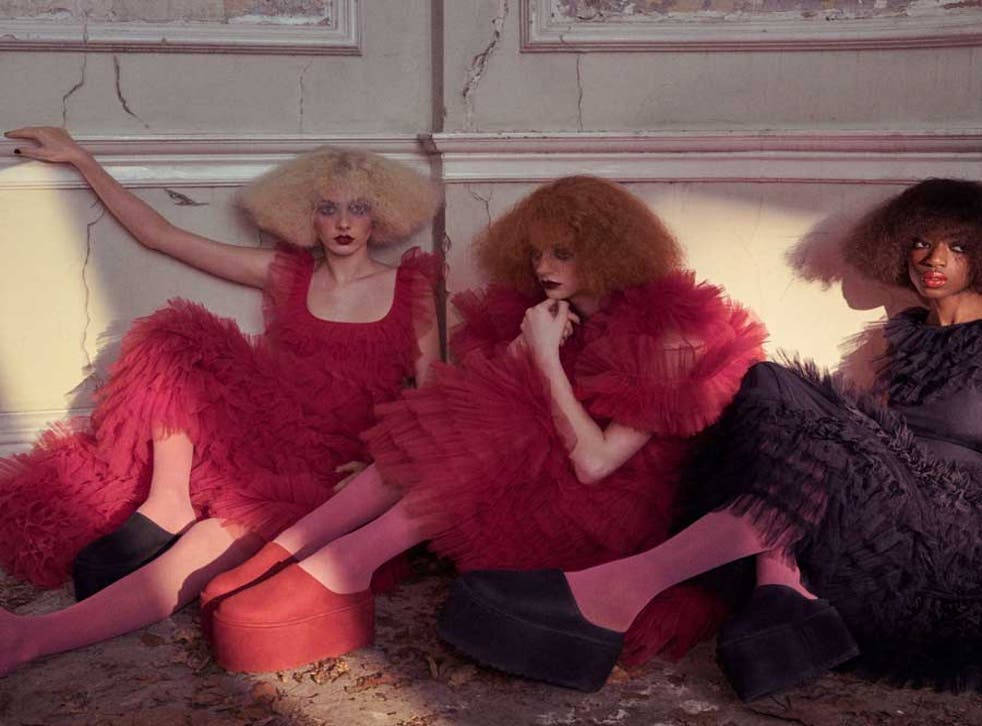 Ugg releases Molly Goddard footwear collaboration
The three-style collection includes fluffy slippers and lamb suede platform clogs
Jade Bremner
Friday 19 March 2021 16:22 Comments
Ugg has just dropped its new shoe collaboration with London-based designer Molly Goddard.
First debuting at Goddard's London Fashion Week show in September, the three-style collection includes curly sheepskin fluffy slippers, lamb suede platform clogs and a more classic Ugg boot shape.
"I had an idea for the shoes I wanted and thought 'great we can make them with Ugg'," said Goddard in a statement to The Independent.
"Shoes are notoriously hard to make and produce so when you are given the opportunity to design with few limitations it's a great opportunity."
The elegant red, green, and navy platforms (£320) have a high wedge and a comfy 10mm curly sheepskin insole for your feet. The slippers are (£280) and come in pink or deep red.
"I knew I wanted something colourful and textured and had shapes in mind, I do sketches and marked out measurements on my feet over zoom with the Ugg team," explained Goddard on how she found inspiration for her shoe designs.
"I always do a lot of research and drawings, I form an idea of what the collection will look like and with it comes an idea for the shoes."
Read more:
As part of the range, the London designer has also created a classic Ugg mini boot, Goddard's version is black with white floral appliques, with a black foam sole (costing £300 per pair).
"I love shoes to either complement or contrast with collections. This season it was great to work with Ugg and their range of materials and play with texture and colour, which is so key to all my collections," said Goddard.
In Goddard's spring ready-to-wear show she styled her exuberant, voluminous coloured tulle dresses with her Ugg footwear.
The designer gained notoriety for her pink voluminous dress in hit Channel 4 show Killing Eve. The gown was worn by protagonist Villanelle, with black biker boots.
Beyoncé wore a similar sculpted pink Molly Goddard dress, with a fuchsia headdress, in her landmark visual album "Black is King", released in 2020.
Rosamund Pike recently appeared at the virtual Golden Globe Awards 2021 in a bold red Molly Goddard tulle dress, worn with Villanelle-style biker boots.
Goddard has previously cited her mother, who made dresses for her and her sister when they were growing up, as an inspiration for her designs. The designer initially began working with tulle as it was inexpensive.
Ugg was founded in 1978 by an Australian surfer on the coast of California, the company has a revenue of £1.3 billion, and sells footwear in 130 countries.
Register for free to continue reading
Registration is a free and easy way to support our truly independent journalism
By registering, you will also enjoy limited access to Premium articles, exclusive newsletters, commenting, and virtual events with our leading journalists
Already have an account? sign in
Join our new commenting forum
Join thought-provoking conversations, follow other Independent readers and see their replies