How to make your summer tan last longer
Whether it's real or fake, there are things you can do to maintain your bronzed glow. By Prudence Wade.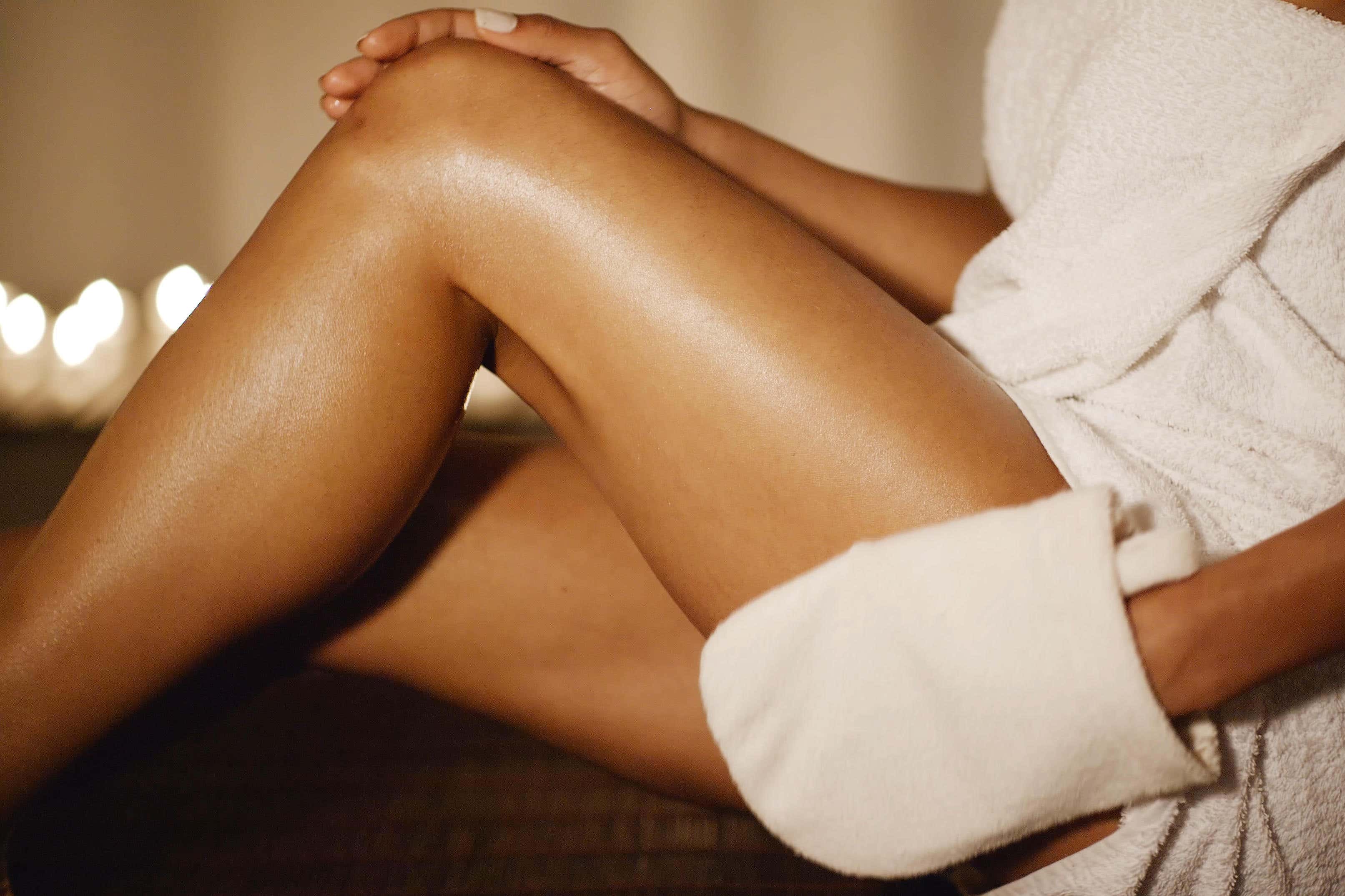 It's one of the golden rules of summer: everyone feels better with a tan.
Whether your tan is from soaking up the rays or from a bottle, you'll likely want it to linger as long as possible.
Luckily, there are plenty of things you can do – before and after getting a tan – to prolong your glow.
Of course, if your tan is from the sun, it's important to be careful with UV rays.
"Sunscreen is your best friend when it comes to safeguarding your skin from harmful UV rays. Choose a broad-spectrum sunscreen with an SPF of 40 or higher and apply it generously to all exposed areas of your body. Reapply every two hours, especially after swimming or sweating," advises skincare formulator and founder of Skin Masterclass, Cigdem Kemal Yilmaz.
"Seek shade during peak hours, typically between 12pm and 3pm, and wear protective clothing such as hats and sunglasses."
Real or fake, how can you make your summer tan last longer?
Prep your skin beforehand
The golden rule of tanning? "Exfoliate before you tan," says Rachael Robertson, skincare specialist and founder of Bedew Skin.
"This will remove the dead skin cells on the outermost layer of the skin giving you a fresh base to work with. Remember that the skin sheds naturally so if you do this before you tan, those outermost cells will stick around longer and so will your tan."
It's then important to cleanse and moisturise your skin.
Robertson says: "Wash thoroughly with your favourite body wash (look for products that are moisturising as this will help hold your tan) when you jump out [the shower] apply moisturiser to slightly damp skin, paying close attention to the backs of the arms, elbows, feet, knees and hands.
"If you usually use a body oil, skip it if you are preparing to tan as this can break it down quicker if it's fake, and may cause burning if it's real."
Kimberley Medd, head of clinic at Face the Future, recommends moisturising at least 24 hours before applying fake tan.
"Any closer, and you can affect the efficacy of the tan as the moisturiser will act as a skin barrier, meaning your tanning product may find it harder to penetrate the skin," she says.
Aveeno Skin Renewal Gentle Body Scrub, £9.99, Boots
I Am Proud Sami The Duck Scalp & Body Brush, £8.95
Moisturise afterwards
"The best ingredients to prolong your tan are those that moisturise and hydrate, such as squalene, shea butter, vitamin E and glycerin," says Robertson.
Yilmaz agrees with the idea of keeping your skin as hydrated as possible post-tan. "Regularly moisturising your body and face helps maintain optimal skin health and prevents dryness, flakiness, and premature ageing," she says. "I suggest going for moisturisers that contain ingredients like niacinamide, hyaluronic acid and glycerin, which help retain moisture and provide a plump, radiant appearance."
If you have been in the sun, hydration is even more crucial, Yilmaz says: "After a day of sun exposure, treat your skin with a hydrating after-sun lotion with aloe vera and allantoin to sooth the skin and replenish lost moisture."
And if you want to cheat the system a bit, Robertson adds: "A great tip is to top your tan up with a gradual tanning moisturiser each day so you get the benefits of the moisturising ingredients and a sneaky top-up."
Perricone MD High Potency Hyaluronic Intensive Body Therapy, £51
Arran Apothecary Aloe Vera Body Lotion, £14.50
Bondi Sands Skin Illuminator Gradual Tanning Lotion, £13.99
Don't strip away your tan
"To extend the lifespan of your summer tan, keep your skin moisturised using a lightweight, non-greasy lotion," says Yilmaz. "Avoid prolonged exposure to chlorinated water as it can fade your tan faster."
If you've fake tanned, Medd says: "You should wait three to four days after tan application before you exfoliate to avoid the tan becoming patchy or fading. Exfoliating is a key part of keeping an even, buildable tan as you're able to remove the dead skin cells for reapplication."
Consider your diet
Did you know a healthy diet and drinking plenty of water could help prolong your summer glow?
"A balanced diet rich in antioxidants, vitamins, and minerals promotes skin health and radiance," Yilmaz notes. "I suggest incorporating fruits and vegetables like berries, tomatoes, spinach and kale into your meals, as they contain essential nutrients that protect against sun damage and nourish your skin from within.
She continues: "Drink plenty of water to keep your skin hydrated from the inside out. Proper hydration not only helps maintain the elasticity of your skin but also aids in detoxification, ensuring a healthy and vibrant complexion. Aim for at least eight glasses of water per day, and increase your intake when spending time in the sun."