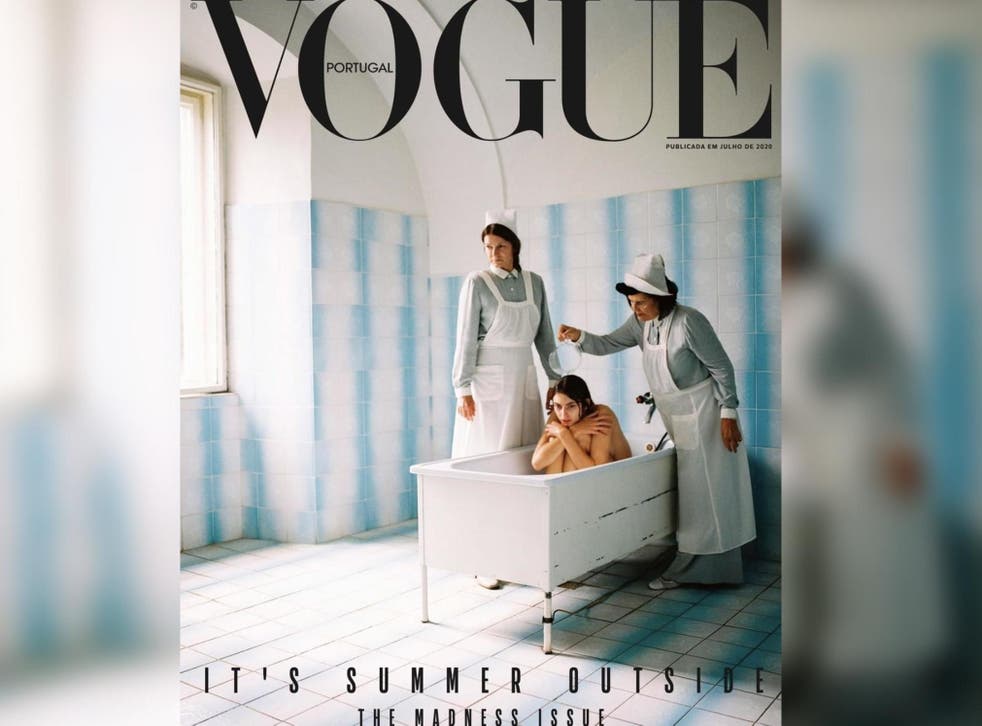 Vogue Portugal apologises and removes 'offensive' cover accused of glamourising mental illness
'We sincerely apologise,' magazine writes in Instagram statement
Vogue Portugal has pulled one of its magazine covers from newsstands after it was criticised for romanticising mental illness.
In a statement posted on Instagram, the publication said: "On such an important issue such as mental health we cannot be divided.
"Vogue Portugal has taken the decision to pull one of the four covers of our July/August issue, which depicts a scene of a psychiatric hospital as well as the inside cover story based around the topic of mental health.
"Vogue Portugal deeply apologises for any offence or upset caused by this photo shoot.
"On reflection, we realise that the subject of mental health needs a more thoughtful approach. We sincerely apologise for this."
Last week, the publication unveiled four covers for its "Madness Issue", one of which depicted a scene of a woman being cared for in a psychiatric hospital.
The image, shot by photographer Branislav Simoncik, was likened to Sylvia Plath's novel The Bell Jar and the 1999 film Girl Interrupted.
Jo Loughran, director of Time to Change, the mental health anti-stigma campaign run by Mind and Rethink Mental Illness, told The Independent that the cover was "disappointing" and "outdated".
Meanwhile, social media users described the cover as "extremely disrespectful" and accused Vogue Portugal of glamourising psychiatric institutions.
Initially, the publication responded to the backlash by issuing a statement reassuring readers that the cover "explores the historical context of mental health and is designed to reflect real life and authentic stories".
The statement said that the image was "inspired by deep research of hundreds of reportage photographs from some of the most relevant and famous documentarists who have captured mental health hospitals".
The magazine has been widely praised for deciding to remove the cover altogether.
"Thank you !! I hope you can investigate in the team and sit all together to figure out how could this be published and how to not do it anymore," commented one person on its post.
Another concurred: "Thank you!! This is important!"
Join our new commenting forum
Join thought-provoking conversations, follow other Independent readers and see their replies