The Independent's journalism is supported by our readers. When you purchase through links on our site, we may earn commission.
What is a fidget spinner and how to make one
Why not jump on the 2017 bandwagon while getting creative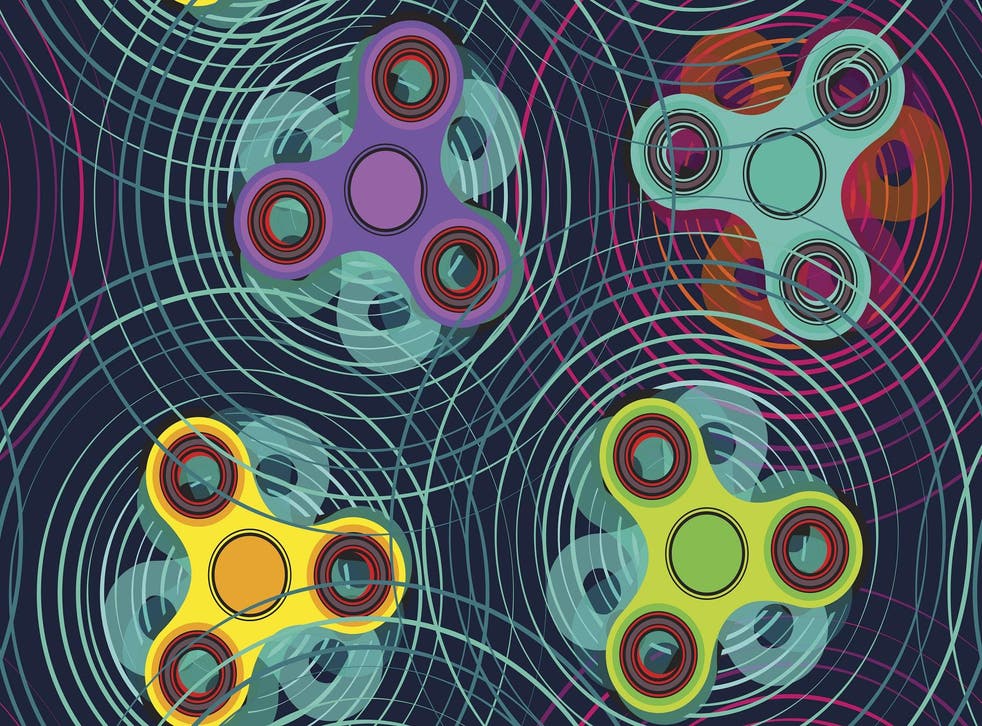 If you haven't come across fidget spinners over the last year or so, then you've probably been living under a rock or somewhere remote without access to the Internet.
The toy has become so popular that many of the best-selling toys on Amazon are fidget spinners or their squarish sibling, the fidget cube.
Even the New York Times has tried to deconstruct the overnight meteoric rise of a gadget that has been around for years.
What is a fidget spinner?
For those uninitiated in the world of fidget spinners, they are small devices that fit in your hand and can be spun to your heart's content.
They are made up of a central bearing that you grip with your index finger and thumb, and a three-pronged rotational blade that spins around it once you give it a flick with your free hand.
The highly addictive toy has been lauded as a way for young people to manage anxiety and ADHD (although this has been disputed by experts).
People have even started doing tricks with them, from balancing them on fingers, toes and noses to stacking them together to create enormous, dazzling spinning towers.
DIY fidget spinner
If you are too impatient to buy a fidget spinner, or simply want to get creative, here's how to getting spinning right away by making your own DIY version.
Arts and crafts blog, Red Ted Art, has come up with an easy way of making your own fidget spinners with basic materials.
For this method, you just need some cardboard, a toothpick, two or three penny coins, a glue stick and PVA glue, some scissors and a pin.
The blog has even made its own free templates for fidget spinners, so you can just cut it out and get the perfect shape. Here is a step-by-step guide to make a basic fidget spinner
Draw round your template twice onto card and cut the two shapes
Glue the two shapes together using a glue stick
Poke a hole in the centre of the shape using a pin
Make the hole bigger using the end of the scissors so that the toothpick fits loosely
Glue a coin at each end of the shape with the PVA glue
While the glue is drying, draw round a penny on cardboard twice and cut out two circles
Poke a hole in the centre of one of the circles and make the hole bigger, but this time tight enough so the toothpick sticks
Put the toothpick in the hole so it just about poking through and glue it in place
Once the glue has dried, pass the other end of the toothpick through the largest shape and the second circle. There should now be a circle on either side of the spinner
Push the two circles together so there is a small gap on either side of the spinner. It should be able to spin uninterrupted
Add a blob of PVA glue around the hole on the top and bottom of the spinner
Once all the glue is dry, chop the toothpick off as close to the cardboard circle as possible
More sophisticated spinners can be made at home using ball bearings, which reduce fiction so it spins faster, so if you're feeling more confident, then take your DIY fidget spinning game to the next level.
This article has been updated. It was originally published in December 2017.
Register for free to continue reading
Registration is a free and easy way to support our truly independent journalism
By registering, you will also enjoy limited access to Premium articles, exclusive newsletters, commenting, and virtual events with our leading journalists
Already have an account? sign in
Register for free to continue reading
Registration is a free and easy way to support our truly independent journalism
By registering, you will also enjoy limited access to Premium articles, exclusive newsletters, commenting, and virtual events with our leading journalists
Already have an account? sign in
Join our new commenting forum
Join thought-provoking conversations, follow other Independent readers and see their replies