Asma Khan on her all-female kitchen, Mughal cuisine and Chinese takeaway
She'd completed a PhD in law, but couldn't even boil an egg. Instead of becoming a barrister, she went on to open her own restaurant overcoming the entrenched stigma in India that deemed woman not good enough to be chefs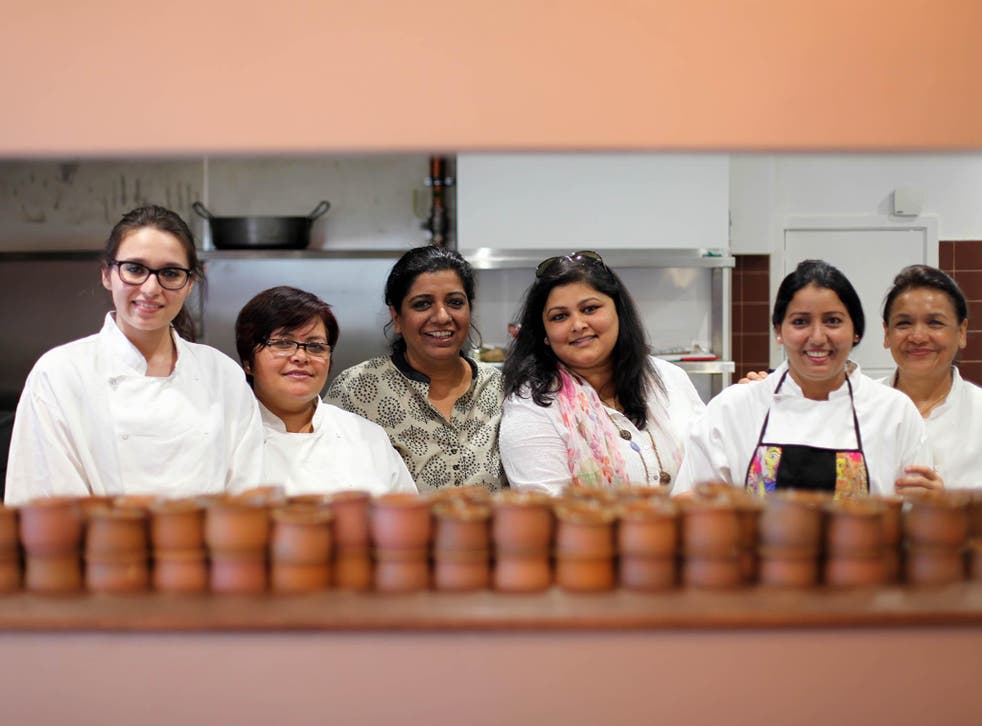 You went from not being able to boil an egg in 1991 to having one of the best Indian restaurants of London in 2017. Do you believe anyone can learn to cook?
Absolutely, anyone can learn to cook at any age and stage in their life. You need to have the passion and desire to cook. I have never met anyone who took up cooking as they were bored and had nothing better to do! I was driven to cooking by hunger and homesickness, I realised I could recreate the aromas and flavours of home in a new place where everything was so different and alien. Cooking was my way of "going home".
After living in the UK you went back to India to learn how to make your families recipes from the royal Mughal cuisine. What was the most difficult thing to master?
Royal Mughlai Cuisine was heavily influenced by Persia. Although the Mughals came from Central Asia and were of Mongol-Turkish heritage, the royal Mughlai cuisine from the reign of the 2nd Mughal ruler Humayun was heavily influenced by the Royal cuisine of the Safavid Dynasty of Persia. The most difficult thing to master with Mughlai cuisine is to get the spice layering right. Spicing is an art form, it is almost like brush strokes on a canvas – to build the perfect picture the strokes should not be glaringly visible. The flavours and spicing of well-made Mughlai food should not be overwhelming-there is a lightness and delicacy in this cuisine.
Currently, Mughal cuisine is at risk of becoming extinct. Do you think it will ever be lost?
I hope it does not become extinct. There is a risk as more and more small family owned restaurants that serve Mughlai food are closing due to rising real estate prices and also the lack of interest from the next generation to continue the family tradition of cooking. In India unless you get on MasterChef, the honour in cooking is greatly diminished. If you are a young man, your friends would be impressed if you told them you worked all night in a call centre making cold calls to poor unsuspecting folks in the west, being a chef is no longer heroic! I have noticed an interest in big five star chains like the TAJ group hosting special food events that promote royal and traditional cuisines. There are food walks around old part of the city like Delhi and Hyderabad visiting the small food restaurants, but ironically what may save Mughlai cuisine is Instagram and Twitter as a new generation discover their own culinary tradition.
What do your family members think of your huge success in the food industry?
Like all mothers (especially Indian mothers!) who think their child is the very best, my mother was totally convinced I would become a culinary super star. She told all my aunts she thinks I will get a Michelin star soon, it was a bit awkward explaining to her that she should not make these kinds of boastful assertions at family gatherings! I am sure the rest of my family are a bit surprised by the positive response to their everyday family dishes getting in London. When I began cooking after I finished my Law PhD, some of my younger cousins would tease me and call me Ratatouille (after the Disney film with the chef who can't cook). I don't think they meant it as an insult!
Many of the dishes you serve at your restaurant were made for you as a child by your mother. What does this mean to you?
It means a lot. I have always seen myself as a vehicle to acknowledge the silent, nameless and faceless women in my family who cooked wonderful food but were never recognised or appreciated for their skills. They went to their graves thinking they were "unskilled". My mother is the only accomplished cook out of her siblings and she was recognised by the rest of the family as a good cook, she went on to open a food business in Calcutta in the 70s and 80s which was very famous. I am just taking forward the journey my mother began and hope with my success I can get the recognition for all women who are home cooks and play such an important role in nourishing and nurturing the family through food.
Before deciding to pursue your passion of cooking, you were a journalist and got a PhD graduate. How do you think both of these interests inspire what you do now?
A significant part of my British Constitutional Law PhD research required hours of reading historical texts and trying to trace connections between people and events. I have found this a useful tool to understand recipes, my historical research skills were put to use while writing my cookbook and a lot of my passion and love for unearthing historical routes feels like a continuation of one aspect of my academic life.I do all my own PR and having had some journalistic experience it did help a lot as I do all my own writing and social media.
What's your favourite food, outside of Indian cuisine?
Chinese – and very ashamed to admit the red glossy sweet and sour chicken type of Chinese! Whenever we went out for a meal when I lived with my parents in India, we invariably went to eat Chinese food as my mother would never want to pay and eat Indian food that was so inferior to the food she made! I always associate Chinese meals with happy memories.
You've said that you hire a majority of women at your restaurant because you want Darjeeling Express to be a place for women to learn new skills, then leave for other jobs maybe start their own businesses. Have you seen this happen yet?
Yes! Two of the women in the kitchen are the opening chefs for our new venture, Calcutta Canteen, at Fulham Market Hall opening in May. It will be one of 10 kitchens at the food court. It's my homage to the street food of the city of my birth. Two of my kitchen assistants will now head the new unit. In the summer, one of the women working with me will be hosting her first independent supper club cooking food from Bombay where she comes from. It has begun, I can see the ripples already!
Your restaurant is run by women from South Asia that were not professionally trained. Why do you think other restaurants don't embrace chefs who aren't professionally trained?
It is just deep-rooted bias. On the side of the male chefs and also the women who can cook. I am hoping my story may change the mindset of more South Asian women who feel a professional kitchen is not a place for them. One of the women who came to see me told me her family allowed her to come to talk to me as they were impressed that I was educated and came from a good family. There is also a class bias, the presumption in many South Asian families is that kitchen work is akin to manual labour, it is not dignified and definitely not as prestigious as being a pharmacist or an accountant. They do not encourage the girls in their families to take up cooking as a profession. On the other side, South Asian restaurant owners and the much-coveted Michelin Star chefs of South Asian restaurants are clearly not doing enough to open the doors for women. I feel they could use their position of strength and fame to raise issues about gender equality.
A percentage of Darjeeling Express's proceeds go to the Second Daughter Charity, which aims to empower second born daughters in India by sending celebration care packages on the day of their birth, as well as helping fund their education. What inspired you to do this?
I am a second daughter, most of my team are second daughters. I realised there was something special about second daughters, the one thing that tied us together was that we "knew" and most of us could not actually pinpoint how we knew that our birth was a disappointment to the family. We were not the sons the family had anxiously hoped for and most of our births were not celebrated. Through the charity I want the birth of second girls to be celebrated in the village and for second girls to have the same rights as boys: an education, an opportunity and a reminder that they are not a burden on their family.
Every aspect of your restaurant seems to honour your family's roots from the retro Bollywood music played, to the food served. How long did it take to plan it all?
I did not have a lot of time once we got possession of the site as it was a race against time to get it opened during the rent-free period to prevent a big debt building up. Everything just fell into place, I guess I was lucky as I planned, financed and project managed the restaurant on my own. There were no lengthy meetings and mood boards! I just recreated the look and feel of my home. The playlist that plays at the restaurant is my personal Spotify list. It is my happy place!
You've lived in the UK now since 1991. What was the hardest thing about British culture to assimilate too?
The different British accents. I still cannot figure out where someone is from! When I moved to Cambridge I thought all Scottish people were American and the Irish accent sounded like someone was reading a sonnet! When my kids, who were born here, started speaking like Londoners, it was then that I finally could recognise a London accent!
Does London feel like home now, or will you always see India as home?
To be honest India will always be home till my parents are alive and live there. I am not sure what I will feel later.
You were named as one of the 100 most influential women in UK hospitality list. What does this achievement mean to you?
I was really thrilled! It means a lot to me as I can see incredible women who I admire and respect on that list. I feel so honoured to be in that group of inspiring and pioneering women. As a woman of colour, an immigrant and a Muslim, it matters too. I hope seeing my name and face on that list encourages more women to understand that hard work and belief in yourself will pay off in the end. If you are good, people will recognise that.
Your cookbook is out in autumn, why did you decide to put everything in to a book?
On one of my recent visits to India my aunt called me the custodian of a unique culinary tradition, that comment made me realise that the stories and recipes needed to be shared. I am so lucky to be working with an all women team at Pavilion Books who totally understood what I wanted to say. I have had absolutely no interference in what recipes I wanted to write. I was concerned I would struggle and hate having to write recipes. I have actually found the process deeply liberating. It is a way to put in print and give voice to all those women who passed on recipes to the next generation, an oral history that is now written.
What is next for you?
Before my book launch on 4 October, Calcutta Canteen is opening at the new Fulham Market Hall. After the cookbook I want to continue my food research and possibly write something more academic or historical about the food and style of cuisine I cook.
Asma Khan is the owner of Darjeeling Express, Kingle Court, Carnaby Street (darjeeling-express.com). She will be taking part in the free Carnaby Street Eat food festival on 11 August (carnaby.co.uk/news-and-events/carnaby-events-2018)
Join our new commenting forum
Join thought-provoking conversations, follow other Independent readers and see their replies