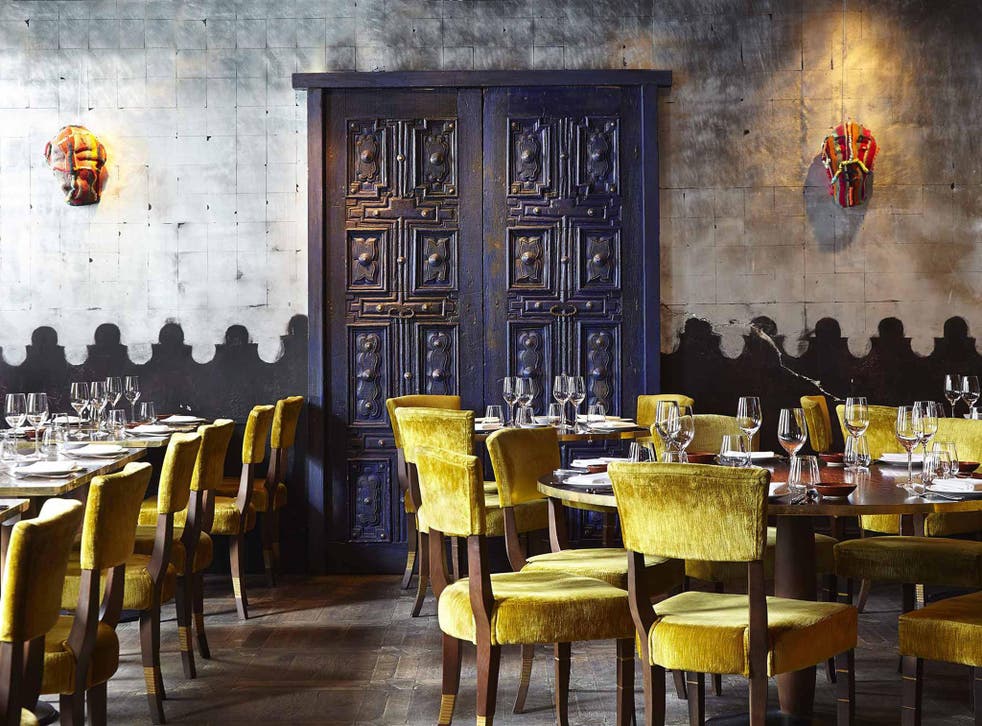 Brunch on Saturday: Bottomless Peruvian brunch and chickpea-stuffed avo
This week in Brunch on Saturday, Chantal Da Silva indulges in a bottomless Peru-inspired brunch with unlimited pisco sours and at home, we make chickpea-stuffed grilled avo
Brunching out...
Decadence is the word when it comes to Coya Mayfair's bottomless brunch. The menu – and decor – at this restaurant in London's West End, which sits across from Hyde Park, is inspired by the rich flavours and vibrant colours of Peru.
​As soon as you walk into the restaurant, it's easy to feel transported into another world, with a DJ playing entrancing tunes in the dimly lit lounge area and intricate bespoke furnishings in the dining room.
But while the decor draws you in, it's Coya's ornate menu that sets its apart from the dozens of other bottomless brunches that seem to have cropped up in recent years.
With a seemingly endless parade of sharing plates before the main course and a medley of rich desserts – all accompanied by a selection of bottomless bevvies, brunch at Coya is a true smorgasbord.
For those growing tired of the ever-trendy smashed avocados on toast, Coya offers its own Peruvian twist: crocantes con guacamole. The guacamole is homemade. In fact, it's homemade right at your table with a mortar and pestle – a nice touch.
The ceviche is also a must-try for a true taste of Latin American cuisine, but vegans and vegetarians will also find a wide range of equally flavourful and filling options on the menu from edamame to maiz a la brassa (grilled sweetcorn, lime and chilli butter).
You'll want to come hungry for what adds up to something like an eight-course meal. You will also want to clear your agenda for the afternoon, because brunch at Coya Mayfair is an all-day affair. Expect to spend at least three hours there if you want to fully enjoy the dining experience.
"It's a never-ending adventure," our server happily reminds us, as our third course arrives.
Luckily, there is a selection of bottomless drinks to indulge in throughout the journey. If you're a fan of bloody mary, you'll want to try the more tangy pisco mary. Pisco is a South American favourite and the infusion of the brandy common in both Chile and Peru gives the tried-and-true cocktail a flavourful kick.​
118 Picadilly Street, Mayfair, London, W1J 7NW, coyarestaurant.com
Brunching in...
Chickpea-stuffed grilled avocado
Have some avocados hanging out in your fridge that you're not sure what to do with? Why not toast them under the grill then stuff them with this chickpea salad to for a delicious start to the day!
1 x 400 g can chickpeas, drained and rinsed
2 celery stalks, finely chopped
½ red pepper, finely chopped
¼ of a cucumber, finely chopped
½ fresh mango, finely chopped
1 tbsp capers
2 tbsp vegan mayonnaise
Juice of one lemon
2 large avocados (slightly underripe)
A drizzle of olive oil
½ tsp salt and pepper to taste
Heat the grill to high. In a food processor, add the chickpeas and pulse several times; they should be slightly mashed, but not blended. If you don't have a food processor, simply use a potato masher or fork. Put the chickpea mash in a medium bowl and add the celery, red pepper, cucumber, mango, capers, vegan mayonnaise, lemon juice and salt and pepper. Stir together.
Cut the avocados in half, take out the stone, leave the skin on, and lightly coat with olive oil. Place face side down on the grill for 3 to 4 minutes. Remove from the grill, lightly sprinkle with salt and let cool for 5 minutes. Add the chickpea salad to the centre of the grilled avocado and serve!
Recipe from myvega.co.uk/uk/recipes
Join our new commenting forum
Join thought-provoking conversations, follow other Independent readers and see their replies