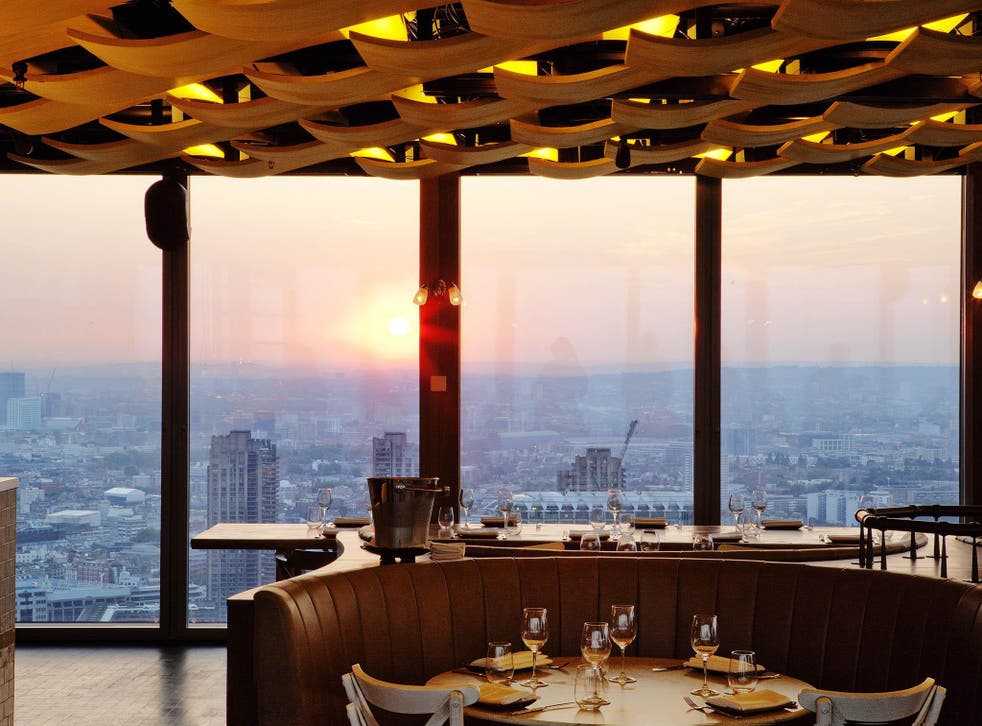 Brunch on Saturday: Dine out on decadent duck or create Finnish inspired blueberry porridge
This week in Saturday Brunch, Kashmira Gander soars to the 40th floor of the Heron Tower for brunch with a view, and we try a recipe from Anni Kravi's Finnish approach to porridge
Brunching out...
The City of London is an oddly empty part of town on the weekend when the streets aren't bustling with business folk. But when you're 40-floors up the Heron Tower in the 24-hour Duck & Waffle restaurant, the goings on the ground below hardly matter.
The white-knuckle ride up the glass lift is a preamble to the menu, which isn't for the faint-hearted either. This is hardly an ideal venue for vegans or those with complex dietary requirements if you want to get a real taste for what's on offer. But what else would you expect from a restaurant that strives for superlatives: tallest, tastiest, and always open.
And while the time of day might be a blur for some of the staff, that doesn't mean they don't strictly adhere to breakfast, brunch, lunch and dinner times. Brunch is served from 9am to 4pm on Saturdays and Sundays. The menu is a playful offering of British fare tickled with European influences. Dishes are served to share: the place for clichéd, hulking individual plates of blueberry pancakes or fry-ups this is certainly not.
If you've soared 40-storeys into the air to dine at a place called Duck & Waffle, it would not only be remiss to not try the signature dish, it would also be foolish. The tender, crispy duck leg confit and soft waffles are excellent, and watching the waiting staff pull the meat from the bone adds to the theatrics of dining high up in the Heron Tower. The duck egg en cocotte, with wild mushrooms, Gruyere, truffles and wonderfully childish toasted soldiers for dipping, meanwhile, tastes as intense and moreish as it smells before it even arrives at the table. Those hoping to cling on to a sense of sophistication will do well in opting for the refreshing yellowfin tuna with watermelon, black olive and English mustard, before undoing it all with thick, sweet slabs of Cuban Torrejas – fried toast served with caramel apples and cinnamon ice cream.
Of course, the views across the city are incredible; it's a brunch perfect for a special occasion, with a reasonably priced (for the location) menu that won't break the bank. The only problem, however, is whether you can nab a table at this extremely popular restaurant.
Duck & Waffle, 40th floor, 110 Bishopsgate (Heron Tower), London EC2N 4AY; 020 3640 7310; duckandwaffle.com
Brunching in...
Raw buckwheat, blueberry and cardamom porridge
Serves 1
70g (scant ½ cup) raw buckwheat groats
​100ml (7 tbsp) oat milk
​100g (scant 1 cup) fresh blueberries or bilberries
1 large, fresh banana
1 tbsp ground flaxseeds
½ tsp ground cardamom
½ tsp reishi (optional)
Toppings:
1 tbsp fresh blueberries or bilberries
1 tbsp fresh raspberries
1 tbsp fresh sea buckthorn berries or cranberries
1 tbsp coconut flakes
The night before, rinse then soak the buckwheat in a bowl of water at room temperature. In the morning, rinse the buckwheat well in fresh water, then place in a high-speed blender with all the remaining ingredients and blend together until smooth. Serve the porridge with the toppings.
Extracted from Porridge by Anni Kravi (Quadrille, £12.99) Photography © Andrew Taylor
Join our new commenting forum
Join thought-provoking conversations, follow other Independent readers and see their replies