Burger chain emphasizes American flavor on Japanese market

Show all 1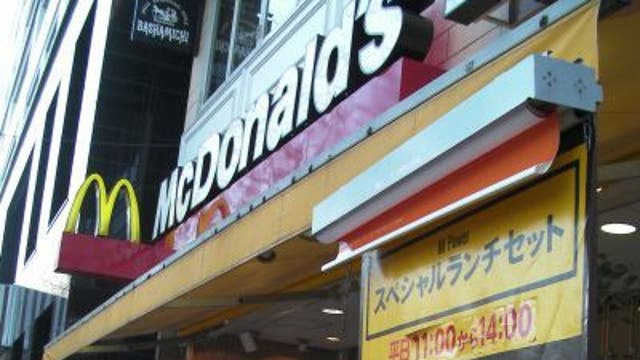 Burger chain emphasizes American flavor on Japanese market
Fresh from driving one of its main competitors out of the Japanese market, McDonald's is looking to cement its position as this country's top burger chain with a new all-American lineup unique to this country.
Less than one month after Wendy's Old Fashioned Hamburgers announced that it was pulling out of Japan after 29 years, McDonald's has announced that it will be rolling out four new variations on the quarter-pounder theme, each one with a unique "Big American Taste."
The Texas Burger will be leading the charge, making its first appearance on January 15 and featuring old-fashioned grainy mustard relish, tangy barbecue sauce, strips of grilled bacon and crispy fried onions.
Next to hit the hot shelves will be the Burger New York, scheduled to be in stores in early February and designed to be reminiscent of a midtown Manhattan street cafe. Topped with Monterrey Jack cheese, rich bacon, sliced tomato, lettuce and grainy mustard sauce.
Later the same month, McDonald's Japan will begin serving up the California Burger, which brings together a quarter pounder beef patty, spicy cheese, bacon strips, tomatoes and lettuce and topped with a special sauce made with red wine produced in California.
The final addition to the menu will be the Hawaiian Burger, which is inspired by the traditional Hawaiian "loco moco" dish of white rice topped with a hamburger patty, fried egg and brown gravy. And while the McDonald's version may omit the rice, the burger includes gravy, an Egg McMuffin-style fried egg and bacon strips on a bed of chopped lettuce and a slice of cheese.
McDonald's operates 3,720 restaurants across Japan and controls 65 percent of the burger market here. With the departure of Wendy's, domestic firm Mos Burger is the second-largest company, with 1,334 outlets, followed by Freshness Burger and Lotteria. Burger King has 16 restaurants since returning to Japan in 2007.
McDonald's has grown rapidly since opening its first restaurant in Tokyo's Ginza district in 1971 and brought back its popular Chicken Tatsuta burger after a five-year hiatus in September.
JR
Join our new commenting forum
Join thought-provoking conversations, follow other Independent readers and see their replies