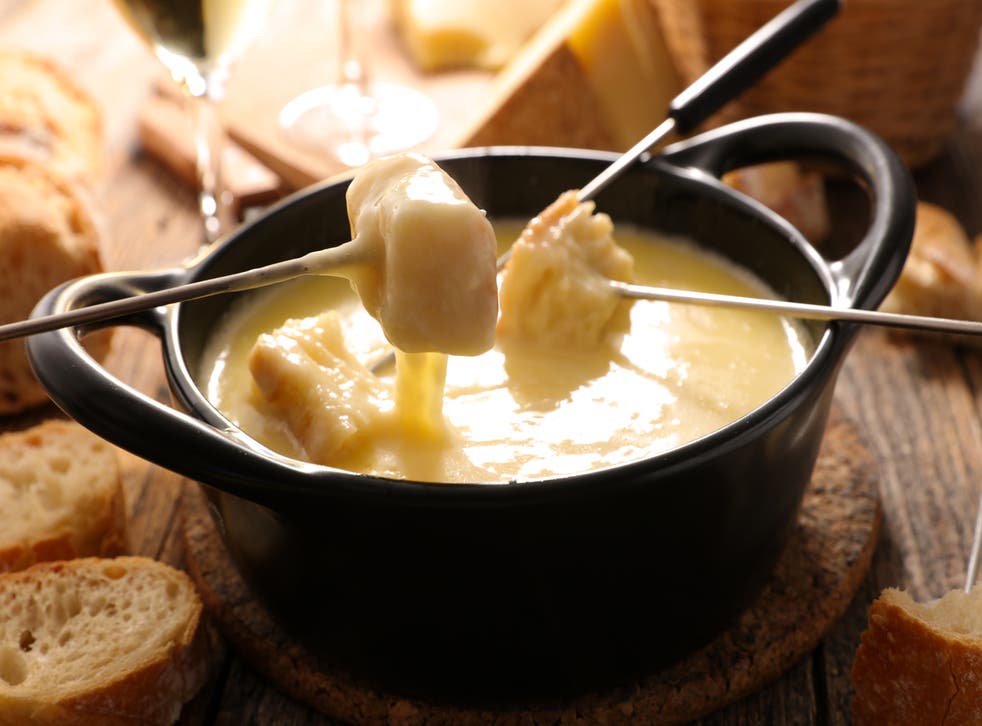 Cheese fondue revival could be due to Brexit, Oxford professor claims
Here's how to make your own and the etiquette rules you need to know
Rachel Hosie
Thursday 12 April 2018 15:08 Comments
Sales of fondue kits have tripled in the past two years at John Lewis stores, and an Oxford University academic believes it could be down to Brexit.
Professor Charles Spence, head of Oxford University's Crossmodal Research Laboratory, argues that the revival may be due to Remainers longing to bond with the rest of Europe.
The traditional Alpine sets usually consist of a small saucepan (called a caquelon) over a heat for melting the cheese, and dipping forks for dunking bread, meats and vegetables.
Of course they can also be used for chocolate fondue, whichis often served with fruits, marshmallows and cake chunks for dunking.
And in London, a less traditional peanut butter fondue bar popped up for a few days earlier this year, with both sweet and savoury variations on the menu.
But whilst you may argue the rise in fondue set sales could purely be down to more people enjoying dinners at home rather than going out, Professor Spence believes it could be due to "global insecurity" and nostalgia for simpler times.
Writing in the Journal of Gastronomy and Food Science, the experimental psychologist said: "It may link to current concerns about global insecurity since the fondue can be considered as something of a nostalgic dish for some and a comfort food for many."
Cheese fondue originally rose in popularity in the UK in the 1970s.
Professor Spence added: "One can't help feeling that at a time when the UK is figuring out if and how to separate from the rest of Europe, that this nostalgic food originates from a part of Europe that stands outside the European Union but is still connected with the rest of the EU in much the way that many Brits would hope to achieve."
Cheese fondue undoubtedly makes for a fun and delicious dinner party meal, and is certainly an easy way to entertain guests.
There are, however, various etiquette rules you need to know:
Allowing one's tongue to touch the dipping fork is thought of as rude.
Refrain from using any fork other than your own.
No "double dipping" - after a dipped morsel has been tasted, it should never be returned to the pot. In Swiss tradition, if a nugget of bread is lost in the cheese by a man, he buys a bottle of wine for the host, and if such a thing happens to befall a woman, she kisses the man on her left.
The thin crust of cheese at the bottom of the caquelon is called la religieuse and is shared by those who succeed in the etiquette.  
If you fancy making your own, follow this recipe from the UK's oldest cheesemonger, Paxton & Whitfield:
Classic Cheese Fondue Recipe
Serves 4
Ingredients
600g rindless cheese, grated (Gruyere Reserve, Comte Jeune and Allgau Emmental)
1 garlic clove, cut in half
300ml dry white wine
1 tbsp lemon juice
1½ tbsp cornflour
Ground pepper to taste
Method
1. Rub the inside of a saucepan with the garlic clove and discard.
2. Add the wine and lemon juice and bring to a simmer over a medium heat.
3. Place the cheese into a bowl and toss in the cornflour.
4. Add the cheese to the saucepan a handful at a time, stirring continuously until smooth. Continue adding the cheese until it is all melted. A few bubbles are fine but never let it boil.
5. Pour the mixture into a fondue pot and keep warm with the burner. Serve immediately.
Serving suggestions
Crusty bread, raw vegetables, sausage, grilled chicken, cured meats, cornichons, pickles.
Register for free to continue reading
Registration is a free and easy way to support our truly independent journalism
By registering, you will also enjoy limited access to Premium articles, exclusive newsletters, commenting, and virtual events with our leading journalists
Already have an account? sign in
Join our new commenting forum
Join thought-provoking conversations, follow other Independent readers and see their replies