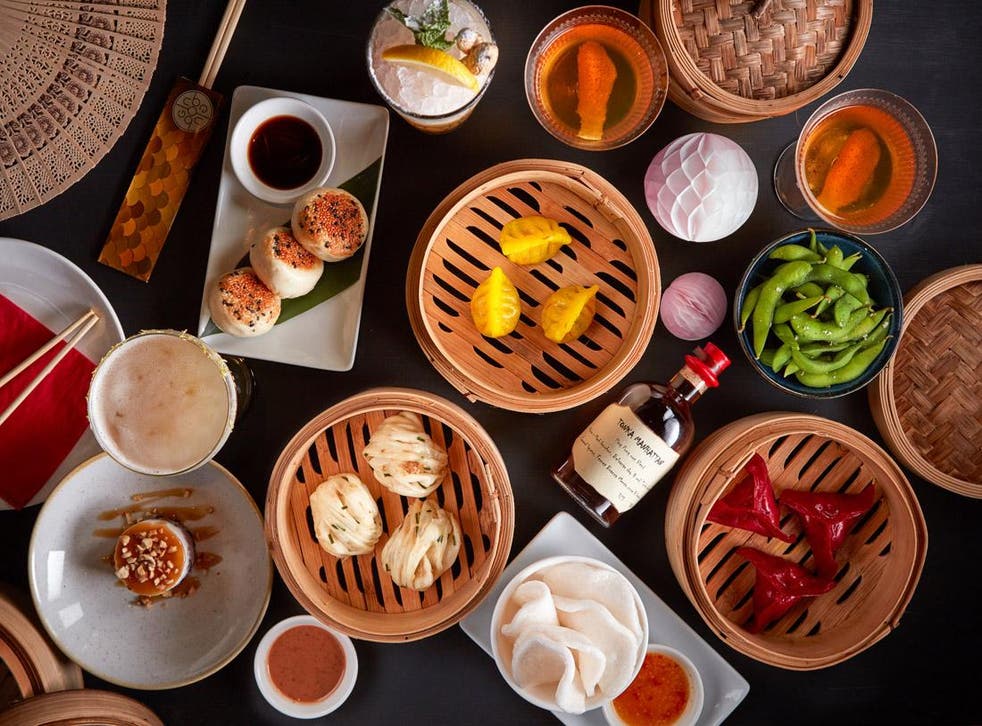 Chinese New Year 2018: Seven ways to celebrate the Year of the Dog
Next weekend, Chinese New Year celebrations kick off around the world. But what's the story behind the zodiac animals and, more importantly, where can you get the best grub?
Friday 09 February 2018 15:09 Comments
The year of the dog is almost here, and if you're a bit baffled as to how those zodiac animals came about, let us fill you in. It's been said that Jade Emperor called on all animals to take part in a race, and the first 12 would be included in his calendar. Apart from some hiccups along the way (where the rat cheated the cat while it was swimming to glory), that's pretty much all there is to it. To celebrate Chinese New Year, here are the best places to celebrate with special menus and themed cocktails and even the odd lion dance thrown in for good measure/luck.
Hutong – London
You'll find Hutong a cool 33 floors above London's bustling streets, and if the menu here doesn't make your jaw drop, the view certainly will. You won't want to dine from the regular menu on 16 February though; their talented team of chefs have come up with a menu of king prawn dumplings with hot and sour soup, Chinese five-spiced crispy duck and wok-fried choy sum to bring diners luck and prosperity in equal measure. With entertainment coming in the form of traditional lion dances, it's going to be one of the best ways to celebrate Chinese New Year in the capital.
Tattu – Leeds
It's only been in business since June of last year, but that hasn't stopped Tattu from becoming one of the hottest hangouts in Leeds. Kitted out in Bardiglio marble and basalt rock with a striking cherry blossom tree as the venue's centrepiece, you'll soon forget about the food as you'll be too busy swooning over the interiors alone at this swish spot. To celebrate Chinese New Year the team have designed a menu comprising of teriyaki chicken wonton starters, a fillet steak and shiitake noodles main and an indulgent orange trifle with chocolate and orange sorbet for dessert.
Min Jiang – London
Their limited edition Lunar Menu might set you back a tidy £98, but Min Jiang is regarded as one of the best places for Chinese cuisine in the capital. Made up of mouth-watering dishes like deep-fried scallop with stir-fried squid in XO sauce and braised pork belly with abalone in claypot, you can order the special menu on both 15 and 16 February. Parading eye-catching views of London's skyline, it's a no-brainer if you're planning on going all out for Chinese New Year.
Ping Pong – London
If you're looking for something that's a little bit more hands-on to celebrate Chinese New Year, plan a trip to your nearest Ping Pong. This oriental restaurant chain are hosting a series of exclusive dim sum masterclasses where you'll get a signature welcome cocktail, a 45-minute demonstration on how to make those beautiful little parcels and you'll get to enjoy a selection of Ping Pong's favourite plates to help finish your celebrations on an all-time high.
In tune with the number of zodiac signs there are, Hakkasan have 12 Michelin-starred restaurants worldwide. For Chinese New Year, chefs from each of their kitchens across the globe picked their brains to create a one-off menu to welcome in the year of the dog. Wok-fried native lobster in superior stock with edamame and caviar and crispy scallop in sweet plum sauce with mango in golden cup are two highlights, alongside a snappy Happy Daisy cocktail that uses Tanqueray No 10 as its base. Visit here on 18 February if you can though – there's rumoured to be a showstopping performance from a group of authentic lion dancers.
Yang Sing – Manchester
Yang Sing has been a stalwart for Chinese food in Manchester for the past 40 years and with diners like Sir Alex Ferguson popping in for some grub – you know you can expect great things. For the year of the dog they've organised entertainment in the form of a kung fu demonstration, an energetic lion dance and they're running a special menu too. Dine on everything from steamed xiaolongbao pork dumplings with black truffle and longevity noodles, to classic crispy duck and pancakes.
Chinese Cricket Club – London
The Chinese Cricket Club is tucked away in the Grade II-listed Crowne Plaza, and although it's got a peculiar theme with cricket balls and leather gloves decorating its space, it's a gem of a place for authentic Chinese grub. Venture down here on Friday 16th February and get ready for a Chinese New Year feast like no other. Comprising of the chef's signature dim sum platter, slow-cooked beef short ribs with Shaoxing dried pickled cabbage and chocolate and red bean Swiss roll with vanilla ice cream for dessert, you'll find it hard to tear your attention away from your plate to the traditional lion dance unfurling before you.
Chi Kitchen – London
Masterchef champion Ping Coombes is hosting a celebration lunch at Chi Kitchen on 18 February for Chinese New Year and it promises a set menu for a bargain price. Costing £35 between two people, diners can expect to see authentic dishes like Chinese sesame salad with fresh salmon and plum sauce arrive at their table, alongside three sharing-style mains. Ounpow – a lucky red envelope traditionally given out on holidays to ward off evil spirits will also be handed out by Ping herself during the meal.
Crazy Pedro's – Liverpool
Prawn crackers... on a pizza? Crazy Pedro's is celebrating Chinese New Year with a masterpiece that ditches all generic toppings to make way for sweet'n'sour pulled pork, spring onions, bean sprouts, fresh chillies and a generous sprinkling of prawn crackers. They might not have created a special cocktail for the holiday in question, but rumour has it their classic margherita pairs up pretty well with their one-of-a-kind We Will Wok You pizza.
Dead Dolls House – London
To celebrate Chinese New Year, Dead Dolls House is dishing out bottomless bao for the entire day on Friday 16th. What's even more impressive is that they're doing it for a cheap and cheerful £20. Pick from fluffy buns packed with smoked pancetta, scrambled eggs, Sriracha sauce and tomato jam to others cushioned with buttermilk fried chicken, fresh lettuce and paper-thin pickle slices
London Chinatown celebrates Chinese New Year 2018
For more info on the best restaurants in London and across the UK, visit designmynight.com and follow them @DesignMyNight
Register for free to continue reading
Registration is a free and easy way to support our truly independent journalism
By registering, you will also enjoy limited access to Premium articles, exclusive newsletters, commenting, and virtual events with our leading journalists
Already have an account? sign in
Join our new commenting forum
Join thought-provoking conversations, follow other Independent readers and see their replies