COMMENT
The British Chinese takeaway deserves respect, not sneering by ignorant Americans
As videos of Brits showing off their Chinese takeaways go viral – and lead to backlash – Kate Ng salutes a bit of British culture that is beige for very valid reasons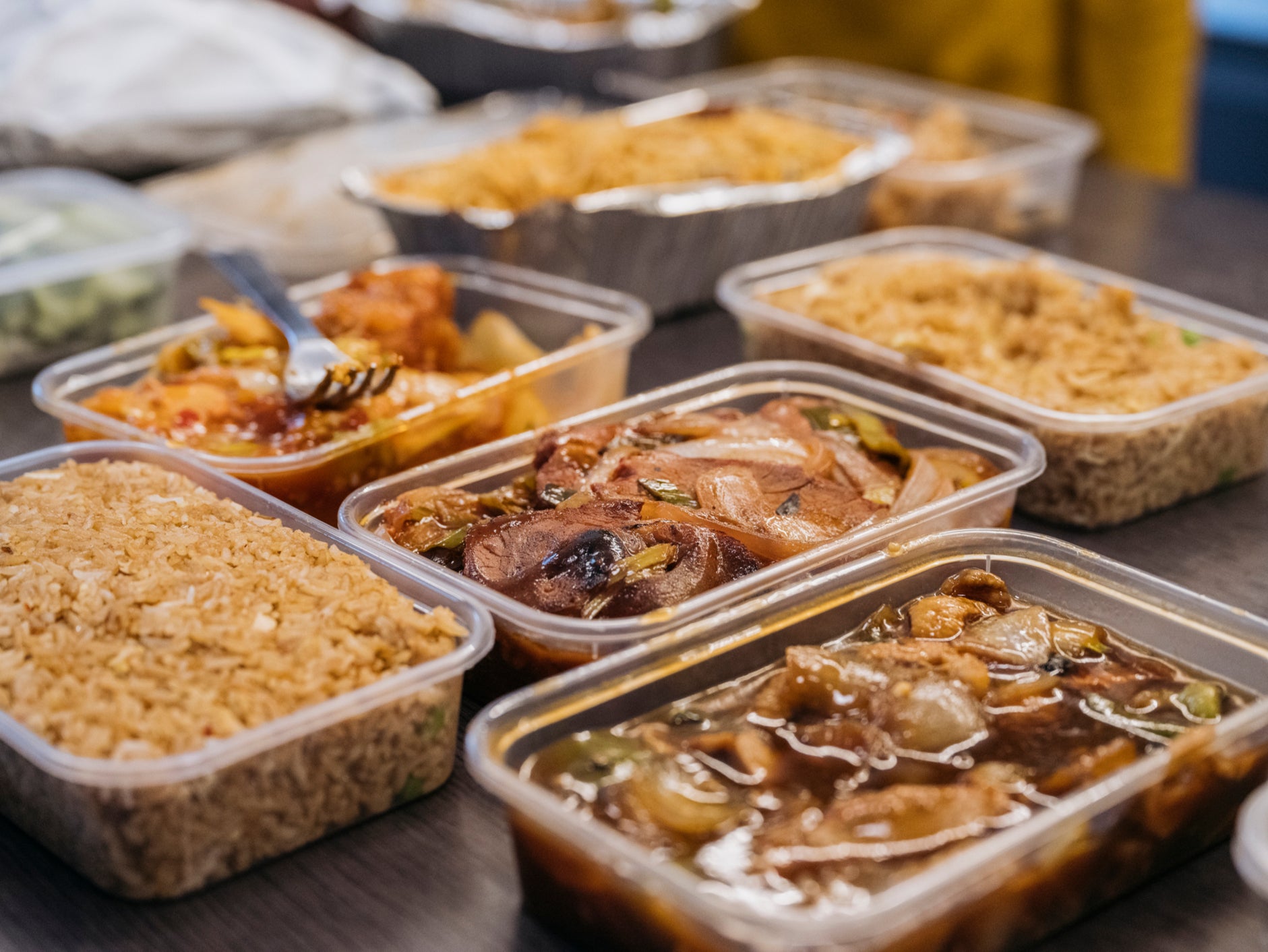 The humble Chinese takeaway is having a moment. It started with British users posting TikTok videos of their regular orders: egg fried rice, salt and pepper chips, chicken balls, curry sauce, the lot. The trend was meant to be a positive one, with Brits merely trying to give their favourite dishes the recognition they deserve, but the algorithm did its thing a bit too well… within days, the videos were found by Americans.
Chaos has since ensued, both on and off the video-sharing app. From some Asian Americans suggesting that the phrase "getting a Chinese" is borderline racist (it's categorically not), to others comparing the food on display to "eating out of a dumpster", the reaction to the glorious mess of beige that is British Chinese takeaway food has been, to say the least, harsh.
Full disclosure: I am not a great lover of the British Chinese takeaway. But this has nothing to do with the food itself or the people who make it, it's simply not what I'm used to. I am also not one to preach about "authenticity" because I am not from China and have never been there. Just as Malaysian Chinese communities have created their own brand of Chinese food, so have the British Chinese diaspora.
Chinese immigrants first started arriving on British shores in the early 19th century, making the UK's Chinese community the oldest in western Europe. Like nearly all immigrants, food became a lifeline – a way to connect with their homeland as well as a means to earn money and make a living. But what do you do when you're far from home, have none of the ingredients you would usually cook with, and need to appeal to a palate unlike your own? Well… you make do. That's how British Chinese cuisine was born.
For a group that has faced ongoing racism for generations, adaptability has been key to success. Even in more recent times, as Covid brought with it a wave of discrimination, the British Chinese diaspora has continued to stand tall. Restaurateurs figured out what appealed to British tastes, changing recipes and adding new twists to keep customers coming back. Yes, that has meant deep-frying the s*** out of a lot of things. But what of it? British Chinese takeaway is not what we would consider "authentic" Chinese food – but it was never meant to be, and that's OK.
It wasn't so long ago that self-declared "foodies" would sneer at Asian restaurants that acquiesced to the demands of their British customers, or roundly accuse white chefs producing Asian food of cultural appropriation. For a while, the newfound appreciation for authenticity did a good job of introducing people to flavours and dishes they wouldn't otherwise have tried or even seen on a menu. It also resulted in deeper respect for different cultures and cuisines. But the limitations and "rules" set by the internet – namely, that everyone needs to stay in their lane – grew more and more restrictive, pigeonholing chefs and cooks.
The conversation around authenticity in food has been shifting lately, though, and I think for the better. Chefs of every race and creed have spoken out about cooking what is true to their experiences. They have taken the lessons they've learnt about cultural appropriation over the last few years and applied them, with some fantastic results. Thanks to international trade and access to more ingredients than ever before, food in the UK is in its most exciting era since the spice trade and we should continue embracing what comes out of our kitchens.
The thing that irks me the most, though, about the criticism of British Chinese takeaway food by Americans is the liberties they take in declaring something as "gross". They demand the respect of others while showing none whatsoever for everyone else. Also, this criticism is coming from a country where orange chicken is considered a classic Chinese dish. In actual fact, orange chicken is a purely American invention, created by fast food chain Panda Express in Hawaii as a way to "bridge cultures". In other words, it's an adaptation of Chinese food in a different country, just like British Chinese takeaway.
In Takeaway, a memoir by food writer Angela Hui, she details growing up in the restaurant that her parents ran and she worked in alongside her siblings. She writes: "My parents didn't really want us to get too involved with the family business. They knew it was backbreaking and unsociable work. My parents didn't run a takeaway out of passion and love; they did it in order to fund higher education for me and my brothers, so we could study hard and get good jobs. My parents came to cook so that we didn't have to."
British Chinese communities don't cook the takeaway food they do just to be sneered at on social media. They did it to survive and thrive in a country that did not want or love them back, as evidenced in the secret deportations of hundreds of Chinese men who fought for Britain in WWII from 1945. But against all the odds, the British Chinese takeaway has become part of the tapestry of this country, fiercely defended by the Britons who can't live without it.
So, to the shocked and disgusted Americans of TikTok, I say: sit down and eat your orange chicken in peace. Leave British Chinese takeaway alone, and if you have nothing nice to say, well, don't say anything at all.
Join our commenting forum
Join thought-provoking conversations, follow other Independent readers and see their replies