The Independent's journalism is supported by our readers. When you purchase through links on our site, we may earn commission.
Chlorinated chicken: Is it safe and will it be sold in British supermarkets?
As a new agriculture bill paves the way for US imports, here's everything you need to know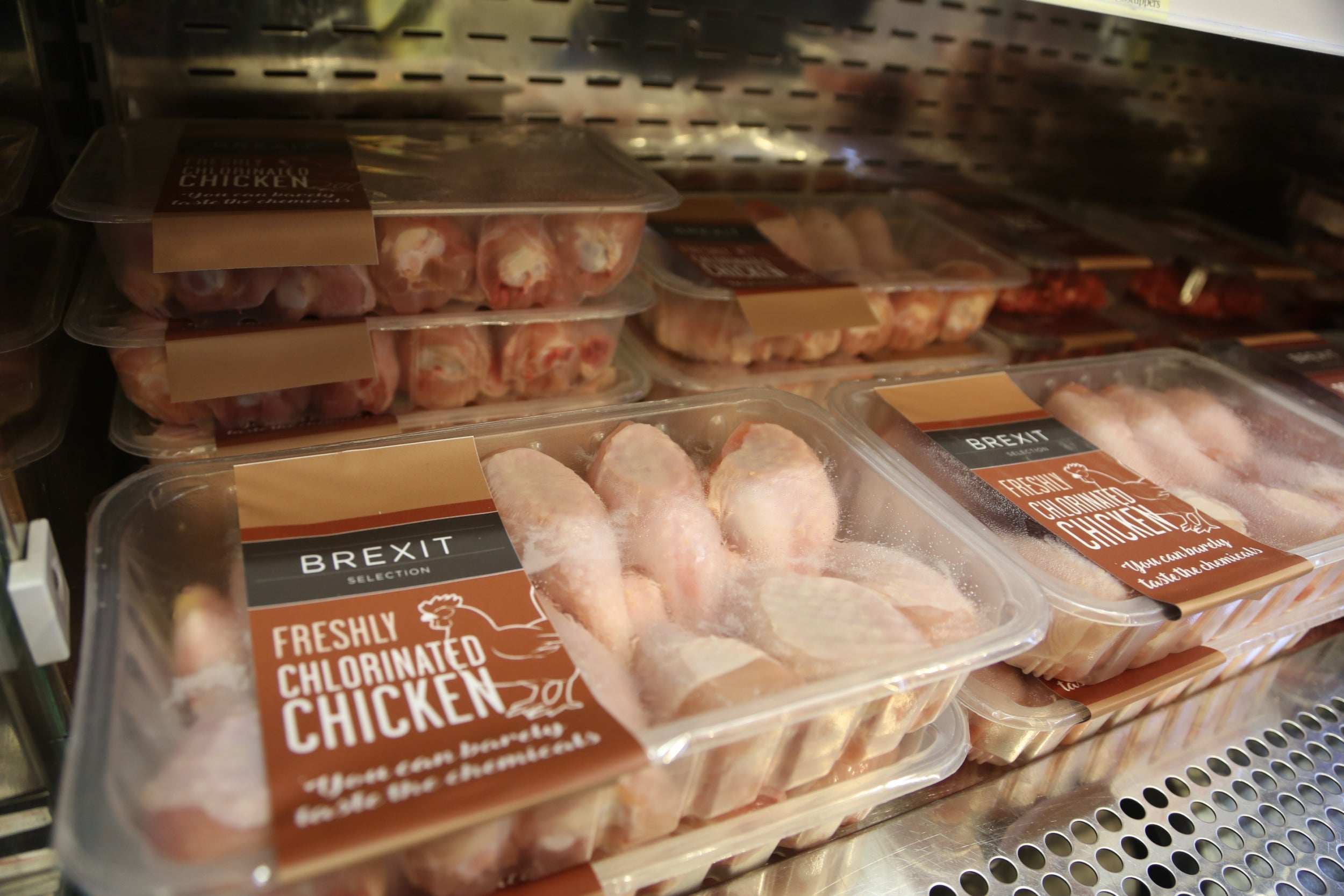 Leer en Español
Under the cover of a global pandemic and widespread protests against systemic racism and police brutality, a new food-related bill passed its third reading in parliament in May without attracting too much attention.
The Agriculture Bill, which represents the biggest reform of British farming since 1945, was put before MPs in the House of Commons on 13 May for the final time.
Farming groups had lobbied extensively for the bill to include significant amendments which would protect British farming standards in any future trade deals the UK makes with third-party countries, including the US.
This would mean that imports would have to be produced to at least the same environmental, animal welfare and food safety standards as those required from UK producers. But the amendment was rejected.
On Monday 12 October, the Agriculture Bill returns to the Commons to start its second reading followed by vote in which MPs will decide whether a watchdog should have the power to enforce high standards on imported produce.
To not do so would pave the way for food imports from, for example, the States, that don't adhere to EU or UK guidelines. For example is chicken that's been chlorine-washed, a practice that is not currently permitted for UK farmers.
But what's all the fuss about? The Independent finds out more.
Chlorinated chicken or chlorine-washed chicken refers to chicken carcasses that have been washed or dipped in water containing chlorine dioxide. This is done to kill organisms that could make you ill, such as E coli, campylobacter and Salmonella.
Is it bad for me?
If you ate a huge amount of chlorinated chicken – the equivalent to 5 per cent of your own body weight in one day, according to the European Commission – you could potentially be exposed to harmful levels of the chemical compound known as chlorate.
"Long-term exposure to chlorate in food, particularly in drinking water, is a potential health concern for children, especially those with mild or moderate iodine deficiency," according to the European Food Safety Authority (EFSA).
A high intake of chlorate on a single day could be toxic for humans as it can limit the blood's ability to absorb oxygen, leading to kidney failure, while chronic exposure to chlorate can inhibit iodine uptake.
However, there is no proof that eating chlorinated chicken would put health at risk. The European Food Safety Authority (EFSA) has said that chemical substances in poultry meat are unlikely to pose an immediate or acute health risk for consumers; in a 2005 study, the EFSA found that treating poultry carcasses with the four most-commonly used antimicrobial substances (agents that kill microorganisms) "would be of no safety concern."
Is it cleaner than non-chlorinated chicken?
Studies suggest not. A 2014 report by US non-profit Consumer Reports found 97 per cent of 300 American chicken breasts tested contained harmful bacteria including Salmonella, campylobacter and E.Coli.
Around half of the chicken breasts tested also contained at least one type of bacteria that was resistant to three or more antibiotics.
Archaeologists unearth only complete chicken egg from Roman Britain
Show all 8
In general, you are over seven times more likely to get food poisoning in the US than the UK, according to data from the UK's Food Standards Agency (FSA) and the US Centers for Disease Control and Prevention (CDC).
Moreover, a 2018 study from the University of Southampton found chlorine-washing was not totally effective in killing pathogens on fresh vegetables. The research even suggested that chlorinating foods "can make foodborne pathogens undetectable", rather than eliminating them.
Chlorinated chicken was first banned by the EU in 1997. The EU stipulates that chicken can only be washed in water or substances explicitly approved by the European Commission.
Those who are against chlorine washing claim that, rather than the chlorine itself being the problem, it's what the chlorine is hiding. Treating the carcasses this way can enable lower standards of hygiene and animal welfare – farmers can rely on chemicals to kill off harmful bacteria at the end of the process, rather than maintaining high standards at every stage.
Michael Gove says no to chlorinated chicken in 2017
"In the US, the hygiene standards during rearing and slaughtering [are] not as rigid as in the UK/EU, therefore, by incorporating a disinfection spray wash, it is designed to remove pathogenic bacteria," Simon Dawson, senior lecturer in food science and technology at Cardiff Metropolitan University, told the Big Issue.
"In the UK and EU we have worked tirelessly to improve hygiene and welfare standards of poultry through the food supply chain. It was felt that if we have to incorporate this final chemical decontamination step then all our other standards would slip."
However, Ken Isley from the US Department of Agriculture, said: "I think the concerns and fear are unfounded. I would stack US food safety and our food safety record against anywhere in the world."
How can I tell if chicken has been chlorinated?
In the US, chickens are not labelled as having been washed in chlorine.
Some of those lobbying for the UK to accept US imports of chlorine-washed chicken have argued that it should be up to consumers to decide, as long as it's clearly labelled. Cabinet office minister Penny Mordaunt said we should "trust the consumer".
However, according to Sustain, an organisation that campaigns for better food and farming, there is currently "no requirement for food producers to inform UK consumers about whether or not chlorine was used, neither are restaurants nor caterers required to say where their meat is from."
Unless the limitations of current UK food labelling legislation are addressed, it is hard to see how British consumers would know whether their chicken had been treated with chlorinated water.
The US also regards specific labelling of country of origin as an illegitimate barrier to its exports and pushes to have the practice banned as part of trade agreements it signs with other countries.
Will it definitely end up on our tables?
The Agriculture Bill does not build in any protection against chlorinated chicken or other farming practices that fall short of UK standards in future trade deals. The Bill still needs to be passed by the House of Lords, and farming groups are still lobbying for amendments to be included that would require equivalent levels of hygiene and animal welfare from third countries.
If the bill does pass as is, it opens up the door to all kinds of meat, which could flood the UK market and make it difficult for British farmers to compete unless they lower their own standards to match.
However, the likelihood that chlorine-washed chicken will end up on your table might not be as strong as we think. According to America's National Chicken Council: "Although it has been proven safe, most chicken processing plants have moved away from the use of chlorine as a food safety application during the production process.
"The National Chicken Council in the United States would estimate that chlorine is used in some rinses and sprays in only about 10 per cent of processing plants in the US."
Join our commenting forum
Join thought-provoking conversations, follow other Independent readers and see their replies