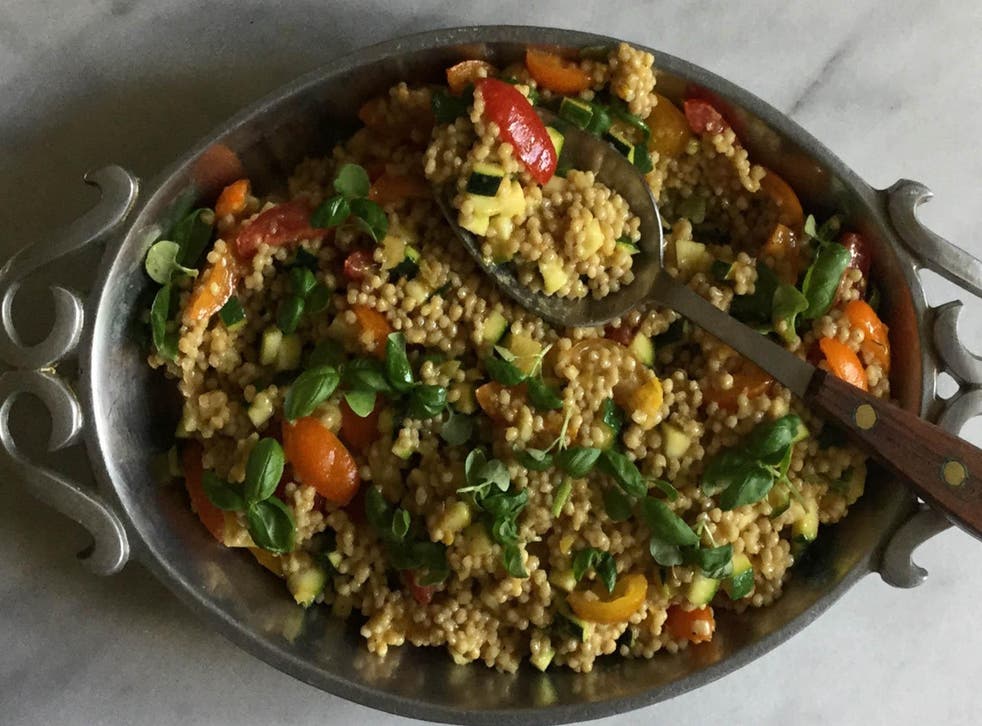 Couscous, tomato and courgette salad with a preserved lemon vinaigrette, recipe
When summer finally does arrive in the UK, it is always best to be prepared for alfresco dining with easy side dishes. Julia Platt Leonard shares one of her favourite salads for casual summer evenings
Summer is coy. Summer is non-committal. And summer definitely likes hanging out in Italy more than here. But we hope. We keep the welcome mat out. It's slightly like the toxic relationship you had when you were a teenager, but there you go.
Summer does usually arrive even if it's in the middle of September. And when it does come, it's best to be prepared. Food-wise, it's a no brainer. You want to be outside and you want to grill large amounts of food and produce large amounts of smoke.
The rest of the menu should be simple and preferably something you can prepare ahead of time. You don't want to be slicing and dicing while you're flipping and basting. So over the coming weeks I'm going to share some of my favourite salads – ones that are perfect for casual summer dining.
Let's kick off with a couscous, tomato and courgette salad with a preserved lemon vinaigrette. I use giant couscous with diced courgette and quartered cherry tomatoes. Basil – either chopped leaves or whole micro leaves – are a nice touch but you could use dill, parsley or chives instead.
I add the herbs at the very end, right before serving, so they stay bright green but the rest of the salad can be made early in the day and stashed in the fridge. Remember to bring it out ahead of time so it can come to room temperature. Seasoning is key here. The couscous gives you texture and bite but it's the vegetables, herbs and salt and pepper that give it zing.
The secret ingredients behind the 5 Thai tastes
And of course the preserved lemon. I use small ones that come in jars. When I blitz it I leave the lemons coarsely chopped so you get a hit of zesty lemon. I love lemon so I've added lemon juice as well but use more or less as you like.
Salad made, all that remains to do is stand at the door, gaze skywards and hope that summer is bored with Italy and ready to spread a little sunshine our way.
Couscous, tomato and courgette salad with a preserved lemon vinaigrette
You could blanch the courgette and add it to the cooked couscous. But I think it's easier to put the diced courgette in the bottom of a colander and drain the couscous over it. All it takes is that quick blast of hot water to take the courgette from raw to lightly cooked but still crunchy.
Serves 4-6 as a side dish
Salad
225g giant couscous
1 medium courgette, about 250g
300g cherry tomatoes
Small bunch of basil, chopped or about 10g micro basil leaves, whole 
Vinaigrette
1.5 small preserved lemons, about 45g 
50ml olive oil
Juice of half a lemon
Salt and pepper
Cook the couscous in a pan of boiling salted water until al dente. While the couscous is cooking, dice the courgette. Place the diced courgette in a colander and drain the couscous over it. Place the drained courgette and couscous in a large mixing bowl and drizzle with a bit of olive oil. Give it a stir. Slice the tomatoes in halves or quarters, depending on the size and add those to the mixture.
To make the vinaigrette, slice the preserved lemons into quarters and remove any seeds. Place the lemons into the small bowl of a food processor. While running, pour in the olive oil. You want the lemons to be coarsely chopped, not pureed. Taste and add the lemon juice and salt and pepper to taste.
Pour the vinaigrette onto the salad. You may not need to use all the vinaigrette – you want it to lightly coat the vegetables and couscous but don't drench it. Taste and adjust the seasoning. You may want an extra squeeze of lemon juice too.
When you're ready to serve, stir in most of the basil leaves, leaving some to garnish. Place on a serving plate or bowl. Serve at room temperature.
Join our new commenting forum
Join thought-provoking conversations, follow other Independent readers and see their replies