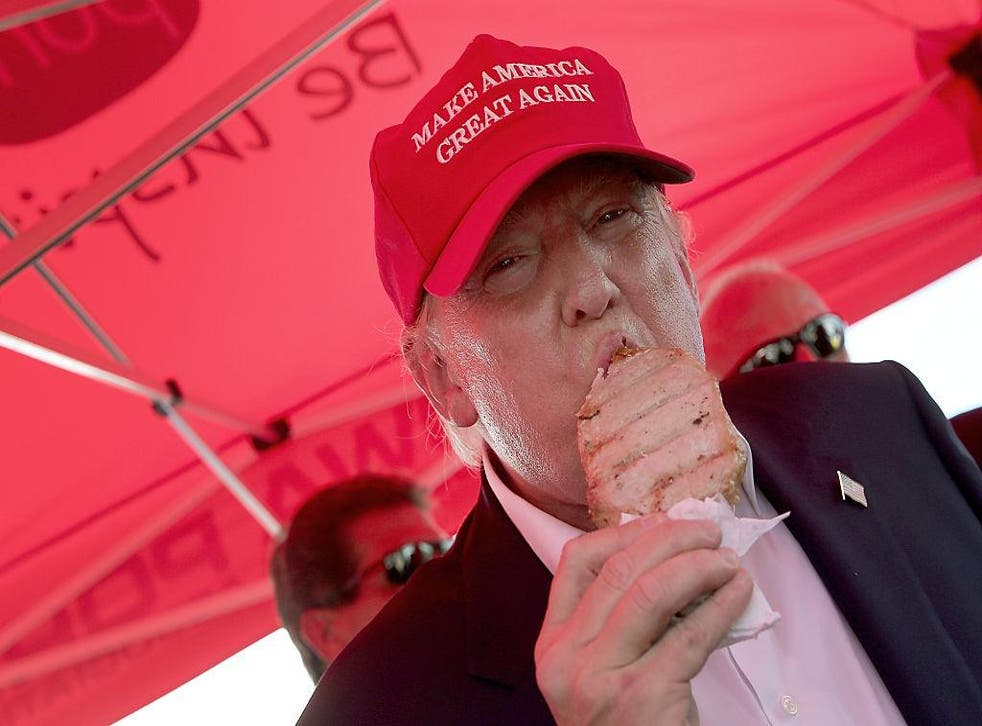 What Donald Trump's love of well done steak says about him
Not only does the President like his steak well done, he also eats it with ketchup
Rachel Hosie
Wednesday 01 March 2017 13:09 Comments
What someone orders in a restaurant says a lot about them, and so much has been made of the revelation that US President Donald Trump reportedly recently ordered a well done steak with ketchup when dining at the BLT Prime Steakhouse inside Trump Tower in Washington, DC.
Steak-lovers and top chefs across the world are seemingly unanimous in their view that one should never eat a steak well done.
According to Wolfgang Puck, "you definitely shouldn't get it cooked more than medium," and Gordon Ramsay once said: "Whatever quality of beef it is, it's gone way past any form of taste when you've asked for it well-done."
Some have even gone so far as to suggest eating a well done steak is akin to eating your own shoe.
Whilst you may argue we should all be allowed to eat whatever we enjoy and left in peace to do so, others counter that when it comes to steak, it's been scientifically proven that it tastes better rarer.
And Trump's choice of a well done steak is a cautious order that suggests he's "risk-averse," according to Nathan Evans, London Operations Director at transatlantic steakhouse chain Smith & Wollensky.
"Ordering a well done steak is the safest thing you can do," he told The Independent.
Evans has 25 years' experience in the restaurant industry and believes there's a definite link between how you like your steak cooked and your personality.
Typically, women are five times as likely as men to order a well done steak, and Evans says less than two per cent of men order one cooked so.
"It's really surprising that Trump likes well done steak," he says. "Guys just don't generally order steak well done."
The controversial orders Donald Trump has already issued

Show all 9
Evans believes alpha males are more likely to order a rare steak as a show of bravado to impress people, so Trump's penchant for well done steak is a break from his usual behaviour.
But the fact that he may be unwilling to try new things could say a lot about him and his presidential style.
Eater argues that it's fine for normal people who claim to prefer a well done steak to ignore the advice from family, friends, chefs, servers and experts urging them to try a rarer one, but for the President of the United States, this could mean something more serious.
Is he simply going to ignore the advice of everyone around him and stubbornly stick to his guns?
The President's love of fast food has been well documented and he reportedly never varies his order - although I'm sure most of us will admit we have our McDonald's go-tos.
Of course, maybe Trump does take on board other people's suggestions and tries a medium steak every few months but has decided it's just not to his taste, in which case fair enough.
However then there's the ketchup issue.
Whilst diners at Smith & Wollensky often choose to eat their steaks with sauces such as peppercorn or Béarnaise, ketchup is usually confined to chips. "I've never seen anyone put ketchup on a steak," says Evans.
"I think the fact that Trump has his steak well done and with ketchup speaks volumes about him."
Register for free to continue reading
Registration is a free and easy way to support our truly independent journalism
By registering, you will also enjoy limited access to Premium articles, exclusive newsletters, commenting, and virtual events with our leading journalists
Already have an account? sign in
Join our new commenting forum
Join thought-provoking conversations, follow other Independent readers and see their replies