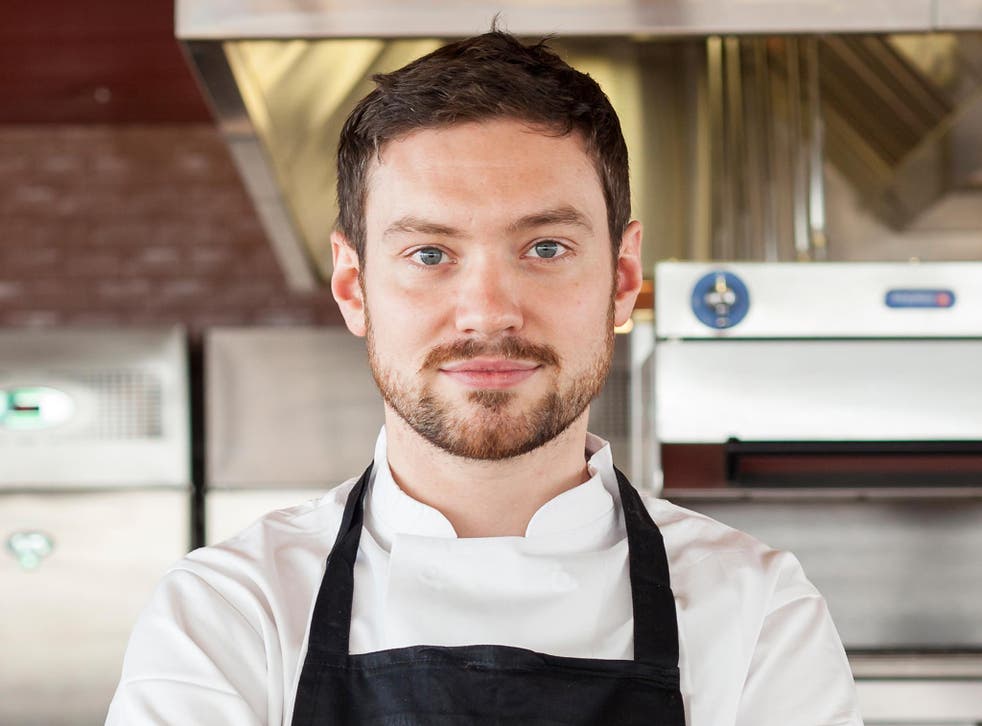 Duck & Waffle's executive chef discusses his favourite midnight snack and why clean eating is 'tosh'
Dan Doherty heads up the kitchen at Duck & Waffle, the London restaurant that skims the sky and never closes 
Meals eaten after midnight are usually made with questionable ingredients and gorged on from the inside of a polyester carton or nibbled at through a crack in the fridge door. But not at London's Duck and Waffle.
The restaurant in the capital's busy banking district is the city's highest 24-hour fine dining restaurant at 40 floors up the Heron Tower. Executive chef Dan Doherty heads up the sky-scraping operation, and is over-seeing the May 2017 launch of its sister restaurant Duck and Waffle Local. The restaurant specialises in British cuisine with European influences, and dishes – including the signature platter of moreish duck and waffles – are served to share. In the early morning you can imagine things might get a little messy up there.
A consummate professional, he doesn't elaborate on the likely wonky behaviour of guests at 4am. But he does boast about enjoying one of the best views of the city every day.
"Over the years we've seen a lot," he tells The Independent. "From amazing sunrises and sunsets and rain on one side of London while it's sunny on the other. But if I had to choose, I'd say seeing both ends of a double rainbow was pretty unique."
For the majority of us who don't live a stone's throw away from the City and can't get a spot on the restaurant's busy bookings schedule, Doherty has some advice on what to eat after midnight. Luckily, he gives us a pass to whip up any snack that doesn't involve cooking (so those of us who whip up drunken cheese on toast deserve some plaudits).
"I love crisps and dip, and if you want something simple to snack on, there are so many options. I've come up with a beetroot and feta dip in collaboration with Love Beetroot which works a treat with tortilla chips. Pre-cooked and infused beetroot that you can just keep in the fridge works brilliantly, and then you can just blend some up with feta to make a delicious dip."
And unsurprisingly for the chef heading a restaurant best known for indulgent food, Doherty slams the "clean eating" movement as "a load of old tosh".
"Eat food that makes you happy," he says. "Certainly eat a balanced diet, but the idea of something being 'clean' and 'dirty' is just ridiculous."
At the same time, he stresses there are foods that he would never touch. "Anything that's been mistreated or grown with loads of chemicals. Things doused in pesticides, chickens in cages and their eggs. No way."
"Whilst I'm no advocate for all of the health trends that we are being bombarded with, it is nice to see people caring more about what they eat and where their food comes from," he adds.
To Doherty, the best food is that which is procured responsibly, does the body and soul good, and shows a glimmer of an individual's personality and creativity.
The world's biggest food fights

Show all 11
"Eat more fresh, colourful food, like green vegetables, purple beetroot, red tomatoes, it's food that's good for you," he says. "And there are so many varieties and colours these days, it's easier to get creative in the kitchen, why not experiment and use something traditionally savoury, in a dessert?"
And despite heading one of the capital's most unusual restaurants, the food that makes him the happiest is no-frills Sunday roast.
"It's about family, being together and sharing some great food. I'm a traditionalist at heart and I think Sundays are for just that," he says.
Join our new commenting forum
Join thought-provoking conversations, follow other Independent readers and see their replies