The Independent's journalism is supported by our readers. When you purchase through links on our site, we may earn commission.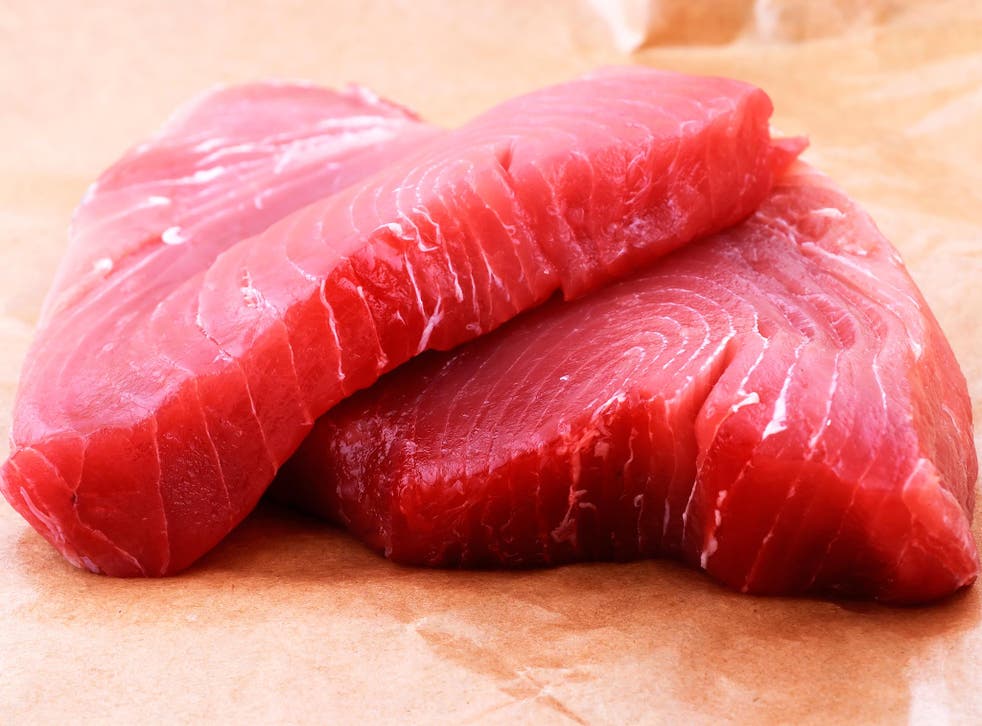 Fraudsters are dyeing cheap tuna pink and selling it on as fresh fish in £174m industry
A food fraud expert has warned against eating fish in cheap restaurants 
Kashmira Gander
Wednesday 18 January 2017 12:03 Comments
Fraudsters are colouring low-quality tuna and selling it off as premium fresh fish in an underground market which makes hundreds of millions of pounds a year, according to official figures.
Each week, five million tuna portions - equivalent to 500 tones - that would otherwise be destined for tins are doctored and sold as fresh fish at double their original value.
Consumers across the EU pay €200m (£174m) for fish that is illegally treated with vegetable extracts containing high levels of nitrites, which give the fish the purple reddish hue of high-quality tuna, according a European Commission document seen by the industry magazine IntraFish.
The world's biggest food fights

Show all 11
This practice is particularly dangerous as fish which is not fresh is eaten raw, and may also contain high levels of histamines that can cause people to suffer allergic reactions.
Colouring tuna is believed to mainly occur in Italy, France and Spain. Enrico Brivio, EU spokesperson for Health, Food Safety, Environment, Maritime Affairs and Fisheries, told IntraFish that action was being taken to stop the practice across the bloc.
"There is a close collaboration between the EU Food Fraud network and the fish industry to stop this alleged illegal practice," he said, but offered no details on those efforts.
Larry Olmstead, the best-selling author and journalist who has spent years investigating fake foods, told The Independent that these findings chime with his own.
"I'd be afraid to order tuna at all but the best high-end sushi restaurants," he said.
In 2013, conservation nonprofit Oceana did a large two-year nationwide study testing seafood samples from restaurants and retail all around the US, and for all tuna, including white, Bluefin, fatty and other claims, sushi places substituted another cheaper fish 71 per cent of the time.
"Where I've seen the biggest problems with tuna fraud is in the sushi sector. In numerous seafood fraud studies, both in the US and worldwide, sushi eateries are almost always among the worst performers, especially when it comes to tuna, one of the most popular ingredients."
He said that "white tuna" is another issue unique to the sushi industry. While the fish appears on the menu at some restaurants, "you never see the term at normal seafood restaurants," he said.
"There is no such fish as white tuna, the name is meaningless. You might think it means some form of tuna that's white, but that's not the case. In the vast majority of studies using DNA testing, most sushi places claiming to serve white tuna have actually substituted escolar, a cheap and undesirable fish that is not any kind of tuna, and is associated with stomach distress and digestive ailments, nicknamed the "ex lax fish," in the industry.
"Escolar is dangerous enough to be banned in both Japan and Italy. In several different studies conducted by investigative journalists and non-profit organisations, the substitution rate for escolar posing as white tuna in sushi restaurants often ranged from 80 to 100 per cent."
Spicy tuna sushi rolls can often contain a sauce to disguise cheap scraps of skeletons and parts discarded after tuna is processed for more valuable uses.
"It's a cheaper processed product sold specifically to serve in this kind of ground dish," he said.
Discussing his recent book Real Food, Fake Food, Olmstead said that overall, seafood is the type of food most prone to fraud.
But he stressed: "I don't want people to be scared to eat," he added, "I want them to eat better and enjoy delicious food. Be adventurous, be hungry, but be informed."
Register for free to continue reading
Registration is a free and easy way to support our truly independent journalism
By registering, you will also enjoy limited access to Premium articles, exclusive newsletters, commenting, and virtual events with our leading journalists
Already have an account? sign in
Join our new commenting forum
Join thought-provoking conversations, follow other Independent readers and see their replies