Egg recipes you may not have tried before from a Thai street food chef
Versatile, healthy and a breeze to cook, eggs are a brilliant but hardly celebrated ingredient. Seb Holmes, chef and founder of London's Thai street food join Farang, shares some recipes to celebrate the food for British Egg Week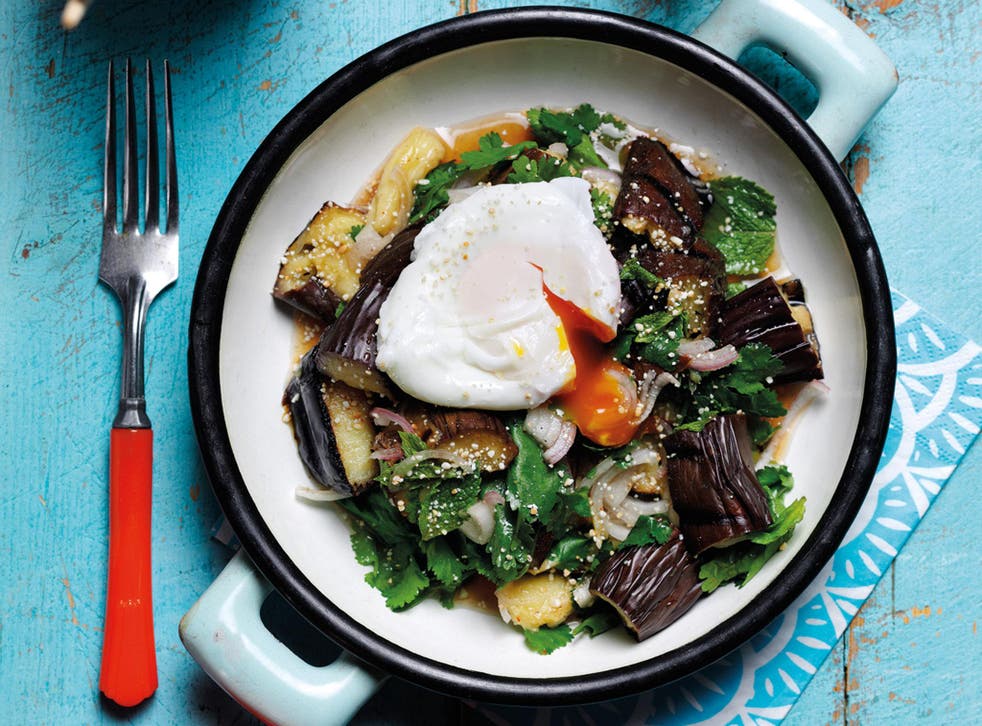 I've always thought of the egg as an ingredient that is so versatile but that versatility is often neglected because people return to their old egg favourites. My recipe collection combines eggs with some of my favourite Thai flavours and dishes, all inspired by the fast paced street food we create at Farang London.
I've been working in kitchens since I was 12 years old but fell in love with Thai food whilst working at the Begging Bowl in Peckham where I eventually became Sous chef. From there, I became head chef of the Smoking Goat Soho before starting Farang London, which I've been lucky enough to build authentically, by sharing my love of Thai food face to face with customers.
Egg-topped smokey aubergine salad
Serves 2
When cooked over open fire, aubergine has an amazing way of transforming its flavour and texture into a smoky, soft bombshell of taste. This salad uses the runny egg to contribute to the dressing, it's a perfect accompaniment to a barbecue and also delicious served with steamed jasmine rice. For this salad, Thai purple aubergine is used - this is thinner and easier to grill evenly in a short time. However, the more common large aubergine can also be used but it may need to be cooked a little longer on the fire.
For the salad
2 Thai purple aubergines (these can be found in any good Asian supermarket, however the larger, more popular aubergine can be used instead)
2 medium eggs
A handful of mint, picked and torn in half with fingers
A handful of coriander, picked and washed.
100g Thai shallots, peeled and sliced thinly (banana shallots chopped thinly can be used instead)
20g Jasmine Rice
For the dressing
4 limes, juiced
4 tbsp fish sauce (soy sauce if vegetarian)
4 tbsp tamarind water
2 tbsp caster sugar
1 mandarin, juiced (clementine will work too)
½ tbsp chilli powder (a little less if you don't like heat)
Make the dressing by mixing together all the ingredients. Light up the BBQ and allow the coals to turn white, or heat up a griddle pan on a high heat on the hob. Place the aubergines directly on the coals or on the griddle pan and allow to char, turning them over occasionally until they are soft to the touch. Then remove from the heat and leave to cool. If the skins are really charred peel the aubergines but if they are just caramelised leave them on. Cut the cooked aubergine into big chunks and place in a bowl. Fry the jasmine rice in a dry pan until golden. Then grind in a pestle and mortar or in a food processor until you have a fine powder. Toss together the aubergine, herbs and shallots. Bring a pan of salted water to a rolling simmer, then stir to create a whirlpool. Crack an egg into the middle and cook for four minutes or until the white is cooked and the yolk is still soft. Then remove from the pan with a slotted spoon. Dress the salad with your dressing and place on a plate then top with your poached egg, a sprinkling of toasted rice and a pinch of salt on the egg yolk.
Smoked Salmon Laksa with soft boiled egg
Serves 2
300g red curry paste
100ml cooking oil
1 tbsp mild curry powder
2 British Lion eggs
1 tbsp brown soft sugar
2 tbsp fish sauce
200ml fish stock
400ml coconut cream
300g smoked salmon, roughly chopped into bite sized pieces
1 small handful coriander
3 tbsp peanuts, lightly crushed in a pestle and mortar
300g vermicelli noodles, blanched in boiling water and refreshed in cold water
1 lime
Fry the curry paste in the oil and then add the curry powder. Fry for eight to ten minutes, moving all the time. Soft boil and peel your eggs - an average sized egg takes five minutes cooking time on a rolling boil. Once peeled, leave them aside at room temperature. Add the sugar into the paste and continue to cook for two minutes until the paste goes darker, then add the fish sauce and the fish stock and bring back to the boil. Once boiling, add the coconut cream and bring to a simmer. Check seasoning as you may wish for a little more sugar or fish sauce to taste. Lastly drop the smoked salmon into the curry and serve in a bowl with the cooked noodles. Pour the hot curry over the noodles to heat them. Garnish with a sprinkle of coriander, crushed peanuts, the soft boiled eggs ripped in half and dribbling into the curry and a wedge of lime to squeeze over for freshness.
I always cook my eggs in salted water and then remove from the boiling hot water into ice cold water with a splash of olive oil. If you then peel the eggs in the water the oil gets between the shell and the flesh making them easy to peel.
Egg, cucumber and shrimp soup​
Serves 2)
600ml vegetable stock
1/2 cucumber (peeled, sliced into 3cm thick rough cubes)
12 shrimp, de-veined, peeled and cleaned
3 tbsp light soy sauce
½ tbsp dark brown sugar
1 small pinch ground white pepper
2 beaten British Lion eggs
Fried garlic (either buy from a shop or just lightly fry sliced garlic in vegetable oil)
1 small handful Thai basil (normal basil also works fine)
2 British Lion eggs (optional – for topping)
In a pan add the stock, soy sauce, white pepper, sugar and cucumber and bring to the boil. Cook gently for a few minutes to soften the cucumber. Next add the shrimp and continue to cook until they are cooked throughout. Spin the mixture and crack two eggs into the soup causing them to scramble as they enter the moving soup. At the same time add the remaining eggs to a pan of simmering water and soft boil for five minutes, then remove and peel the shell. Rip the egg in half and add to the soup along with a handful of fresh Thai basil and crispy garlic and serve. Adjust seasoning if needed to suit your own taste.
Wok fried egg and spicy minced pork with garlic & ginger
The beauty of an Asian stir-fry is in the preparation of ingredients if this is well organised, then cooking the dish need only take minutes. This dish is a perfect example of this as it's a delicious lunch snack and uses the runny yolk of a wok fried egg to contribute a rich element to the salad, leaving a sweet salty, sour and spicy plate full. If you fancy a little more of a fill this dish is delicious served with steamed jasmine rice.
Serves 2
250g minced pork belly
6 garlic cloves, peeled
4 red birds eye chilli, stems removed (use two if you don't like things too spicy)
30g ginger, peeled and roughly chopped
1 tbsp coriander root, chopped (this can be brought attached to the leaves in most good Asian supermarkets, however if you can't find just leave out)
A handful of coriander, washed
A handful of mint, torn in half
Thai shallots, peeled and sliced (banana shallots work well too)
A handful of Thai basil (normal basil can be used instead)
100g cherry tomatoes, mashed a little with hands
Vegetable oil, for frying
2 large British Lion eggs
2 whole limes
A little coarse sea salt
Firstly using a pestle and mortar (or food processor) pound together the bird's eye chilli, garlic and ginger to make a paste; a little coarse sea salt can be added to the mortar to act as an abrasive and help combine the ingredients. Heat a large wok to a high heat and place around 150-200ml of vegetable oil in it. When the oil is sizzling hot, crack an egg into a bowl and add to the pan by gently pouring it into the hot oil - be careful of splattering oil as it hits the wok. As soon as the egg touches the oil it will begin to cook very quickly; leave for around ten seconds and then gently unstick from the wok using a wok spoon, being careful not to split the egg yolk. The egg will take around 20/30 seconds to cook. When the egg white is cooked and the yolk is still runny, remove the egg using a slotted wok spoon and place on the draining plate. Repeat this process with the second egg. Remove most of the oil from the pan then add the ginger, garlic and chilli paste and move constantly until golden brown. In the afterheat of the eggs being fried this will not take long so be careful not to burn the mix. Add the minced pork belly and continue to fry until the pork is crispy, next add the caster sugar and cook for a further minute until the mixture darkens and caramelises. Then add the coriander, mint, basil, Thai shallots, tomatoes and fish sauce and squeeze one lime into it then toss together. Immediately serve the pork stir-fry on a plate with the egg on top and a wedge of lime on the side to squeeze over the dish yourself for freshness.
The best way to set yourself up for cooking this dish is to separate all the prepared ingredients into bowls and place them within arm's length of the stove top for easy access whilst cooking. The eggs will be cooked first so make sure to crack them into separate bowls for convenience and have a plate with some kitchen roll handy to put them on.
Try the dishes from the collection at Farang, Street Feast, Hawkerhouse on the 14th and 15th October. Recipes courtesy of www.eggrecipes.co.uk
Register for free to continue reading
Registration is a free and easy way to support our truly independent journalism
By registering, you will also enjoy limited access to Premium articles, exclusive newsletters, commenting, and virtual events with our leading journalists
Already have an account? sign in
Register for free to continue reading
Registration is a free and easy way to support our truly independent journalism
By registering, you will also enjoy limited access to Premium articles, exclusive newsletters, commenting, and virtual events with our leading journalists
Already have an account? sign in
Join our new commenting forum
Join thought-provoking conversations, follow other Independent readers and see their replies