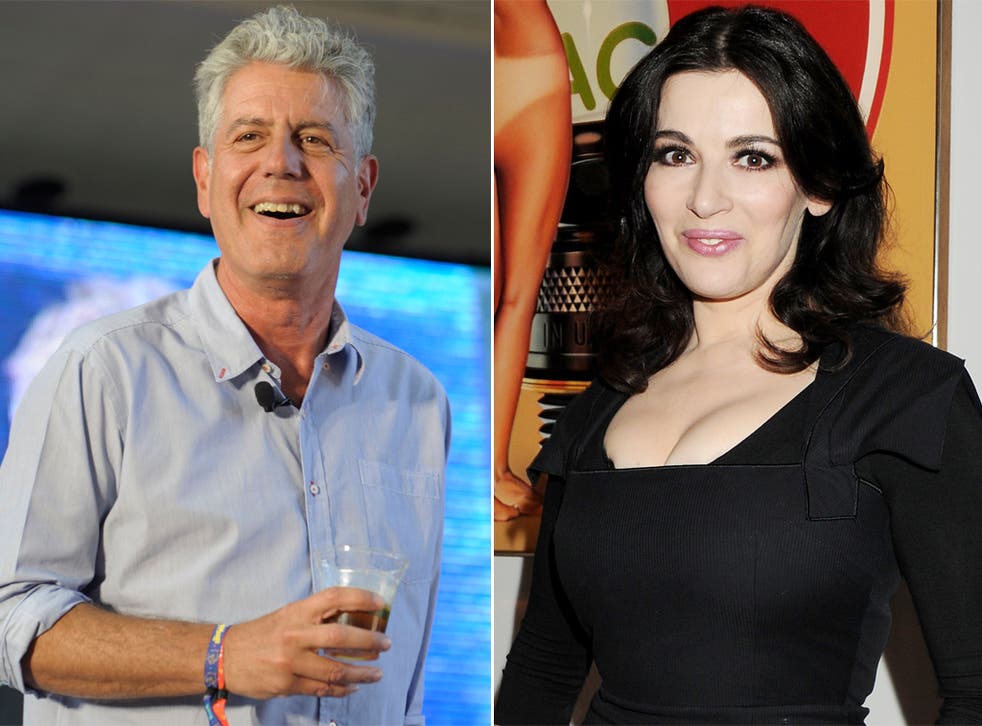 Anthony Bourdain & Nigella Lawson: A delicious duo or an over-ripe pair?
Nigella Lawson and Anthony Bourdain are set to front a new competitive cooking show in the States. Tim Walker wonders what these very different TV chefs will bring to the table
He's steak, she's cupcakes. He's hot sauce, she's honey. Now, a pair of unlikely televisual ingredients, Anthony Bourdain and Nigella Lawson, are being mixed together to make what US network ABC calls "America's hottest new cooking show". In a video released online this week, the two food-based celebs invite "home cooks, mums and dads, college students, even restaurateurs" to audition for their new, as-yet-untitled TV cookery competition. The contest will be "different from any other", the optimistic cooks claim in the clip, because "it's all about the food". Then Nigella eats a grape seductively.
Bourdain made his name with the culinary memoir Kitchen Confidential, which popularised the image of restaurant chefs as gritty, hip and occasionally dangerous. The Magic and Loss-era Lou Reed lookalike was, in his gastro-tyro days, an enthusiastic consumer of heroin, cocaine and LSD. He went on to be executive chef at Brasserie Les Halles in New York. Nowadays, his edgy past is just part of his television persona, as he travels the world to eat offbeat fare, first in A Cook's Tour for the Food Network, and then in its Travel Channel successor, No Reservations. He recently signed with CNN to make another travel show.
Lawson's background is rather more genteel: Oxford University and the Sunday Times literary pages, followed by bestselling cookbooks and chart-topping TV shows. She's popular in the US, too: Laura Bush once had one of her soups served at a Presidential Christmas dinner. Lawson's reputation is more saucy than salty, but she and Bourdain are old friends and, according to Bourdain, she more than holds her own against any hard nut: "I was at dinner with Nigella and a bunch of guys," he said in 2007, "and we were all trying to out-macho each other, like 'I've eaten a live cobra heart!' Nigella has been rubbing her lips and says, 'When I was in Spain, they aborted a pig for me and roasted the foetus. Soooo good.'"
Quite why the world needs another cookery contest remains unclear. And there are few clues so far as to how Bourdain and Lawson's will differentiate itself from the likes of Hell's Kitchen, Great British Menu, Ready Steady Cook, MasterChef, Masterchef: The Professionals and Celebrity MasterChef.
Unlike Lawson, Bourdain has form in the competitive cooking department: he was a judge on US TV's Top Chef. But he's not a fan of the genre per se. Of Hell's Kitchen, he once wrote: "There's no cooking. It's just a bunch of dimwits – the lame, the halt and the delusional – and [Gordon Ramsay] pretending to be angry. There's no suspense. None of these idiots would be qualified to work a Fryolator at a Chuck E. Cheese, much less ever work in any Gordon Ramsay restaurant." Is that the sound of knives being sharpened?
Join our new commenting forum
Join thought-provoking conversations, follow other Independent readers and see their replies