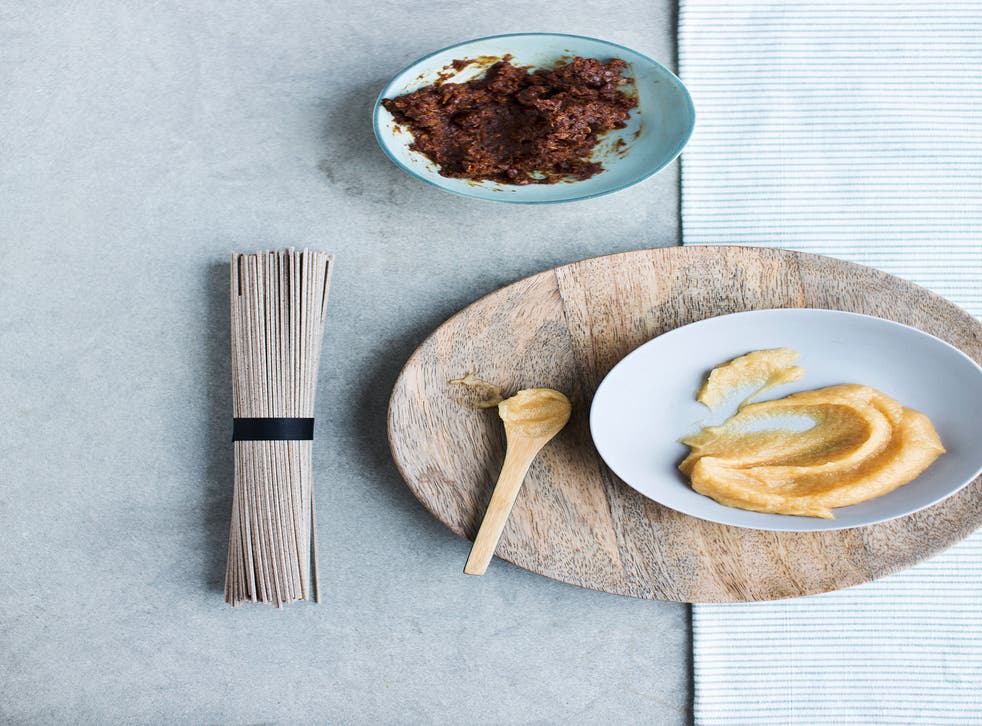 Bill Granger recipes: Miso makes the simplest dishes seem mouthwateringly complex
Miso gives body and depth to anything it touches, making the simplest of dishes taste like you've spent hours at the stove, says our chef
We spent our last summer holiday in the US, where the local health store had a range of the most incredible fresh miso pastes for sale. It was quite extraordinary. As a result, our meals in America consisted mostly of beautiful barbecued meats and seafood marinated in tantalising umami-rich miso. And because the miso pastes were so wonderful, we also used the more textured ones as dips for fresh seasonal vegetables. Nothing added – just pure, fresh miso paste. Delicious.
The dishes here are much more autumnal and warming. I love the way miso gives body and depth to anything it touches, making the simplest of dishes taste like you've spent hours at the stove, expertly balancing complex, rich flavours.
I've still to find a shop in London that sells amazing fresh miso of the kind you get in Japan (and the US), but I find the packs of red, brown and white miso pastes you can easily buy do a pretty good job.
I'm sure there are rules to be followed, but my way of deciding which miso to use for a recipe doesn't call for much knowledge: if I'm aiming for a mild, almost sweet, taste, I'll use white miso; if instead I'm after a deep, rich, more intense flavour, I'll go for the darker, red or brown miso pastes. Easy.
Miso pumpkin with tofu
I enjoy eating this as a weekday meal with some steamed rice, but it also makes a stylish starter to a Japanese-inspired meal.
Serves 4
600g pumpkin or squash (peeled weight)
350ml dashi or light chicken stock
1 tbsp mirin
2 tsp sugar
1 tbsp soy sauce
1 tbsp white miso paste
350g silken tofu
1 tbsp toasted sesame seeds
3 spring onions, shredded
1 red chilli, chopped
Cut the pumpkin into large chunks. Put in a large frying pan and add the stock, mirin, sugar and soy. The pumpkin pieces should now be mostly submerged in liquid.
Bring to the boil, cover with a lid or large baking sheet and simmer gently for 15 to 20 minutes, or until tender. Remove from the heat and stir the miso paste into the sauce, being careful not to break up the pumpkin pieces.
Remove the tofu from its packaging and cut into cubes. Plate the hot pumpkin with its sauce. Top with pieces of chilled tofu, sesame seeds, spring onions and chilli.
Grilled fish in miso with brown rice and kale
This simple miso glaze gives the fish a lovely texture. The only trick is to make sure you add the glaze just before grilling for it to get a golden, slightly crisp exterior. The furikake seasoning I sprinkle over the fish before serving is made from a combination of seaweed and toasted sesame seeds, and is easy to find in supermarkets or Asian stores.
Serves 4
1 tbsp light-flavoured oil, plus extra for drizzling
2cm ginger, grated
2 garlic cloves, chopped
1 red chilli, chopped
200g kale, roughly chopped
150g cooked plain brown rice, chilled or at room temperature
2 tbsp light soy
4 x 200g firm white fish
3 tbsp white miso paste
1 tbsp sugar
Grated zest and juice 1 lime
Furikake seasoning, to sprinkle
Preheat the grill to high. Heat a wok or large frying pan over a high heat. Drizzle with oil and add the ginger, garlic and chilli. Fry, stirring for 30 seconds, then tip in the kale. Season with salt and stir-fry for 2 minutes, or until wilted, then add the rice and soy. Cook, stirring, until the rice is heated through.
Meanwhile, place the fish in a lightly oiled baking tray. Combine the miso paste, sugar, lime zest and juice and 1 tablespoon of oil in a bowl. Brush over the fish and grill for 6 to 8 minutes, until golden and cooked through. Sprinkle with furikake seasoning and serve with the kale rice.
Miso, chicken, shiitake and noodle soup
I often go to Tokyo and the first thing I do when I get there is head straight to a noodle bar for some soba for a healthy hug in a bowl.
Serves 4
180g soba noodles
3 tbsp brown or red miso paste
1 tbsp soy sauce
1 tbsp sake
900ml dashi or light chicken stock
1 tbsp light-flavoured oil
150g shiitake mushrooms, torn
1 garlic clove, chopped
2cm ginger, finely chopped
1 small leek, finely sliced
110g cooked chicken (such as leftover roast or poached chicken)
Japanese chilli powder
Cook the noodles according to packet instructions and drain.
Combine the miso, soy, sake and 2 tbsp of dashi or chicken stock in a small bowl, stirring until smooth. Heat the rest of the dashi in a pan over a high heat and stir in two-thirds of the miso mixture.
Heat the oil in a wok over a high heat and add the shiitake, stirring, for 1 minute. Add the garlic, ginger and leek; stir-fry for another minute. Add the chicken and remaining miso mixture and cook, stirring, until the chicken is hot – this will take about 1 minute.
Divide the noodles between 4 bowls, spoon in the miso broth then top with the shiitake-chicken mixture. Serve the chilli powder alongside, to be added to taste.
Bill's restaurant, Granger & Co, is at 175 Westbourne Grove, London W11, tel: 020 7229 9111, and 50 Sekforde Street, London EC1, tel: 020 7251 9032, grangerandco.com. Follow Bill on Instagram at bill.granger
Join our new commenting forum
Join thought-provoking conversations, follow other Independent readers and see their replies