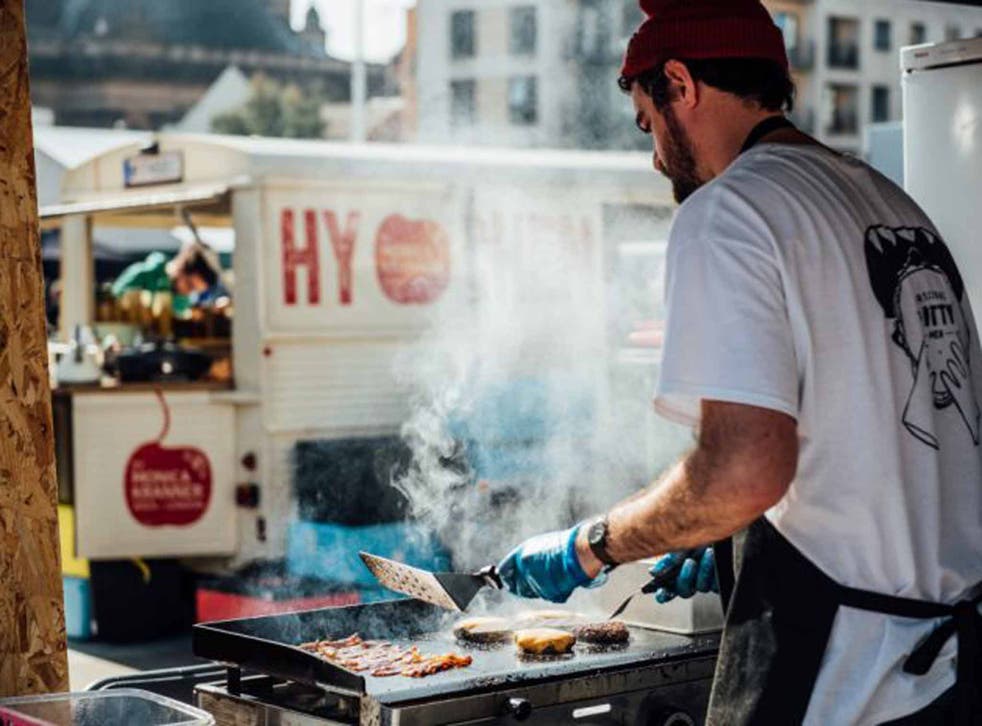 British Street Food Awards: Celebrating a trend that's here to stay
​As the finals of the awards approach, and with a Europe-wide contest on the way, Sophie Morris meets those driving the movement and gleans tips for would-be punk foodpreneurs
If you're already a street-food groupie, you won't need to be told that it's a culinary phenomenon well past the "trend" phase. It is a bona fide movement.
The complexity and elegance of the dishes on offer at street-food stalls around the country are astonishing. If it's burgers and hot dogs, only the very best cut the mustard, and there's a growth of fancy fish dishes, from Seadog's smoked Clovelly herring laksa with Devon crab, rice noodles, crispy shallots, peanuts, pineapple and Cornish seaweed to Sub Cult's seared king scallop, blackened calamari, free-range pork shoulder, lemon, caper and parsley mayo sub sandwich. The Fish Hut has Suffolk smoked haddock and Southwold lobster seaweed empanada with a creamy cheese sauce, served with pea purée and tomato and caper salsa, while Crabbieshack serves up soft shell crab and roast artichoke purée with pickled carrot and coriander in a bun.
Quite a mouthful. These dishes are all finalists at the British Street Food Awards, which is holding its 2015 finals at London's O2 this weekend, and estimates there are around 10,000 traders operating in the UK at the moment. "The success of street food chimes with something that's happened in our society," explains Richard Johnson, who set up the awards five years ago and describes his first final as a "disaster" – it was pitched unfortunately at the tail end of a "sausage trail" in Ludlow, and the eager traders met punters already stuffed full of sausages.
"People really identify with street food at the moment. They want something different, home-made, down-at-heel, DIY and honest," he says. "Compared to restaurant food, street food is cooked in front of you and you can see the whole rig. It's probably not right for a romantic date, but it's a great place to hang out."
Johnson's awards have grown into what this year is being called a "festival". Buy a £5 ticket for Saturday or Sunday and you can try taster portions from a range of traders, including current competitors and past winners. There's also music from Naughty Boy (who also has a stall serving up his own take on his mum's Pakistani home cooking, such as chicken tikka linguine and spicy shepherd's pie), DJ Monique B, and singer-songwriter Small Town Jones.
The growing number of fish and seafood stalls connects to our love of traditional fish and chips, and the dishes are realised through the dedication of the traders determined to bring local fish to a greater audience. Seadog comes from North Devon, where just 3 per cent of the catch stays in the area, with most exported abroad. By showing off local produce with bold flavours and techniques from around the world, the hope is that a bigger and more stable market for it will emerge here. Nick Attfield, who owns The Fish Hut in Southwold, has been talking to Johnson to try to estimate numbers for this weekend – he gets his fish fresh from local day boats and needs to let the fishermen know how much to bring in.
Fabian Clark runs Claw, which built its reputation on crab burgers, and he was named a Virgin "foodpreneur" this year. He noticed that we export most of our crab – around 80 per cent – and decided to bring sustainably sourced crab from Start Bay in Devon to London and serve it at street-food markets such as Kerb, one of the forerunners in the street-food explosion with locations across London. He's now doing indoor residencies through the winter. His aim was to capitalise on diners' love of lobster by showing off how well crab compares. He's now doing the same for other under-loved sea creatures, such as octopus.
Running a street-food business is hard and heavy work, but indoor markets and events help to see traders and diners through the coldest months, and bring new flavours to a wider audience. Johnson says that street food was a summer thing when he started out, but that councils are, to an extent, becoming more understanding and accommodating. Privately owned spaces such as Trinity Kitchen in Leeds, which houses a rotating cast of traders, have really helped the scene along. In London, Street Feast has brought us the indoor night markets Hawker House and Dinerama, while the winter pop-up Night Tales recently added a permanent drinking and eating space to its roster.
Unlike some, Johnson doesn't think that covered markets or Michelin-trained traders go against the spirit of street food. "We can champion our amateurism and DIY punk aesthetic, but we should still have high-quality street food. Taking street food into brand new retail environments such as Trinity Kitchen means we have more traders working more of the time and making more money."
"There are people making more money in street food than people in restaurants are," says Neil Rankin, one of the awards' judges. Rankin is also a chef, restaurateur and head of food and traders at London Union, a city-wide street-food initiative with plans to open semi-permanent markets across the capital. "That's not to say every street-food restaurant makes money – because it doesn't – but if you have the right sort of product and you have the right pitch fees, then it's an easy sum to make."
Rankin, who currently rates Breddos Tacos, Smokestak, Venezuelan food specialists Petare and White Men Can't Jerk, says that street food is winning for a simple reason: it's all about the food. "People are coming up with more original ideas. There's more creativity and you don't have to worry about long-term customers. It's just about serving the food you love."
The British Street Food Festival and Awards final, sponsored by 'The Independent on Sunday', takes place this Saturday (11am–11pm) and Sunday (11am–6pm), at The Quadrant at the O2, Peninsula Square, London SE10 0DX; tickets, which include a free pint of Sharp's beer, cost £5 (under-18s go free); britishstreetfood.co.uk
Richard Johnson's advice to would-be traders
1. Start smaller than a truck – it's too big an outlay. Go and buy yourself a gazebo and get started.
2. Build something that says something about you, whether it's a van, truck or stall. Pembrokeshire seafood and seaweed shack Café Mor (now the Pembrokeshire Beach Food Company) built a hut out of salvaged driftwood to complement its produce.
3. Start in winter – the Rib Man told me this one – and if you can survive the winter there's a chance this might be the right job for you. Anyone can do it in the summer.
4. Make sure your ingredients are well sourced. If you want fried chicken, of course there's KFC, but I can show you a much better chicken.
5. Don't make a dish sound too "cheffy".
6. A street-food market is more than a series of stalls; it's about something more primal. Bacon, fat, cheese and umami always seem to be involved, and building a successful street-food brand has to take all that into consideration.
Register for free to continue reading
Registration is a free and easy way to support our truly independent journalism
By registering, you will also enjoy limited access to Premium articles, exclusive newsletters, commenting, and virtual events with our leading journalists
Already have an account? sign in
Register for free to continue reading
Registration is a free and easy way to support our truly independent journalism
By registering, you will also enjoy limited access to Premium articles, exclusive newsletters, commenting, and virtual events with our leading journalists
Already have an account? sign in
Join our new commenting forum
Join thought-provoking conversations, follow other Independent readers and see their replies