The Independent's journalism is supported by our readers. When you purchase through links on our site, we may earn commission.
Wines of the week
Eight warming budget reds to keep out the January chills
As the new year rolls in, these reds are perfect for bringing some joy and warmth to help you weather whatever the next couple of months throws at us, writes Terry Kirby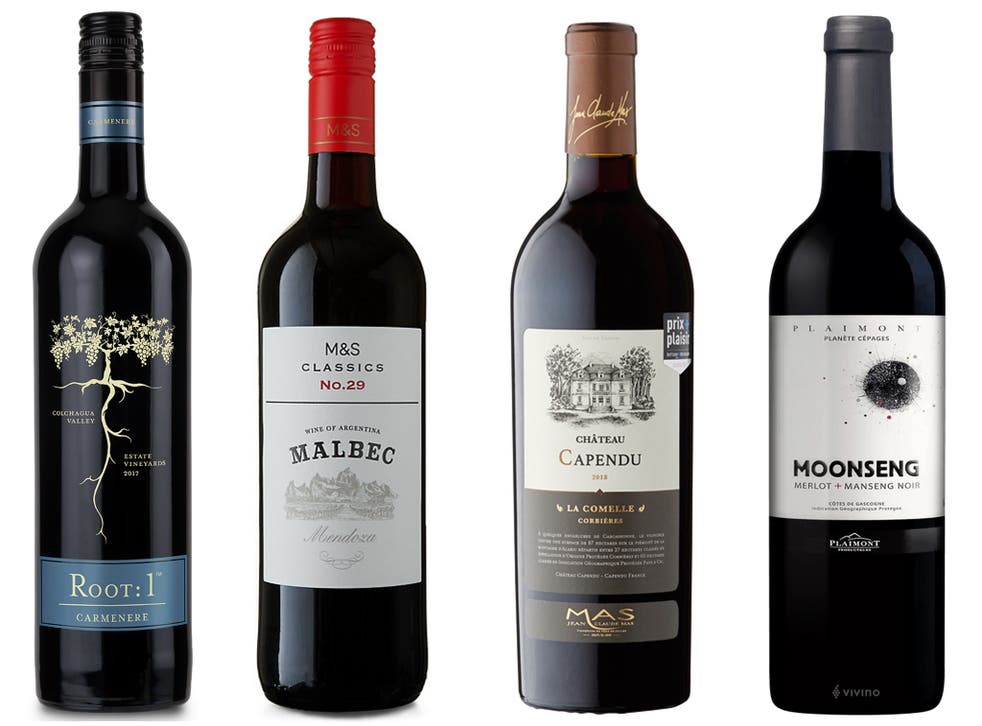 So, January and the new year then. Welcome to 2021. And, no, I don't know what happens next to the state of the nation. What I do know is that in any January we need comfort and consolation to deal with the weather and to cope with the effect on bank balances from festive indulgences. At this particular time, and facing perhaps another few grim months, we need it more than ever.
For wine lovers, that can only mean one thing: we need some cheap and comforting red wines that will warm our bodies, soothe our souls and still not break the bank. Here then are some medium- and full-bodied reds that deliver excellent value at relatively modest prices, ideally to match some winter foods, starting with what Aldi are calling a "super-Tuscan" in reference to the expensive, non-chianti type blends from Tuscany that can attract exorbitant prices.
While the Piccini  Sasso al Poggio Toscana 2016 (£9.99, aldi.co.uk), a blend of sangiovese, merlot and cabernet sauvignon, may not quite be in same league as a true ST like Sassicaia it is a nice little bottle, full of robust, warming, plummy flavours, with a hint of tar and some spice. Just the ticket for a game casserole or some sausages and mash. 
Staying with merlot and Italy, there is a little more to pay for the Rosade Furlane Merlot 2018 (£11.80, honestgrapes.co.uk)  but it's worth it, with more robust flavours of damsons and plums, a nice structure and freshness pervading: a versatile food wine, but would be my choice for a baked pasta or pizza. 
Hearty reds are also very much the thing in southwest France, where the Plaimont cooperative has revived some long-neglected grapes such as manseng noir. When blended with the more widespread merlot it makes for this terrific gem of a red, the Plaimont Moonseng 2018, (£7.50, thewinesociety.com; £8.99, allaboutwine.co.uk, minimum order six bottles) with some spicy, silky, ripe dark fruit flavours and a lovely fresh mouthfeel that acts as a nice counterbalance. 
Staying in the south of France and moving just a bit east to the Corbieres appellation close to Carcassonne, the Chateau Capendue La Comelle (£6.99, waitrose.com), a rich blend of syrah, carignan and grenache, also punches well above its weight in the value for money/quality department. As with all the wines from the south and southwest of France, these two are brilliant with any duck dishes and cassoulet. And from the Rhone Valley, the Cote Du Rhone Vidal-Fleury 2017 (£9.99 if bought as a part of mixed six-bottle purchase, normally £11.99, majestic.co.uk) from very reliable and longstanding Rhone producers also suits such foods, but is a bit lighter in weight and with more brambly fruit flavours and a hint of herbs, so would also favour a chicken casserole or traybake.
Marks and Spencers is particularly strong in the sub-£10 area at the moment, perhaps sensitive to the strained finances of some of us and so it offers well-priced wines such as the Classics Malbec 2019 (£8, marksandspencer.com) which is a very typical Mendoza malbec – crunchy red fruit, hints of mint and chocolate and a nice balance of freshness and heft from some oak. Also from South America, the Root 1 Carmenere 2018 (£7.75, morrisons.com) from Chile's Colchagua Valley is packed with gorgeous red and black fruit flavours and some oaky vanilla notes as well as more coffee/chocolate notes. A little steak or perhaps a boeuf bourguignon here for both these wines, I think. 
Back to Spain for the final wine from an excellent producer comes the  Rioja Vega Crianza 2017 (£10.60, tanners-wines.co.uk), a relatively youthful rioja, the dominant tempranillo given a little complexity from small amounts of garnacha and mazuela. Enough oak ageing to give structure power and some vanilla hints without detracting from the red fruit vibrancy. Perfect with Middle Eastern lamb dishes or chicken paella. An elegant way to see us through January. Now, there is just February to deal with…
Register for free to continue reading
Registration is a free and easy way to support our truly independent journalism
By registering, you will also enjoy limited access to Premium articles, exclusive newsletters, commenting, and virtual events with our leading journalists
Already have an account? sign in
Register for free to continue reading
Registration is a free and easy way to support our truly independent journalism
By registering, you will also enjoy limited access to Premium articles, exclusive newsletters, commenting, and virtual events with our leading journalists
Already have an account? sign in
Join our new commenting forum
Join thought-provoking conversations, follow other Independent readers and see their replies