The Independent's journalism is supported by our readers. When you purchase through links on our site, we may earn commission.
Wines of the week
10 sensational wines from Portugal
Known more for port, these Portuguese wines are a wonderful example of the country's modern and exciting winemaking, writes Terry Kirby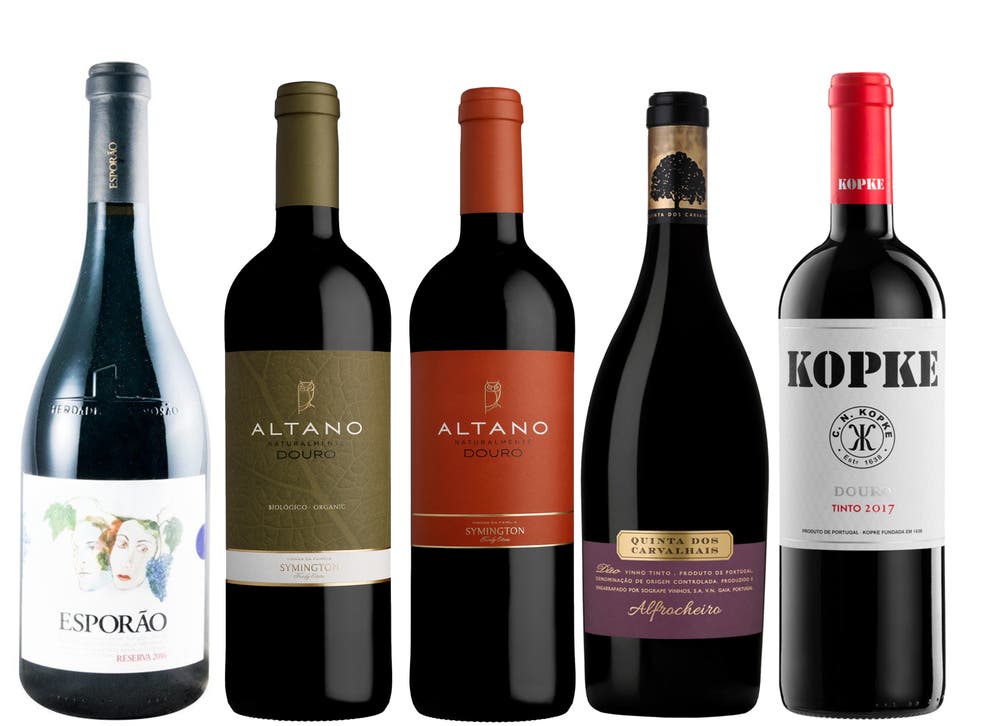 This piece was originally published in October 2020
I've recently had the considerable privilege to taste some fabulous wines from Portugal. The superb wines of Taboadella in the Dao region and those of Herdade Aldeia de Cima in the Alentajo are wonderful examples of modern Portuguese winemaking: fulsome, rich, reds and elegantly balanced complex whites, always made using indigenous grapes. 
Taboadella is a new venture by the Amorin family that has been producing corks for the port trade for many years and who also acquired the historic Quinta Nova De Nossa Senhora Do Carmo vineyard in the Douro in 1999, where wine has been made for more than 200 years. Herdade Aldeia de Cima is a personal project by Luisa Amorim, who runs the Quina Nova estate.  
Fortunately, some of the Quinta Nova brand wines, are available in the UK, with only standard delivery charges. The Quinta Nova Unoaked Douro 2018 (£12.95, slurp.co.uk) is a brilliant, juicy, brambly, youthful red, light on its feet, but full of flavour of damsons and blackberries on the palate; a blend of the key local red grapes of touriga nacional, touriga franca, tinta roriz and tinta cão. If you like weightier Beaujolais villages wines, you will probably adore this. The same four grapes also feature in the much weightier, substantial Quinta Nova Terroir Blend Reserva Red 2017 (£19.95, slurp.co.uk) a richer, darker and very satisfying beast, just made for chill autumn nights and big casseroles, as indeed are all these wines this week.  
These two wines illustrate the high standard that Portugal can now offer with such red wines, which provide real quality at sensible prices. They also underline just how the Douro has moved on from its reliance on port, with port houses now producing their own table wine ranges using the same mix of grapes that go into port blends.
The Symington family are one of the biggest names in port – owning a number of well-known brands such as Dow's and Cockburn's. Their organic Altano Organic Douro Red 2019  (£10.99, waitrose.com; £11.80, tanners-wines.co.uk) or the non-organic version Altano Douro Red 2018 (£11.95, slurp.co.uk) fit somewhere between the two reds above – brambly, juicy flavours, a touch of spice and a lovely smooth mouthful. A perfect wine for baked pasta or a Portuguese dish of pork and clams.  
Kopke, said to be the oldest port house, also produce another gorgeous red: the Kopke Reserve Red 2016 (£15.03, portugalvineyards.com); the same mix of grapes, but even richer and deeper from a bit more bottle age.
Elsewhere in Portugal, from the up-and-coming Alentajo region, the Esporao Reserva Red 2016 (£17.99, waitrosecellar.com) ratchets up the quality at still reasonable prices: full bodied, concentrated, with intense black fruit flavours. It needs big flavours for a food match, so I would pair this with a big boeuf bourguignon [although you need a much lighter wine to use in the dish] or maybe a lamb tagine.  
All of the above wines are certainly broadly similar in terms of the grapes used and the robust feel to them. For something a bit more individual, try the Vinho De Talha Bojador Tinto Espaço Rural 2018 (£24.95, davywine.co.uk) made with trincadeira, moreto and tinta grossa in the traditional, aka "natural wine" style of the Alentajo – fermented in clay pots, longer skin contact and sealed with olive oil to prevent oxidisation, bottled unfiltered and without additives. Stunning, fresh, red fruit flavours and real distinctive character.  
Also from the same region, the Herdade do Peso Trinca Bolotus 2019 (£11.45, vinvm.co.uk; £11.75, woodwinters.com) made from alicante bouschet, touriga nacional and aragonez, has juicy black fruit flavours, a youthful, lively mouthfeel and is probably the perfect weekday red for a bowl of pasta or a pizza.  
The Dao region, inland from Porto, the port capital, has always been a source of terrific reds. High altitude vineyards give a freshness and minerality to the touriga nacional, tinta roriz, alfrocheiro and jaen grapes used in the Somontes Colheita Tinto Casa Da Passerella 2017 (£11.95, davywine.co.uk) from the highly rated Casa Da Passerella winery. Elegant, aromatic, with smooth red fruit flavours.
All these wines are blends, but finally, also from the Dao region, the Quinta Dos Carvalhais 2015 (£19.15, qwines.co.uk) is a solo expression of the alfrocheiro grape: fresh, refined, with some of the earthy, mushroomy but fresh fruit flavours that pinot noir lovers crave, given its own Portuguese slant. Suitable for lighter dishes, with white meats or vegetables. And just another example of how this exciting wine country understands both its heritage and how to move forward.
Register for free to continue reading
Registration is a free and easy way to support our truly independent journalism
By registering, you will also enjoy limited access to Premium articles, exclusive newsletters, commenting, and virtual events with our leading journalists
Already have an account? sign in
Register for free to continue reading
Registration is a free and easy way to support our truly independent journalism
By registering, you will also enjoy limited access to Premium articles, exclusive newsletters, commenting, and virtual events with our leading journalists
Already have an account? sign in
Join our new commenting forum
Join thought-provoking conversations, follow other Independent readers and see their replies