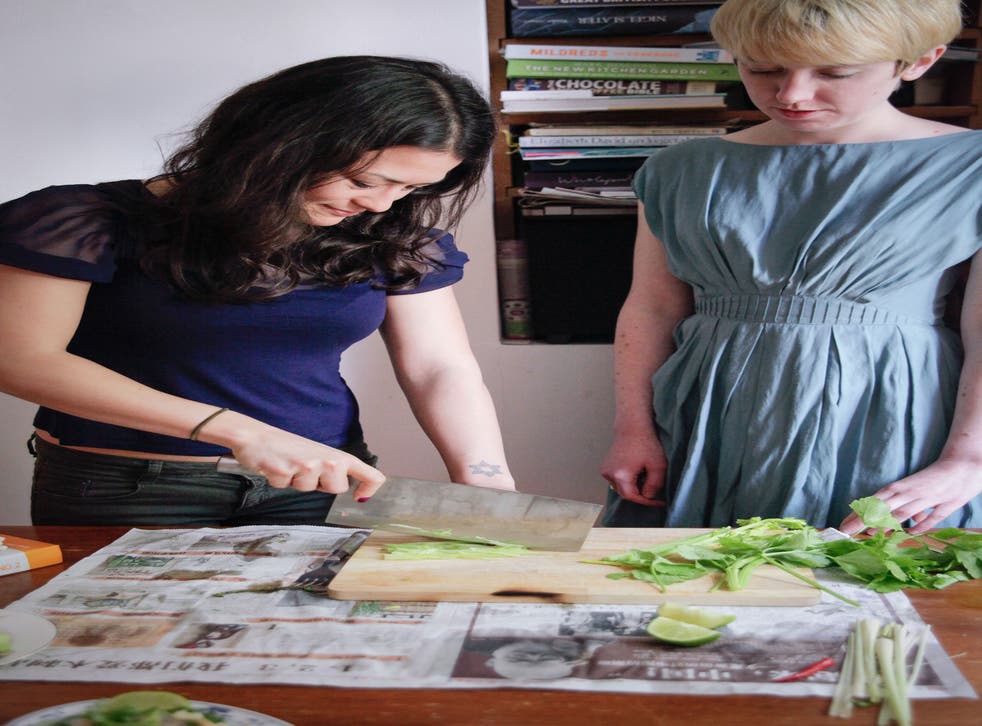 Chinatown Kitchen author Lizzie Mabbott's simple guide to shopping at Asian supermarkets
Lost in the aisles of your local South-east Asian supermarket? 'Chinatown Kitchen' author Lizzie Mabbott leads Holly Williams to the goodies…
Ever waltzed into an Asian supermarket searching for a little something to make your stir-fry more authentic, only to blanch at the eight shelves of noodles, 32 varieties of soy sauce and hundreds of mysterious jars of bean paste? Don't worry if you can't tell your pak choi from your choi sum – you're not alone.
It was with these tantalising, if overwhelming, stores in mind that Lizzie Mabbott wrote her first cookery book, Chinatown Kitchen. Based on her successful Hollow Legs blog, the book demystifies South-east Asian cookery, offering no-nonsense advice on everything from the kind of wok you need to essential store-cupboard ingredients. Recipes include ways to spice up British favourites (a cheddar and kimchee toastie is fusion food I can get behind) as well as Asian dishes the average reader may never have heard of, let alone attempted to cook.
Mabbott grew up in Hong Kong, but moved to Britain at 13. "I missed the food from my childhood," she says – her mum wasn't much of a cook, and the British Chinese takeaway didn't exactly live up to her memories. But as an adult, with the help of internet message boards and plenty of hit-and-miss adventures in Chinatown's supermarkets, she embarked on a voyage of culinary rediscovery. Her appetite for Asian food soon extended beyond nostalgia-rich dishes, and Chinatown Kitchen includes Thai, Malaysian, Vietnamese and Korean grub as well as Chinese.
To find out how easy (or otherwise) it is to make these delicacies, I invited Mabbott to visit London's Chinatown with me, to pick up ingredients for two recipes (see overleaf), as well as the essentials every aspiring Asian chef should have to hand.
Some of these have actually long sat on my kitchen top – dark soy sauce, sesame oil, rice wine – but in the SeeWoo supermarket, Mabbott pops Chinkiang black vinegar and fish sauce into the basket, and helps me pick a good chilli oil from the bewildering array on offer (this isn't the drizzle-on-pizza stuff; we buy the Way-On brand, sediment-heavy with mulchy dried chilli; I've since started putting it on everything). "You don't need to worry too much about the brand," she advises, but adds that it's worth paying for not-just-the-cheapest. Let's face it, in most kitchens one jar of, say, gochujang (Korean fermented soy-bean paste) will probably last years.
I thought I was fairly up on my ingredients, but mung-bean thread noodles, Chinese celery and egg tofu are all new ones on me. Back in my kitchen, with Mabbott on hand to guide me – not least in how to use the frankly terrifying cleaver she's brought – I slice a couple of tomatoes and the Chinese celery (more fresh and zingy, less pungently savoury than regular celery) for a noodle salad. The skinny noodles we picked up look like the familiar thin, transparent rice ones, but being made of mung beans gives them a firmer bite and stops them softening into a mushy clump after cooking and draining.
I pummel together a dressing made of lemongrass, a poky little chilli, dried shrimp, squat purple shallots, garlic, and jewel-like green peppercorns stripped from their little branches, before adding lime juice and fish sauce.
"Just get right in there with your hands," suggests Mabbott when it comes to dressing the noodles – this variety are robust enough to take it, even though they're light and thin. The result? Yum woon sen, a punchy, fresh Thai salad. I'm soon spiralling up forkfuls and spraying the dressing everywhere – mung bean or no, noodles are still messy to eat…
The other dish we make is less familiar: egg tofu with minced prawns. Again, I thought I had bean-curd experience – I know my silken tofu from my deep-fried puffs! – but I've never encountered these taut, slightly rude-looking vacuum packs.
We cut off the end and squeeze out a wibbly tube of yellow tofu; it looks a bit like panna cotta. This is carefully sliced into rounds then placed in a bamboo steamer. Having cleavered some prawns to a lumpy paste, it's squidged on top. Once steamed, these pink-and-yellow mounds neither look nor taste nor feel like anything I've ever cooked before. It is, Mabbott explains, partly due to the tofu's texture: "We're not really used to jelly-like savoury dishes in this country," she points out; indeed, the tofu recipes in her book often involve frying it to a crisp, a style more familiar to the Western palate.
We also make a standard spicy sauce, used as a drizzle or dip in many Chinese dishes; it just combines that flaky chilli oil with the Chinkiang black vinegar, brown sugar, light soy sauce and sesame oil. Poured over the top of the little prawn mounds, it gives their sweetish succulence a welcome chilli kick – and is easy-peasy to make when you've got the right ingredients to hand.
'Chinatown Kitchen' (£20, Mitchell Beazley) is out now. For more from Lizzie Mabbott: lizzieeatslondon.blogspot.co.uk
Steamed egg tofu with minced prawn in a spicy sauce
Serves 4 with other dishes
300g raw prawn meat
2 tbsp egg white
Large pinch white pepper
Large pinch salt
1 tsp cornflour
2 tbsp chilli oil with sediment
1 tbsp Chinkiang black vinegar
1 tsp brown sugar
½ tsp sesame oil
2 tsp light soy
2 tubes egg tofu
1 tsp cooking oil
To serve
1 stalk spring onion, julienned
Coriander, roughly chopped
Smash the prawns with the side of a cleaver and chop finely. Place this prawn paste in a small bowl, then add the egg white, pepper and salt. Stir well. Add the cornflour and stir again.
In a bowl, mix together the chilli oil, vinegar, sugar, sesame oil and soy, and leave to one side.
Slice the tofu tubes in half and carefully squeeze out the contents. Slice into circles the width of your thumb. Arrange flat on a plate. Add 1 heaped tsp of the prawn mixture on top in a small mound, and place in a steamer. Drizzle with the cooking oil. Steam on a high heat until the prawn meat turns pink – this will take around 6 minutes.
Remove carefully and drain off any water collected. Drizzle the chilli oil mixture around the tofu, and top with the coriander and spring onion to serve.
Yum woon sen (Thai noodle salad)
Serves 4 as a side dish or two as a main
1 bundle mung-bean thread noodles
1 tbsp dried shrimp, soaked in boiling water for 15 minutes and drained
1 clove of garlic, peeled and roughly chopped
1 red bird's eye chilli, roughly chopped
2 limes
3 tbsp fish sauce
2 tsp brown or palm sugar
2 stalks of lemongrass, ends removed, very fine inner cores kept
1 stalk of green peppercorns
1 stalk Chinese celery, washed and julienned
2 tomatoes, pulp removed and sliced thinly
2 purple shallots, sliced finely
Small handful coriander
Handful raw cashews, toasted in a dry pan and roughly crushed
Soak the mung-bean thread noodles in just-boiled water for 5 minutes, until soft, and drain. Rinse under cold water.
Using a pestle and mortar, pound the shrimp until broken down. Add the garlic and pound until it has amalgamated. Next, add the chilli and give it a few bashes. Halve one of the limes and add the juice of both halves, then season with 1 tbsp fish sauce and 1 tsp sugar. Taste and add more sugar/lime/fish sauce to your taste.
Remove the dressing to a bowl and wipe the pestle and mortar clean. Chop up the inner core of the lemongrass finely, add to the mortar and pound with the pestle a few times. Add the peppercorns, removed from the stalk, and bash roughly, then add to the dressing.
In a large bowl, place the noodles, celery, tomatoes and shallots and toss well. Add the dressing and toss again – it's best to use your hands for this. Leave for 5 minutes for the flavours to meld, then serve on a plate with a wedge of lime and a sprinkling of the coriander and cashews on top.
Join our new commenting forum
Join thought-provoking conversations, follow other Independent readers and see their replies