Coriander: How the 'Marmite herb' went from zero to hero in Britain
Finding its way into ice cream and crème brûlée, the coriander bug is indeed spreading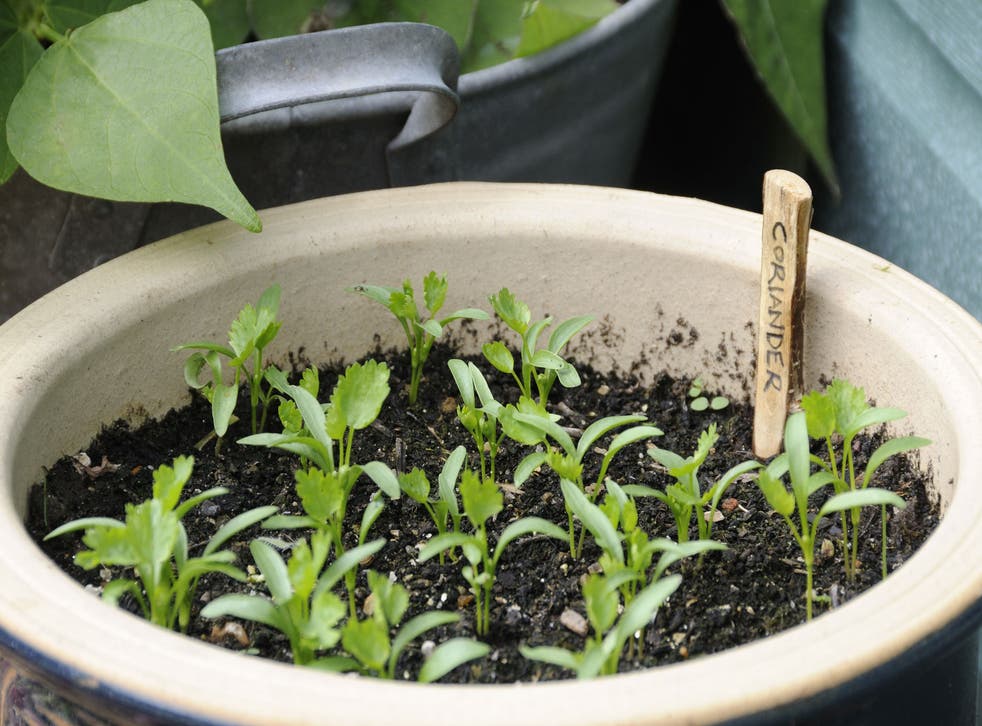 The Romans brought coriander to Britain, but they found it fiendishly difficult to grow in our chilly climes, so it fell out of favour.
In Shakespeare's Hamlet, Ophelia talks of rosemary and rue, but of coriander not a squeak; the playwright's contemporaries only mention the seed which, in the words of natural historian John Maplet "provoketh a man to much venerie" – in other words, it was an effective aphrodisiac. Peruse Mrs Beeton, or even your mum's cookbooks, and you'll barely find a mention.
How coriander's fortunes have changed. Over the past three decades, as our horizons and holidays have extended across the globe, the herb's citrusy leaves have started infusing our soups, stews and salads.
Now, according to herb industry figures just released, coriander is our favourite herb, beating basil, mint and our traditional favourite, parsley. Undisputed king of the kitchen, coriander accounts for over a quarter of supermarket herb sales.
A key reason is the soaring popularity of Asian and Mexican cuisines, on the street and in supermarket ready meals.
"You can't really imagine eating a burrito or a tortilla without coriander. It makes the dish," says Laura Marner, assistant growing manager for herbs at Vitacress, the UK's largest herb producer.
TV cookery programmes and recipe books have also contributed. A survey of 21 recently published cookery books, cited by the herb industry report, discovered that coriander was the most used herb, with no fewer than 285 mentions.
The coriander craze started with Delia in the early Eighties.
"Before Delia, it was just a family near Reading who supplied Asian shops with coriander – leaves, stems, roots and all," recalls Jekka McVicar, the Bristol herb farmer and "queen of herbs" (according to Jamie Oliver), who was just starting to supply herbs to garden centres at the time (as supermarkets didn't sell herbs).
"Delia used coriander in just one dish in a telly programme and the result was mayhem. We couldn't grow enough of it. I was hand-potting more than a thousand pots a week."
Jekka admits that the experience put her off the strident smell of coriander leaves, and it's taken her 30 years to enjoy eating it again. She knows that she's not alone in finding coriander difficult to stomach. "It's definitely a Marmite herb, you like or hate it. There's no middle of the road," she says. Chef Angela Hartnett's dislike of "this senseless garnish" is well known. "I find it too pungent and overpowering," she told The Independent last year – although she admits to popping coriander into dishes with scallops or bream in her Murano restaurant in London.
One reason for this antipathy may be that the smell of coriander leaves apparently resembles that of bed bugs – although I have to confess to not being unfortunate enough to have put this to the test. Some believe that coriander takes its name from the ancient Greek koris, meaning bed bug. The connection is not fortuitous: both bed bugs and coriander contain compounds called aldehydes. These are also produced in the making of soap, which explains coriander's "soapy" taste. The way we react to aldehydes appears to be dictated by our genes.
Perhaps partly for these reasons, early coriander cooks such as Delia trod gingerly, measuring it out in teaspoons. Then came Jamie, who advocated whacking in handfuls. By then we had started buying the herb in generous pots as well as stingy packets, so finally we had coriander aplenty. Today, as Britain soaks up a growing number of foreign cuisines, chefs are using this amazingly versatile herb in a range of ways in Indian and Asian curries, stir fries, salads, even puddings.
"Do use the stalks, too, as they're as flavoursome as the leaves," says chef-restaurateur Mark Sargeant, who rates coriander his favourite herb. He keeps his stalks – and roots if there are any – to make Thai green chilli paste.
Coriander pesto is a winner too, as in Yotam Ottolenghi's recipe here. Sargeant recommends using walnuts instead of the usual pine nuts. He also believes that it's hard to beat carrot, orange and coriander soup. "Coriander and carrot are from the same family, so make perfect bed partners," he says. "In autumn, I love the soup as an amuse bouche."
Coriander also works surprisingly well in desserts. Sargeant regularly uses it in crème brulee and panna cotta. In the Nineties at Stephen Terry's London restaurant, Coast, he was famous for his "Thai ice cream" containing ginger, galangal, lemongrass, chilli and coriander. Last week at the The Pass restaurant at South Lodge, Sussex, Michelin-starred Matt Gillan served me a starter of coriander ice cream with oven-roasted plum vine tomatoes and cheese beignets. "People expect basil with tomatoes, but I thought it would be good to try coriander. You don't expect ice cream in a starter, so it comes as a surprise. Now I can't believe I haven't made it before – it really works."
I agree. I've caught the coriander bug.
Squash with Chilli Yoghurt and Coriander Sauce (Serves 4)
by Yotam Ottolenghi
1 small coquina or 1 large butternut squash (1.4kg in total)
1 teaspoon ground cinnamon
90ml olive oil
50g coriander, leaves and stalks, plus extra leaves to garnish
1 small garlic clove, crushed
20g pumpkin seeds
200g Greek yoghurt
One and a half teaspoons Sriracha (or another savoury chilli sauce)
Salt and black pepper
Cooking directions
Preheat the oven to 220C/200C fan/gas mark 7.
Cut the squash in half lengthways, remove and discard the seeds, and then cut into 2cm-thick wedges, about 7cm long, leaving the skin on. Place in a large bowl with the cinnamon, 2 tablespoons of the olive oil, three quarters of a teaspoon of salt and a good grind of pepper.
Mix well so that the squash is evenly coated. Place the squash on two baking trays, skin side down, and roast for 35–40 minutes, until soft and starting to colour on top. Remove from the oven and set aside to cool.
To make the herb paste, place the coriander, garlic, the remaining 4 tablespoons of oil and a generous pinch of salt in a small food processor. Blitz to form a fine paste and set aside.
Reduce the oven temperature to 180C/160C fan/gas mark 4. Lay the pumpkin seeds out on a baking tray and roast in the oven for 6–8 minutes. The outer skin will pop open and they will become light and crispy. Remove from the oven and allow to cool.
When you are ready to serve, swirl together the yoghurt and Sriracha sauce. Lay the squash wedges on a platter, drizzle over the spicy yoghurt sauce and then the herb paste (you can also swirl the yoghurt sauce and herb paste together, if you like).
Scatter the pumpkin seeds on top, followed by the extra coriander leaves and serve.
Taken from 'Plenty More' by Yotam Ottolenghi (Ebury Press, Hardcover, £27)
Register for free to continue reading
Registration is a free and easy way to support our truly independent journalism
By registering, you will also enjoy limited access to Premium articles, exclusive newsletters, commenting, and virtual events with our leading journalists
Already have an account? sign in
Register for free to continue reading
Registration is a free and easy way to support our truly independent journalism
By registering, you will also enjoy limited access to Premium articles, exclusive newsletters, commenting, and virtual events with our leading journalists
Already have an account? sign in
Join our new commenting forum
Join thought-provoking conversations, follow other Independent readers and see their replies