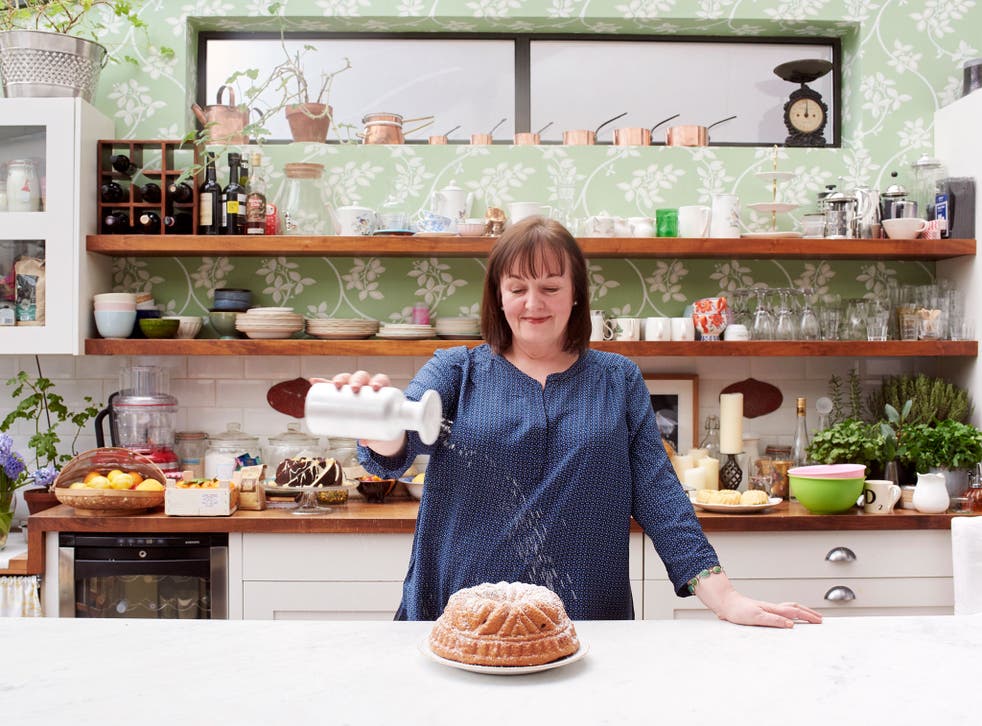 Debora Robertson recipes: The bundt cake is fashionable and foolproof
The fabulous, swirling tins transform the simplest of batters into towering works of sculptural genius
If you have children or friends with whom you're on reasonable terms, or you work in an office, belong to a book group, or owe anyone a debt of gratitude that can't be assuaged with a text, chances are that sooner or later you'll be required to bake a cake.
Keep this between us if you like, but there's never been a better time to be a lazy baker. Complicated cupcakes and macarons seem like yesterday's home-baked patisserie. They're all making way for the bundt. The fabulous, swirling tins from which these cakes derive their name do most of the work for you, transforming the simplest of batters into towering works of sculptural genius.
Nigella, always the luscious weathervane of what's hot, has three bundt cakes in her latest book, and I'm reliably informed that the most fashionable bundt tin du jour, Nordic Ware's Heritage (used here for the gingerbread chocolate cake), is so popular that there are waiting lists for it in smart cookware shops.
Debora Robertson's bundt cakes

Show all 6
Bundt tins were first manufactured by the Nordic Ware company in Minnesota in the 1940s, but the origin of their shapes echoes earlier European moulds for yeasted brioche-y fruit breads. You really need to make a kugelhopf (or kouglof, or gugelhupf, depending where you are in that slice of the central European baking heartlands) if only for the pleasure of saying it, feeling the word roll around deliciously in your mouth.
You can still snap up old ceramic or copper kugelhopf or other, tall, circular tins, with their characteristic central funnel, quite cheaply in junk shops or auctions (real life or eBay), so grab them where you can, or hunt down some of the great new shapes. There's really never been a better time to get your bundt on.
Debora Robertson is a food writer and editor who blogs at lickedspoon.com. Her book, 'Gifts from the Garden: 100 Gorgeous Homegrown Presents', is published by Kyle Books
Kugelhopf
Kugelhopf lasts quite well in a tin and even when slightly stale, it makes wonderful toast or French toast. Adding the lemon zest isn't traditional, but I like it.
Preparation: 30 mins, plus proving for between 9 hours and overnight
Cooking: 30-35 mins
200g golden sultanas
60ml kirsch, or other brandy
500g plain flour, plus more for dusting the tin
60g caster sugar
5g quick yeast, sometimes sold as 'fast-acting' or 'instant', the sort you can add directly to flour
½ tsp salt
200ml whole milk, lukewarm
2 whole eggs, plus 1 egg yolk, lightly beaten
120g butter, softened, plus more for buttering the tin
Finely grated zest small lemon, optional
A little vegetable oil, for the bowl
30g blanched whole almonds or flaked almonds
To finish
60g butter, melted
Caster sugar
Icing sugar
Place the sultanas and kirsch in a small pan, warm just until steaming and leave until the sultanas are juicy and cooled. Drain off excess kirsch (into your mouth, possibly); pat dry.
Put the flour, sugar, yeast and salt into the bowl of a stand mixer with a dough hook attachment. Stir to blend. With the motor running on a low speed, slowly pour in the milk and eggs.
Drop the butter in walnut-sized pieces into the dough, incorporating each before adding the next. Raise the speed and knead until smooth, elastic and pulling away from the sides (about 10 minutes), then add the sultanas and zest.
Place in a lightly oiled bowl, cover and leave in the fridge, overnight if you can, but 4 to 6 hours will do.
Generously butter a 2 litre kugelhopf or bundt tin; dust with flour and shake out any excess. Scatter almonds into the tin. Gently knead the dough into a round and poke a hole into the middle. Arrange it in the tin around the central funnel.
Cover with oiled cling film and leave in a warm place to rise until it almost reaches the top of the tin (3 to 5 hours).
Preheat the oven to 200C/180C Fan/Gas 6. Bake for 30 to 35 minutes, until a toothpick inserted into the middle comes out clean. Cool for 10 minutes then turn out on to a rack. While it's still warm, melt the remaining butter, brush it on the hot cake and sprinkle with caster sugar. Just before serving, dredge with icing sugar.
Pistachio, orange flower water and olive oil bundt cakes
These are very quick to make, especially if you use mini tins, which puts the least possible time between you and CAKE! Using toasted hazelnuts in place of the pistachios and rum instead of orange flower water makes a delicious alternative. This makes six 225ml mini cakes, or one 1½ litre bundt.
Preparation: 15-20 mins
Cooking: 20-22 mins
Butter for greasing the tins
Plain flour for dusting the tins
160ml whole milk
60ml olive oil
2 eggs, lightly beaten
160g caster sugar
Finely grated zest 1 large orange
1 tsp orange flower water
150g plain flour
1 tsp baking powder
½ tsp salt
60g shelled pistachios, finely chopped, plus more for finishing the cakes
For the glaze
150g icing sugar, sifted
3 tbsp orange juice
Finely pared orange zest
Preheat the oven to 180C/160C Fan/Gas 4. Prepare the bundt tins as for the kugelhopf.
Whisk together the milk, olive oil, eggs, sugar, zest and orange flower water.
In a separate bowl, sift the flour, baking powder and salt. Gently fold the wet mixture into the flour until just combined, then fold in the pistachios. Spoon into the tins and bake until a toothpick inserted into the cake comes out clean (20 to 22 minutes).
Cool in the tins for 5 minutes then turn on to a wire rack. Whisk together the icing sugar and juice until smooth and brush over the warm cakes. Finish with more chopped pistachios and zest.
Gingerbread chocolate cake with rum glaze
This is a swirling treat of a cake, rich and spicy with a warming hit of ginger, chocolate and rum.
Preparation: 20 mins
Cooking: 45-50 mins
Butter for greasing the tin
Plain flour for dusting the tin
225g butter
350g dark muscovado sugar
150g black treacle
2 eggs, lightly beaten
225ml buttermilk
225g plain flour
4 tsp ground ginger
1 tsp ground cinnamon
½ tsp freshly grated nutmeg
1/8 tsp ground cloves
1 tsp bicarbonate of soda
½ tsp salt
125g crystallised ginger, roughly chopped, plus more for decorating
125g dark chocolate, roughly chopped
For the glaze
60g butter
3 tbsp dark rum
250g icing sugar, sifted
Preheat the oven to 180C/160C Fan/Gas 4. Prepare a 2 litre bundt tin as for the kugelhopf.
In a saucepan, gently warm the butter, sugar and treacle, stirring until smooth. Remove from the heat and cool slightly.
Whisk together the eggs and buttermilk. Sift the flour, spices, bicarbonate of soda and salt into a large bowl. Stir in the butter mix, buttermilk and eggs until just combined. Fold in the ginger and chocolate. Pour into the tin and bake for 45 to 50 minutes, until a toothpick inserted into the cake comes out clean. Cool in the tin for 30 minutes then turn out on to a rack to cool completely.
For the glaze, melt together the butter and rum, remove from the heat and beat in the icing sugar. Trickle the glaze over the cake and scatter over the ginger.
Join our new commenting forum
Join thought-provoking conversations, follow other Independent readers and see their replies