The Independent's journalism is supported by our readers. When you purchase through links on our site, we may earn commission.
Wines of the week
The full-bodied French white wines for late autumn
As the seasonal chill sets in, these tipples from the wine-making nation are perfect to warm up to, says Terry Kirby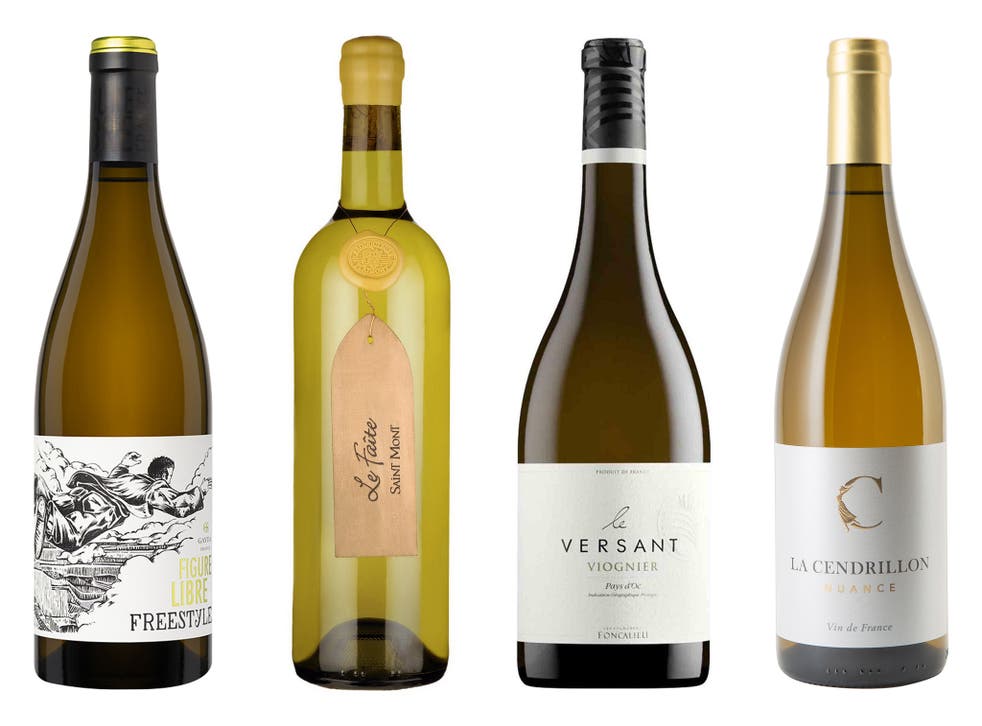 Last week was all about those robust and comforting red wines to console us during the trials and tribulations of this autumn, whether it's the weather or the restrictions on our lives caused by the pandemic. But not every occasion calls for red wines, particularly when it comes to a refreshing after-work (or should that be after Zoom/Teams/Google work) glass or when accompanying lighter dishes and most fish; many of us simply prefer whites anyway, whatever the weather.  
So today, we have a selection of full-bodied white wines for the season with big flavours that can match autumnal foods and that, unlike that glass of pinot grigio we relish on a warmer evening, do not need to be super cold to be enjoyed.
And we are looking at France, just to illustrate the amazing diversity of French winemaking, whether it is in the purity of flavour that comes from single grapes or from amazingly complex blends. And all of them should act as a diversion from the trials and tribulations of our everyday lives.
First of all, a couple of classic, traditional whites. Sauvignon blanc is also normally a grape best suited to be drunk pretty cold, but for those of you who find new world SB just a bit too bracing, seek out those from the Pessac-Leognan appellation in Bordeaux, where the wines are just a bit more balanced: fuller-bodied and carefully weighted between that familiar grassy character and fresh fruit flavours of peaches and grapefruit.
The Chateau de Rochemorin 2016 (£17.99 waitrose.com) is a perfect example of the style, a lovely, elegant, refined wine. If it's a traditional Burgundy chardonnay you are looking for, then the Domaine Nadine Ferrand Macon Blanc 2018 (£17.70 honestgrapes.co.uk) also achieves that delicate balance between softer, rounded honeysuckle and melon flavours, with a refreshing crispness that define the grape. Both wines are brilliant in their own way with fish, the former with grilled prime white fish like a Dover sole, while the Burgundy is one for shellfish and smoked fish pie.  
Richer and creamier flavours are in abundance in the well priced and organic Domaine Gayda Figure Libre Blanc 2018 (£14.99 or £10.99 if bought as part of a mixed six bottle purchase, majestic.co.uk; £11.48 winebuyers.com) from the Languedoc-Roussillon, a punchy and rule-breaking blend of grenache blanc, macabeu and those inevitable companions roussanne and marsanne, which together give weighty honeysuckle and pear flavours and with some spicy, oaky notes. A gorgeous mouthfilling wine for roast chicken and other lighter white meat dishes, for goats cheese and creamy curries. 
Staying in the Languedoc, marsanne gets a deserved solo outing with the Les Tannes Marsanne, En Occitane, IGP Pays d'Oc, 2018 (£9.95 jeroboams.co.uk) from the remarkably reliable Paul Mas combine – more rich, toasty, honeyed flavours, with notes of dried fruits. At such a price, this is a complex and interesting wine that shows what the grape can do. And a wine that would work well with escalopes of pork or veal. Paul Mas also put together grenache blanc, roussanne, viognier and vermentino in the brilliant Chateau Paul Mas Belluguette Blanc 2018 (£15.99 or £13.99 as part of mixed six bottle purchase, majestic.co.uk) bold floral aromas and packed with big flavours of tropical fruits like mango and pineapple; perfect with a simple roast chicken or guinea fowl. 
Viognier gets its own take in the Le Versant Viognier Pays d'Oc 2018 (£9.95 talkingwines.co.uk; £9.99 finewinesdirectuk.com) from another ultra-reliable southern French combine, the Vignobles Foncalieu: characteristic honeyed, ripe apricot and peach notes and a long dry finish. A great wine for autumn puddings for those that prefer a dry wine to a sweet one.  
Two more complex and intriguing blends to finish. Firstly, from the foothills of the Pyrenees in Gascony in southwest France, the Le Faite Blanc 2016 (£20.95 corneyandbarrow.com; £20.99 directwineshipments.com) is a serious white wine – you can tell from the hanging wooden label – of the huge Plaimont cooperative, a highly distinctive blend of the local indigenous grapes that they have lovingly preserved gros manseng, petit manseng and petit courbu; aromatic, with more mouth-filling tropical fruit flavours and a clean feel on the palate. Ideal with shellfish but can go with lighter meats with creamy, mushroom sauces, or, as they would in the southwest, a slab of foie gras, although we might prefer chicken liver pate or similar. 
And, moving back westward to Corbieres comes the impossible to define and slightly bonkers La Cendrillon Nuance 2019 (£12.80 tanners-wines.co.uk) which has the most varied blend of grapes I've come across in a long time: mainly petit manseng and grenache gris, but with small amounts of grenache blanc, marsanne, roussanne, albarino, verdejo and macabeu. 
A veritable basket of orchard, citrus and tropical fruits, floral aromas, some creamy notes and a spine of acidity, all combining into a big mouthful of flavours. Simply gorgeous – and guaranteed to bring a smile to your face and warm your soul in these chilly and grim times.
Register for free to continue reading
Registration is a free and easy way to support our truly independent journalism
By registering, you will also enjoy limited access to Premium articles, exclusive newsletters, commenting, and virtual events with our leading journalists
Already have an account? sign in
Register for free to continue reading
Registration is a free and easy way to support our truly independent journalism
By registering, you will also enjoy limited access to Premium articles, exclusive newsletters, commenting, and virtual events with our leading journalists
Already have an account? sign in
Join our new commenting forum
Join thought-provoking conversations, follow other Independent readers and see their replies