Wines of the week
The robust red wines to drink now it's late autumn
As the chillier seasons roll in, these tipples are perfect for relaxing next to a roaring fire, writes Terry Kirby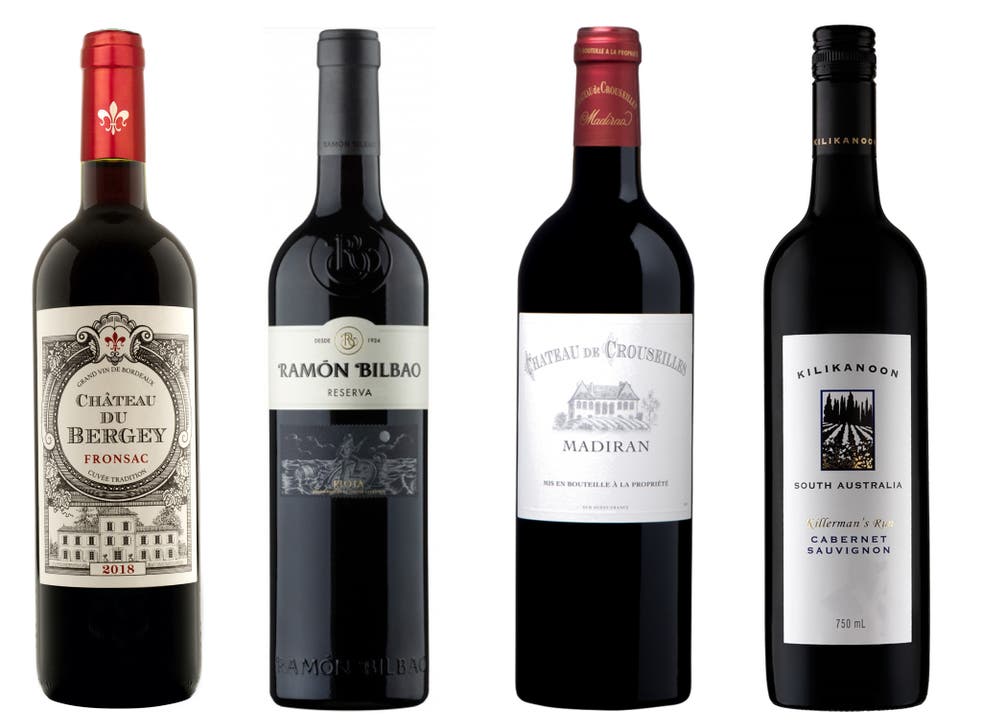 A
ll Hallows Eve tonight and November tomorrow, Bonfire Night later this week; a definite chill in the air, rain and misty mornings; the clocks back already and it's dark at 6pm…
And while the colours on the trees have been stunning over the past few weeks, just gorgeous for those brisk walks, there are more and more of them on the ground now, a carpet of many colours, for children to kick at in the woods and adults to sweep up in our gardens and driveways.
It's not a normal autumn though is it? Social distancing and other rules might prevent us sharing these events and pleasures with others and our wider families, but that doesn't mean we cannot broach some rich and robust red wines, to warm us up after supervising the trick or treating, or to sip, standing around a bonfire, lighting sparklers for the little ones.
Or, just simply relaxing in front of the fire, after an afternoon piling up the compost heap with those stunning autumnal colours. Light the candles and the fires and embrace the season, I say.
So these are some red wines to uncorked and sip on these autumn evenings, comforting wines to match some of the foods of autumn or accompany Zoom calls with the family and friends we cannot meet.
 And for me, it's when I turn to the reliable and reassuring classics of European wines such as the Ramon Bilbao Reserva 2015 (£15.95 greatwine.co.uk; £19.99 thewinereserve.co.uk) classic, plump young rioja, a blend of tempranillo, graciano and mazuelo; a modest amount of oak ageing giving depth and notes of cedar and spice to the brambly, dark fruit flavours; some supermarkets now sell packets of brilliant Iberico pork, which serves as a great, lighter alternative to steak and that, with a mustard sauce, would be terrific with this rioja. 
The Bodega Pascual Larrieta Crianza 2016 (£14.99 haywines.co.uk; £15.25 flagshipwines.co.uk) is a bit younger and a good deal more forward and fruitier, but still with some spicy vanilla notes and a pleasing, mouth-filling wine. Also suitable for lighter meat dishes, but perfect with a spicy pumpkin soup, made with the flesh you have dug out of the orange monsters. 
The lesser known Bordeaux appellations can be a fabulous source of reds that can be much better value for money than the big name appellations and chateaux. One of the best I've come across recently is the Chateau Du Bergey 2018 (£14.95 perfectcellar.com) from the small Fronsac appellation, a merlot dominated blend, with plump, soft plummy black fruit flavours, medium to full bodied and a gorgeous satisfying mouthful. It's worth buying a few bottles as this is very likely to improve with a few years in the cellar. The soft roundness of merlot goes well with seasonal game like pheasant and partridge or with mushroom dishes, so this is a perfect partner to mushrooms baked, in pasta or risottos or as a creamy sauce for game.  
Further to the southwest, the Madiran appellation in Gascony produces serious long lasting wines from the tannat grape, while the Producteurs Plaimont co-operative is the biggest in the region, with a wide range of excellent wines. Their Chateau de Crouseilles Madiran 2013 (£19.95 corneyandbarrow.com) is more dinner party than standing around the bonfire and is a big rich wine, that needs plenty of time to breathe to allow the intense black fruit flavours, with hints of pepper and cloves to expand and develop. One for rare roast beef or a gently spiced Middle Eastern lamb tagine, made with pumpkins or squashes, which are abundant now.  
Moving east, to the Languedoc-Roussillon region and the Calmel & Joseph Cotes Du Roussillon Villages 2014 (£11.50 winetrust100.co.uk) is a classic southern French combination of syrah, carignan and grenache: robust black fruits, a hint of spice, a sense of herbs and a whiff the garrigue the aromatic Mediterranean scrub that surrounds the vines.
Blends also rule in the Rhone Valley and the moreish Font De Joubert Cotes du Rhone 2018 (£13.50 thesampler.co.uk) is mainly grenache, with 30 per cent cinsault and a little syrah, is a simply gorgeous wine – medium bodied, but full on flavour, with plenty of mellow brambly fruits, a hint of spice and a good finish. Both of these two wines would be a fine choice for baked pasta dishes or anything featuring tomatoes. 
But we can't completely ignore the new world, can we? Especially when it comes to wines that embody some of these European grapes and traditions but add their own special twist.
The Kendall-Jackson Vintner's Reserve Cabernet Sauvignon 2017 (£18.99 simplywinesdirect.uk; £24.95 winedirect.co.uk) is a very European style blend of mostly cabernet sauvignon,  but with a supporting cast of cabernet franc, merlot and petit verdot, that adds complexity and balance to the raw fruit power of the cabernet. 
Another big wine for special meals. And from the Clare Valley in South Australia comes the Kilikanoon Killermans's Run 2017 (£16.99 frazierswine.co.uk) which is pure cabernet sauvignon, full of warming flavours of mint, liquorice and vanilla underpinning the layers of dark, intense black fruit, with a long satisfying finish. 
Again, do give this plenty of time to breathe and serve with roasted rare meats and richer game, like venison or wild boar. And finally, from Stellenbosch in South Africa, the Morgenhof Estate 2014 (£17.27 thedrinkshop.com) is full on merlot: rich and dark and measured, smooth, velvety flavours of black cherries, with hints of mint, leather and tar. And with a big casserole of say venison and mushroom or just another Netflix menu, a guaranteed comfort for these strange late autumn days. 
Join our new commenting forum
Join thought-provoking conversations, follow other Independent readers and see their replies