Get a crush on garlic: How to get the best out of your bulbs
Its pungent flavour is a must in modern kitchens. Alice Howarth offers a guide to buying, storying and cooking – and dealing with that lingering aroma.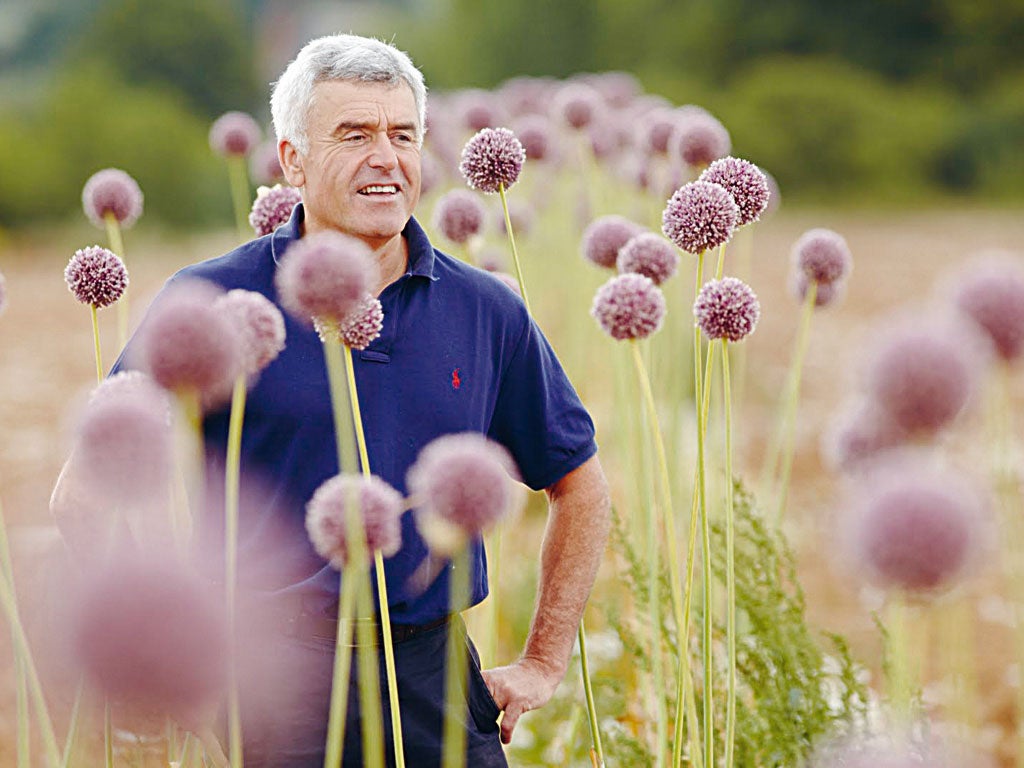 Garlic is now such an essential in our kitchens that it's hard to believe that just a few decades ago it was considered daringly exotic and continental. We've taken to it not just for its abundance of flavour but for its health benefits (not forgetting its ability to ward off unwanted vampires.)
For some, garlic is a bit of a fetish. Festivals dedicated to it have sprouted up all over the globe. One of the world's largest is the Isle of Wight Garlic Festival, taking place this weekend, which this year celebrates its 27th birthday. The quirky festival attracts annual crowds of around 20,000 and promises to offer all manner of tempting food and drinks including garlic beer and, er, ice cream.
The bulbs first took root on The Isle of Wight when cloves were brought over by the French forces, who at the time were using the island as their base. Some 100 years later and the Isle of Wight holds the title of the UK's largest garlic producer. One of the island's largest farms, Mersley Farm is affectionately known as "The Garlic Farm" and produces 60 acres of garlic annually.
Natasha Edwards, author of The Garlic Farm Cookbook, grew up on Mersley Farm, where her father, Colin Boswell, began growing garlic in 1977. In her latest book, Garlic: The Mighty Bulb, Edwards shares her knowledge of both the culinary and medicinal elements that garlic possesses alongside more than 50 mouth-watering garlic dishes that she has gleaned from years of growing up on at garlic HQ. "The Garlic Farm has a large presence [at the festival] and many visitors take the opportunity to stock up on garlic from the UK's garlic experts. The Garlic Farm makes a wide range of pickles, chutneys and condiments which are all available to taste and buy at the festival," she says. "This year The Garlic Farm field kitchen will be serving up treats including garlic chips, garlic mushrooms, garlic bread and the garlic gourmet burger."
Buying Garlic
When it comes to purchasing garlic there is, unfortunately, not a great deal of variety available in our supermarkets other than the standard, most popular garlic bulb, softneck. Edwards advises shoppers to "make sure the bulb is dense and firm with no visible green sprouts – and it should always come from the Isle of Wight!". A much larger range (see varieties, below) can be found in farmers' markets.
Varieties
Purple stripes, elephant, rocambole and silverskins are just four of the 600 varieties of alliums. Some, such as the richly flavoured purple stripes, are less pungent, while others such as rocambole can really pack a punch. Elephant garlic is not really garlic at all, but a variety of leek that has garlic-like bulbs. But its milder cloves roast beautifully or can be sliced and added to salads.
Some cooks swear by green garlic, which is fresh garlic that has not been dried, and is used much like the usual sort but where more subtlety is wanted. You can get it in Waitrose during the summer months.
The newest kid on the block is black garlic, popular in Korea for its health benefits, and increasingly a favourite with adventurous chefs. It is not a variety, but is blackened by a process of fermentation. The result: a treacly, balsamic-esque flavour, twice the amount of antioxidants, and no trace of bad breath, as well as a complete change in colour.
Wild garlic
If you wander the woodlands you should be lucky enough to come across wild garlic (ransom) which looks a lot like lily of the valley, but a pinch of the leaves will soon tell you if it's wild garlic – you can tell by the smell. It's the leaves that are most prized in the wild version – they have that distinctive garlicky flavour but are much milder. They're delicious in salads and add a subtle flavour to soups and sauces, especially with fish.
Crow garlic also grows wild, but in drier places among grass from late autumn to spring. It looks a bit like chives and its tubular leaves can be snipped into salads, while its bulbs are a more delicate version of the common varieties.
Alyn Williams, head chef at the Westbury Hotel in Mayfair, prefers the subtlety of wild and crow garlic over the stronger hit of the usual bulbs. He uses them for marinades, purées and mousses. "Garlic used to be used in every sauce and stock but now not as much as before, as we are often met with people who say that they are allergic. So the less flavour we use, the better."
Storing and preparing
Garlic should be kept in a warm and dry place to maximise its taste and freshness. Hanging in the kitchen is ideal but garlic should never be kept in the fridge.
For easy peeling, squash the clove slightly under the flat side of a knife to release the skins. Be gentle if you're frying garlic, as overcooking quickly makes it taste acrid and bitter. The colour of the garlic should never be more than light golden.
To crush or to chop?
Should you press, crush, slice, chop, pound or mince your garlic? It's an ongoing debate among cooks. Around Natasha Edwards' dinner table it is (not surprisingly, as a garlic farm is their family home) a common discussion. "My sister and mother prefer to chop or slice but did admit that this is sometimes because they either couldn't find their preferred garlic crusher or wanted to avoid fiddly washing up." Garlic crushed by a garlic press is said to have a different flavour to that which is chopped. British cookery writer Elizabeth David wrote an essay titled "Garlic Presses are Utterly Useless".
Edwards adds, "The choice of how to prepare your garlic will depend on the flavour and texture you're after. To maximise on garlic's pungency and heat, crushing with a garlic press or pounding with a pestle and mortar is the best option, whereas for a more subtle flavour, chopping or slicing is best. For many cooked dishes, when garlic is added to sautéed onions or vegetables, I find very finely diced garlic brings the best flavours. Cloves should always be crushed into salad dressings."
Alyn Williams slices his garlic finely with a mandolin. On a scientific note, both chopping and crushing the clove produces that unique aroma and a strong taste, as breaking the clove causes a chemical reaction to produce allicin, the sulphur compound that is largely responsible for the bulbs' pungent flavour and health benefits. So ultimately, it's totally down to personal preference.
Getting past that aroma
Garlicky fingers are simply unavoidable if you're preparing it, yet there are a couple of antidotes that could lessen the smell. Soaking the hands in lemon juice or vinegar; washing with soapy water and using a nail brush or perhaps by holding the hands against stainless steel. The garlicky odour found on the breath (produced by the lungs, not tongue) could be tackled by chewing a roasted coffee bean, eating two slices of lemon, brushing your teeth with toothpaste or baking soda or chewing on parsley leaves (though this particular remedy causes another issue – removing the leaves from between your teeth).
And it's good for us
The World Health Organisation recommends that one clove of raw garlic should be eaten on a daily basis to promote physical wellbeing. The main beneficial ingredients are allicin and diallyl sulphides. The sulphurous compounds in garlic are antibacterial and anti-fungal, aid the circulation and digestion systems, boost the immune system and lower blood pressure and fight heart disease. And the more pungent the garlic, the more powerful the effect is thought to be.
Dr Herbert Pierson, former director of the US National Cancer Institutes' "Designer Foods" programme, stated: "Garlic is a veritable pharmacopeia. That's why garlic has been found in every medical book of every culture ever."
'Garlic: the Mighty Bulb' by Natasha Edwards (Kyle Books, £14.99)
NATASHA EDWARDS' RECIPES
Chicken with 40 garlic cloves
2 celery stalks
1 large organic chicken (about 1.6kg)
2 large sprigs of rosemary
2 large sprig of thyme
3-4 large garlic bulbs
2 tablespoons olive oil
Salt and freshly ground black pepper
2 bay leaves
1 large carrot, diced
1 small onion, cut into wedges
2 large glasses of Marsala
Preheat the oven to 200C/gas mark 6. Place the chopped celery, 1 sprig of each herb and a handful of unpeeled garlic cloves into the chicken cavity.
Place half the remaining cloves in a lidded casserole, put the chicken on top, brush with olive oil and season well. Arrange the bay leaves, carrot, onion and remaining herbs and garlic cloves around the chicken.
Drizzle with olive oil and then pour over the Marsala. Cover and roast for at least 1 hour 20 minutes, or until the chicken is tender and the juices run clear when the flesh is pierced.
Either serve with toasted bread, spread with the soft flesh of the garlic cloves, or whisk the garlic flesh with the juices from the bottom of the casserole to make a creamy sauce.
Aioli
3 large garlic cloves, peeled
2 free-range egg yolks
1 tablespoon Dijon mustard
300ml olive oil
Juice of quarter of a lemon
Salt and freshly ground black pepper to taste
This extremely versatile garlic mayonnaise from Provence works equally well served as a dip with steamed vegetables or as a sauce to accompany fish or meat.
Using a pestle and mortar, crush the garlic with a pinch of salt to form a paste.
In a bowl, whisk the garlic, egg yolks and mustard until well combined. Add the olive oil in a steady stream and whisk until all the oil is absorbed and the mixture has thickened. Add a squeeze of lemon juice and season to taste.
If you'd like to use the aioli as a sauce, whisk in a few drops of warm water to make it runnier.
Join our commenting forum
Join thought-provoking conversations, follow other Independent readers and see their replies