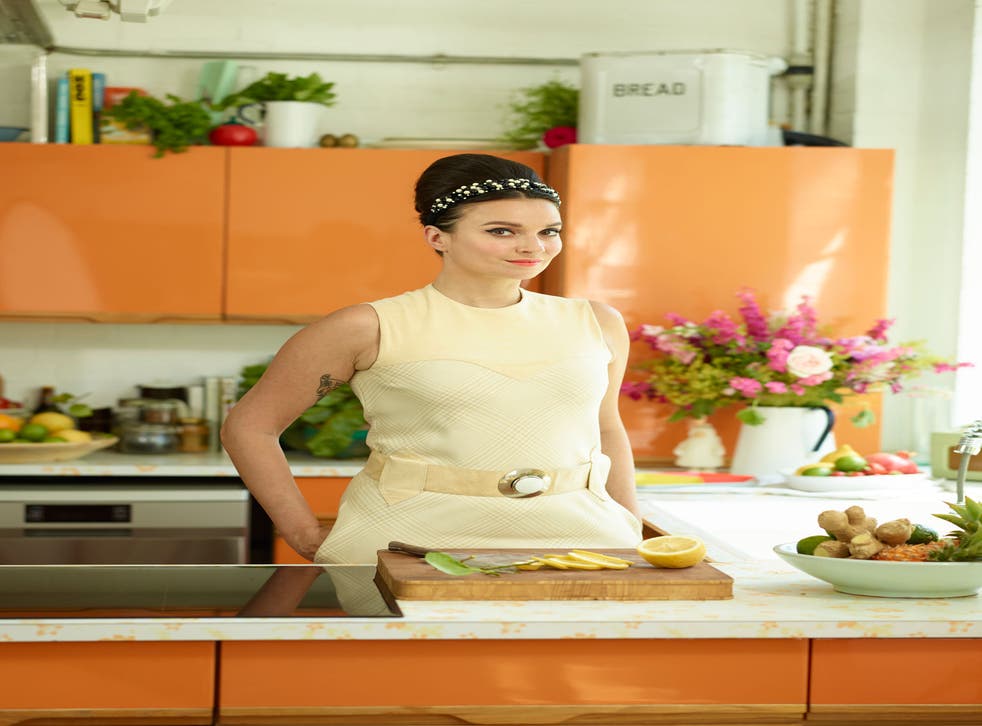 Gizzi Erskine is taking on the 'clean eating' fanatics by showing healthy food can be delicious
Avocado toast? That's not a meal! In the first of a three-part Independent on Sunday series with Gizzi Erskine, the chef reveals why she is taking on the 'fitfood' fanatics, and presents three delicious recipes that make a healthy hero of convenience foods
"People don't know how to eat any more." It's a bold statement – but, then, that's typical of Gizzi Erskine. The food writer, TV presenter and trained chef doesn't mince her words. She credits this tendency for being a bit "gobby" as having helped launch her career more than a decade ago, when she was picked up for Channel 4's Cook Yourself Thin TV series. Several hit recipe books followed, all with the basic premise that good food, cooked well, can be healthy and delicious.
With titles such as Skinny Weeks and Weekend Feasts to her name, you might assume the 35-year-old would be at the forefront of the latest foodie trend: clean eating. Armies of food bloggers are using social media to promote super-healthy regimes; search for the hashtags #fitfood or #eatclean to witness oceans of Instagrammed snaps of avocado toast and green juices.
But all this has Erskine worried. Actually, it's made her mad. When we meet at members' club Shoreditch House, near her home, she launches into her "campaign" against this trend before she has even sat down. "Over the past 18 months I've seen this hashtag of eatclean, cleaneating, fitfood. In the beginning there were techniques coming out that were interesting: spiralising, cauliflower rice, bone broth. But how we're using some of these techniques is not entirely… delicious."
When creating recipes for Cook Yourself Thin and Skinny Weeks…, Erskine worked alongside a nutritionist to make sure her recipes were healthy – but also balanced. This, she fears, is where the clean-eating trend has gone awry.
A lot of new diets involve not only the exclusion of things we know are bad for us – refined sugar, alcohol – but also entire food groups: going dairy-free, wheat-free, gluten-free, or eating only raw food. And Erskine is worried these drastic changes to our diets are being undertaken without a proper understanding of nutrition. "I get it – we all want to be healthy," she says. "But it seems to lack a lot of love, and a real understanding of food. Spiralised courgette with pesto made from whizzed-up avocado? That's not my idea of dinner. It's a salad. Nourishing your body doesn't just mean raw 'health' foods; it's about understanding balance and why we break up our plate into proteins, carbs, vegetables, fats, and the right volumes of these things."
Her new cookbook aims to address this: called Gizzi's Healthy Appetite, its subtitle is "Food to nourish the body and feed the soul". While there are plenty of healthy recipes, there are also unctuous plates of melty mozzarella, warming stews and hunks of charred meat. The book is split into sections named for the kind of textures or tastes you might be craving – "ooze", "crunch", "spice" – and it features classics such as pad Thai and spag bol.
"Having a healthy appetite also means having a healthy lust for life," she says. "There are a lot of recipes that are probably stratospheric in the calorie count, but so what?" And while she does think sugar is a genuine baddie, she doesn't believe in "criminalising" anything. "What does it matter if you have a slice of cake on a Saturday? Seriously, if you think that's a problem, you need to get a life."
Does she think the healthy-eating plans now out there are really just dieting by another name? "I think a lot of people do use it for that, yes. I'll rub a lot of people up the wrong way by saying so, but I really do think that."
And this concerns her: she sees these pretty wellness gurus as unintentionally setting unobtainable standards for young, impressionable girls. "A lot of these bloggers are under 25, beautiful, very thin… I don't believe you can't be young and thin and beautiful and talented – I absolutely believe you can be all those things – but I do think that when someone hasn't been trained or has learnt their trade from their own personal health problems… I find it hard to be convinced."
Erskine doesn't name names, but some of the biggest new online food writers include Ella Woodward, whose bestselling Deliciously Ella cookbook is based on her blog about curing her long-term health problems by cutting out gluten, dairy, sugar and meat; Instagram stars the Hemsley sisters, whose grain-free, sugar-free recipes are sold under the "wellness" banner; selfie-loving fitness obsessive Clean Eating Alice; Sarah B of the blog My New Roots, which advocates plant-based eating; Natasha Corrett of the Honestly Healthy brand, which is all about eating more alkaline foods; chef turned healthy-eating poster girl Tess Ward; and celebrity nutritionist Madeleine Shaw, whose Get the Glow blog features only wheat-free, sugar-free recipes.
Many of these writers have proved hugely successful, winning media coverage and scoring book deals – and Erksine isn't miles away from this herself: her weight-loss-promoting TV shows and books always showcase her rock'n'roll style – the beehive, the vintage dresses – as well as her natural good looks, which must have helped her career.
"Listen, there are peers of mine who are real chefs who don't get as much airtime as me because they don't look good in a magazine, and I get that. Without doubt it's the same with these younger girls." She pauses, then laughs at herself. "God, I sound really bitter and old! This 'new generation of food writers', lets' say!"
Along with her new book, Erskine is also involved in running London Union, Jonathan Downey and Henry Dimbleby's Street Feast markets around London. "It's so much more fun than sitting in a restaurant," she says of their latest venture, Dinerama in Shoreditch. "It's cheap – the average spend is around £20 a head. And you've got a great party vibe."
It's not just for east London hipsters – even her mum has been won over, she says. And her mum is the woman responsible for Erskine's foodie nature: "When I was a kid, she used to have really fancy dinner parties. Some girls think about getting married when they grow up – I just wanted to have nice dinner parties!"
Ambition achieved: even though she works with food, Erskine still loves getting her mates around and chatting while she cooks, or spending weekends whipping up a big Sunday lunch with her boyfriend. So, is food bound up with love for her? "Yes – I always associated cooking with love. It's so emotive." No wonder she's not so keen on #cleaneating: it's hard to express a lot of love through cucumber sticks.
'Gizzi's Healthy Appetite' is published by Octopus, priced £25. Look out for further Gizzi tips on how to cook healthy and delicious food over the next two weeks in The Independent on Sunday
Wet & wild garlic chicken Kievs
Preparation time: 20 minutes, plus chilling
Cooking time: 1 hour
Garlic butter makes everything taste good, as does frying anything in breadcrumbs, so these have a double whammy of deliciousmess.
Chicken Kievs are a little complicated to make, but it's a fun process. I've pimped up my recipe by roasting fresh wild garlic and then adding this, plus some grated garlic and some wild garlic to the butter and then wrapping it in wild garlic leaves.
These chicken Kievs are – I can say this because I've just tasted them – possibly the best thing I've ever eaten.
Serves 4
16 wild garlic leaves
Garlic butter (see below)
100g plain flour, seasoned with salt and pepper
2 large free-range eggs, beaten with a little milk
300g panko breadcrumbs
4 large free-range chicken breasts with fillets attached (I like using supremes, as they still have the wing tip attached)
Oil, for deep-frying
For the Garlic Butter
1 bulb of wet garlic
2 wet or dried garlic cloves, grated
200g unsalted butter at room temperature
2 wild garlic leaves, finely sliced, and garlic flowers (if you can find them)
2-3 tbsp chopped parsley
Sea salt and freshly ground black pepper
Start with the garlic butter. Heat the oven to 200C/400F/Gas6. Wrap the bulb of wet garlic in foil and roast for 40 minutes, or until the cloves are soft. Leave to cool a little. Squeeze out the cloves into a small food processor with the grated garlic, butter, sliced wild garlic leaves, parsley and plenty of salt and pepper and blitz until smooth. If you have got hold of wild garlic flowers, stir them in.
Now lay the whole wild garlic leaves on a work surface, 4 leaves per chicken breast. Divide the garlic butter between the leaves and roll them up to make 4 parcels about the size of your thumb. Wrap in cling film then place in the freezer for 20 to 30 minutes, or until very firm.
Now take 3 bowls and fill one with the flour, one with the eggs and one with the breadcrumbs. Using a sharp knife, make a deep cut lengthways along each chicken breast to make a pocket in the chicken. Stick your finger in the pocket and root around a bit to make the hole a little larger. Unwrap the butter parcels and stuff one in each breast. Plug up the holes with the false fillet (the detachable part on the back of the breast), and pinch the side of the chicken shut.
Lower the oven to 190C/375F/Gas5. Heat the oil in a deep-fat fryer or a deep saucepan to 190C. Dip each stuffed breast first in the seasoned flour, then in plenty of the egg, then in the breadcrumbs, coating them thoroughly and paying particular attention to the side where they've been sealed. I would double-coat the side with more egg and breadcrumbs.
Place each Kiev into the oil and cook for 4 to 5 minutes, or until they turn lightly golden. Transfer to a baking tray and bake for 12 to 15 minutes, until cooked through and nicely crisp and brown.
Some of the butter will have leaked out, so pour that back over the chicken, and serve with mashed potatoes and peas.
Bhel puri salad with heirloom tomatoes
Preparation time: 30 minutes, plus cooling
Cooking time: 20 minutes
I was introduced to bhel puri by Horn OK Please, an Indian street-food company. It's a salad of vegetables and onions mixed with crunchy puffed rice and chickpea noodles, a date-and-tamarind chutney and a green chutney. It's sweet, sour, spicy, crunchy and fresh. I've used British heirloom tomatoes and chickpeas to make the dish into a bit more of a salad.
Serves 4
For the chutney
14 dates, pitted
1 tbsp dried tamarind, rehydrated in 250ml boiling water
1 tbsp jaggery, palm sugar or brown sugar
1 tsp chat or garam masala
1 tsp ground cumin
½ tsp red chilli powder
For the dressing
1 small packet (about 30g) coriander, leaves picked
Handful mint leaves
2 green chillies, deseeded if you don't want the dressing too spicy
3cm fresh root ginger, peeled
1 tsp cumin seeds, toasted
¼ tsp garam masala
3 tbsp lemon juice
Good pinch salt
For the salad
700g heirloom tomatoes (a mix of colours, varieties and sizes)
¼ tsp fine salt
1 red onion, finely chopped
1 cucumber, peeled and finely diced
Seeds 1 pomegranate
1 x 400g can chickpeas, drained
Bunch coriander, roughly chopped
30g Indian puffed rice
60g plain bhujia (chickpea noodles)
For the chutney, place all the ingredients in a blender and blitz until smooth. It will be a fairly thin chutney, but you don't want any lumps in it. Pour into a pan and cook over a lowish heat for 20 minutes until the chutney has thickened to the consistency of a thick ketchup. Set aside to cool.
For the dressing, place all the ingredients in a small blender and blitz to a smooth paste. Set aside.
Now start making the salad. Cut the tomatoes into a variety of shapes and sizes and place in a bowl with the salt. Add all the remaining salad ingredients except the puffed rice and bhujia. Pour over the chutney and the dressing and mix thoroughly. Add two-thirds of the puffed rice and bhujia and mix quickly; the salad will make popping noises.
To serve, divide the salad between 4 plates, then sprinkle over the remaining puffed rice and bhujia. Eat straight away so the ingredients don't get soggy!
Lamb 'shawarma' with burnt pittas, hummus & pomegranate tabbouleh
Preparation time: 30 Minutes, plus marinating overnight
Cooking time: 25 minutes
Strictly speaking, shawarma lamb is the Lebanese version of a doner kebab, which is made by piling up marinated meat on a giant skewer, grilling the outside and then carving – which is hard to do at home. I have taken the spices and put them into a marinade for a boned-out leg of lamb that is then barbecued medium-rare and served Beiruti-style, on hummus, alongside a piquant and punchy pomegranate tabbouleh. This is a terrific way to serve a whole roasted joint of lamb.
Serves 6
1 leg of lamb, bone out (you can ask your butcher to do this)
2 x 300g tubs hummus
Olive oil, for drizzling
50g pine nuts, toasted
6-8 white, brown or granary pitta breads, charred, to serve
For the marinade
5 tbsp olive oil
6 rosemary sprigs, leaves picked
8 thyme sprigs, leaves picked
Small bunch mint, leaves picked
Small bunch flat-leaf parsley, leaves picked
1 bulb garlic, cloves peeled
1 tbsp ground cumin
2 tsp ground coriander
2 tsp paprika
1 tsp ground cinnamon
Grated rind 1 lemon
For the tabbouleh
250g wholegrain bulgur wheat
2 tbsp lemon juice
2 tbsp pomegranate molasses
4 tbsp olive oil
Seeds 1 pomegranate
Small packet (about 30g) flat-leaf parsley, leaves picked and roughly chopped
Small packet (about 30g) mint, leaves picked and roughly chopped
Sea salt and freshly ground black pepper
To make the marinade, place all the ingredients in a food processor and blitz until smooth. Open up the leg of lamb and rub the marinade all over. Cover with cling film, place in the fridge and leave to marinate overnight.
You can cook the leg of lamb in two ways: either barbecue the whole thing in a barbecue with a lid, or char the lamb on a griddle then finish in the oven.
For the first option, light the barbecue and wait until the coals are white-red. Move the coals to the side to form a semi-circle around the edge. Now place the lamb over the hot-coal side of the barbecue and lightly char the outside all over. When nicely browned, move to the side with no coals and pop the lid on with the vent only just open. The temperature gauge should come up to between 180C and 190C. Smoke-roast the lamb for 20 minutes, turning halfway, for medium-rare meat. Remove from the barbecue, cover with foil and leave to rest for 15 minutes.
To cook the lamb in a griddle pan and then roast, heat the oven to 220C/425F/Gas 7. Now heat a griddle pan until smoking. Brown the lamb on all sides in the pan and then place on a roasting tray. Roast for 30 to 35 minutes, until medium-rare. Remove from the oven, cover with foil and leave to rest for 15 minutes.
While the lamb is cooking, make the tabbouleh. Cook the bulgur wheat in a pan of salted, boiling water for 10 minutes, or until perfectly cooked. Drain and leave to steam with the lid on for 5 minutes. Mix together the lemon juice, pomegranate molasses and oil in a bowl with lots of seasoning. While the bulgur wheat is still warm, dress it with half this dressing, then add the pomegranate seeds and herbs and leave to stand for 10 minutes so the flavours homogenise.
When the lamb is cooked and rested, spread the hummus over a large serving platter. Carve the lamb and place on the hummus, then pour over any lamb juices. Drizzle over the olive oil, scatter with the pine nuts, top with the remaining dressing and serve alongside the tabbouleh and charred pittas.
Join our new commenting forum
Join thought-provoking conversations, follow other Independent readers and see their replies